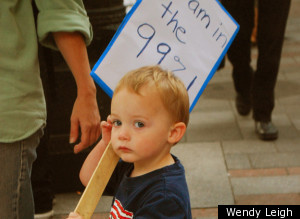 A child waved a sign in downtown Seattle on October 8, 2011, proclaiming "I am in the 99%," while a war veteran stood silently behind a handwritten placard boldly stating,"The U.S. Army Taught Me to Kill Iraqi Civilians for CEO's."
A few feet away, a young woman penned, "Put the Politicians on Minimum Wage and See How Fast Things Change."
Though the people's protest dubbed "Occupy Seattle" was peaceful in nature, the message was far from passive - and it's far from over. Originating as "Occupy Wall Street" in New York City, the grass-roots movement has planted itself in cities across the country. On Saturday, Oct. 8, in Seattle, speeches rang out, bongos pounded, and megaphones blared with calls to action.
But the written word stole the show. Hundreds of people stopped by a jumbled, messy collection of tables stacked with paints, markers, pens, brushes and poster-boards to put their passion on paper the old-fashioned way - with their own hands. The protests against economic practices, corporate greed and foreign wars are ongoing, with protesters sleeping overnight on the concrete at Westlake Park, near the corners of Pine Street and 4th Avenue. Though ordered to evacuate on Monday night, October 10, they are thus far staying put.
A growing symbol of the "Occupy Wall Street" movement spreading across the country is the mask made popular by the Hollywood film "V for Vendetta," starring Natalie Portman. The mask portrays Guy Fawkes, a British revolutionary who attempted to assassinate King James in 1605 in a thwarted gunpowder plot. Bullhorns in Seattle on Saturday blared a call for solidarity with the controversial figure, rallying the crowds with "Hell, yeah for Guy Hawkes -- this is what he would have wanted." When questioned, many were surprised to learn that Guy Fawkes employed methods that today would be considered acts of terrorism - and that his actions were motivated by religious conflict between Catholics and Protestants.
A string of Seattle police officers created human shields to block protestors from any potential attempt to harm a branch of Chase Bank located across from Westlake Park. Protesters from the "Occupy Seattle" movement have been camping out in the park for days, joining the grassroots movement that began in New York City. Slogans. Signs and speeches by protesters expressed dissatisfaction with economic conditions in America, many laying blame on the banking industry.
Protesters at "Occupy Seattle" place their belongings in small "camps" clustered on the concrete of Westlake Park in the center of Seattle's thriving downtown business district. Overnight camping is prohibited in the park, and several arrests have been made, including two on Wednesday night, October 12. Most are not budging, despite a deluge of rain and blustery winds from an ongoing autumn storm over the past few days.
Seattle Mayor Mike McGinn, who visited the site over the weekend, offered a dedicated spot for the movement at City Hall Plaza. As one participant put it, however, "If we're invited, then it isn't an occupation, is it?" According to a report by the Seattle Times on Thursday, October 13, some protesters temporarily moved to the City Hall site, or across the street from Westlake Park, to make room for a jobs rally being held by union workers in the same location. The Occupy Seattle protesters have voted to dig in their heels at Westlake Park "indefinitely" and to pitch tents for a large demonstration on Saturday, October 15. In addition to the people standing (or sleeping) firm at the park, dozens of others are choosing to make "moving statements" by walking the city blocks in clothing with hand-painted slogans."
Wendy K. Leigh is a Seattle-based photojournalist who contributed this photo essay to OfftheBus. If you would like to participate in citizen reporting of the 2012 election season, please sign up at www.offthebus.org.