Yesterday, Nelson Mandela, 'Madiba,' the former president of South Africa who is a hero of our time, a global ambassador and, an emissary of peace, made his transition. He was 95. There are no words to aptly describe the magnitude of the ripples of impact this great man made on South Africa and on the world through his anti-apartheid work. He transcended decades of wrongful imprisonment and huge injustices to become a living testament to the power of universal love, forgiveness, reconciliation and peace in action.
As you read this, please pause and take a moment of silence in honor of this great man and his work with South Africa and then give him a standing ovation. Please hold in your heart the people of South Africa and recognize the sociological and biological imperative of transmuting poverty and racial domination into racial equality and sustainable prosperity for all people everywhere.
Know that it is possible to eradicate poverty and racism in this lifetime. The intention to have this occur begins with each of us in our heart, in our consciousness. It is our mandate as global citizens to be places and spaces of peace, love, forgiveness, and reconciliation. We are being called to evolve beyond any collective agreements with violence, separation and retaliation. Clearly, there is much evidence in our world that vengeance does not bring solution.
This powerful messenger may have made his transition but the message that thundered so loudly through his words and actions in his lifetime may be kept alive and thriving through us. Will you carry this work on? It doesn't have to be grand and elaborate gestures, it can be as simple as loving your family well, as honoring your neighbor. You may be the one who sits calmly and knows in their bones that peace is possible and holds that vision unwaveringly. Or you may be the one who dreams and does.
We cannot wait for someone outside of ourselves to give us permission to be a stand for love and peace in action. No one can do that inner work but us. This is not a political call for action, it's a human rights call. What will you stand for? Will you be a place of peace and love? Will you strive to do things differently in your relationships? Will you join movements that support the highest and greatest good of all no matter their color, sexual orientation or education? What do you bring? What shall we teach the children? Are you a mother and father for peace? The answer is right there in your heart.
Thank you, Nelson Mandela! I know that loving arms hold you as you acclimate to life after life and that love blankets your friends and family members as they move through this time of grieving. You have lived and loved well! Peace be still.
Peace and One Love!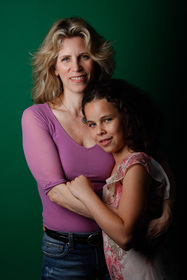 Wendy Silvers is the founder of the Million Mamas Movement, a midwife of consciousness, a compassionate parenting educator, author and mamapreneur.
http://www.twitter.com/millionmamas
http://www.millionmamasmovement.org
http://www.facebook.com/mamawendysilvers