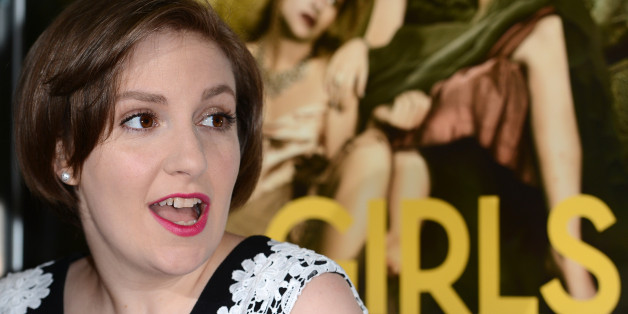 I participated in a HuffPost Live segment about HBO's Girls yesterday, where I learned it may soon become illegal in every state to criticize the show or its creator Lena Dunham.
But I'll take the risk, because someone has to dispel the notion that pointing out the flaws of this important and groundbreaking series means you're a mean and ignorant, old hag who doesn't understand art, or the plight of the young woman. So here goes: Girls has lost more than a little bit of its magic and direction since the end of Season One. Here are the top three reasons why.
1. Girls is not a comedy.
Perhaps Girls was a comedy in its first season, in the Sex and the City vein, but it took a different and much darker turn in Season Two. Sure, there are many moments of humor, but am I the only one noticing that the story lines have become melancholy and the characters are now un-endearingly self-absorbed?
I know, Hannah et al. are confused, scared and face uncertain futures despite being smart and coming from relatively intact (Jessa excluded) families. But just about every episode seems to be drowning in what has become a very shallow pool of self-pity tinged with self-exceptionalism. And it's not so funny anymore.
2. Where are the girls in Girls?
My favorite moments in the first season still center around the women's rich and complicated friendships. Hannah and Marnie dancing in their apartment, the women waiting for Jessa to show up for her abortion, Shoshanna getting life lessons from her cousin. Why is Lena Dunham so reluctant to bring the gals together again?
My guess, from the first three episodes of Season Three, is that Ms. Dunham's fascination these days is not with the women. The heart of the show, currently, is Hannah's relationship with her boyfriend Adam. In fact, I think name Girls should be replaced with the Adam and Hannah Show. And I put Adam's name first for a reason.
I don't mean this as disparagingly as it sounds. Their relationship and Adam Driver's character are depicted in ways I've never seen before on TV. I find myself rooting for a guy who was first shown to be a creepy dirtbag (Season One) and then a psychopath rapist (rapist with a question mark) in Season Two. How the heck did that happen? But Ms. Dunham is so focused on Hannah, Adam and even Ray that the plotlines for the other three main characters are anemic and underdeveloped.
2. Weak Acting
Perhaps we should be grateful that Ms. Dunham has gotten sidetracked because, oh I really hate saying this, but Allison Williams, Zosia Mamet and Jemima Kirke are not -- oh, this is tough -- can I do this? Deep breath, Wendy...They are not strong actors.
I am not saying they are bad actors. But they are inexperienced, and that inexperience, now that the show is in its third season, is unavoidably obvious. Allison Williams in particular seems to be struggling. When I read her interview in the Sunday Times with Cynthia Nixon, I was not surprised to learn that Girls was her first audition. Yes, she is gorgeous, her singing voice is beautiful, and she did manage to whittle her body down to a teeny tiny size that is almost painful to behold on the screen. But she currently lacks the skills needed to portray her character.
Putting aside the show's flaws, I'm confused about why critiquing it has become so taboo. Is it because Ms. Dunham and the most of the cast are part of the generation in which every child got an A, made the basketball team and was told she's exceptional? Is the suffocating cocoon around Girls a direct result of the helicopter environment in which they were raised, or because we've created an oversensitive culture in which someone as obviously talented as Ms. Dunham must remain beyond reproach in order to be considered successful?
I want Ms. Dunham to succeed. I am inspired by her, as both a woman and a writer. But the show has some flaws. It needs a little diversity in the cast and in the writing room, if there is a writing room. Ms. Dunham needs a trip to a part of the world where women are dealing with the biggest shit of life and still manage to find humor, light and hope.
And there you have it. I have now publicly broken the law by criticizing Girls. I will probably soon be blacklisted from every feminist group in America, and/or thrown in HBO prison where I have to watch reruns all day. Regardless, I'm still rooting for Ms. Dunham and this gutsy show.