Last week I had the honor of co-hosting a screening of the award-winning film Miss Representation at the famed technology center in Chicago, 1871. It was an incredible night, with over 30 bright and successful women and one token male gathered together to learn about the destructive influence of the media on women. Following the film, I moderated a conversation with my co-organizer Jill Salzman of The Founding Moms and our special guest, Sittercity founder Genevieve Thiers. Everything was absolutely fantastic, except for one small problem. I could not, for the life of me, stop obsessing about my muffin tops.

My intense and overwhelming preoccupation with the middle section of my body began a few hours earlier, in my closet, as I tried to select an outfit for the occasion. What does one wear to an event about the objectification and misrepresentation of women in the media? While my heart said "pajamas" or at least "elastic waistband," the cruel, self-critical voice in my head was all I heard. "You must look thin! Yes, this film is about the media imposing an unrealistic model of perfection achieved only through Photoshop, plastic surgery and self-starvation, but suck in those rolls, Widom!"

With a growing sense panic, I selected a pair of black pants I purchased a decade ago, before my pelvis expanded to let another human being out of it. As I did this, I pictured Clinton and Stacy of TLC's What Not To Wear waving their arms frantically, desperate for me to choose something that's a better fit for my post-baby body. But I couldn't, because my brain was frozen with fear and confusion. How ironic. I was about to speak publicly about Girl Power and I could barely get myself dressed.

Pants in hand, I stepped out of the closet and looked warily across the room toward my underwear drawer. Sighing, I walked over and pulled out the constant companion of just about every gal over 35 who has reproduced. Yes. Spanx. I yanked the human saran wrap over my legs and stuffed the muffins into place. They weren't happy but I didn't care; I had much bigger issues to contend with, like the future of women in the upper echelons of Fortune 500 companies and the underrepresentation of females in Congress. Before I left, I managed to throw on an aquamarine top that I knew was too form fitting and headed out to lead an evening of self-love and acceptance.

I arrived at 1871 and after two more makeup/muffin top checks in the bathroom I was determined to relish this incredible moment. I gave my co-host a warm hug. I welcomed Genevieve Thiers, a woman who has created over 1 million jobs in the past decade. I greeted the attendees as they arrived. Together, we watched the movie, and I was shocked to learn just how underrepresented women are in spheres of power and influence and how the media exacerbate the problem. Some stark statistics, according to Miss Representation:

• The United States is 90th in the world in terms of women in national legislatures
• Women hold 18 percent of the seats in the House of Representatives (the equivalent
body in Rwanda is 56.3 percent female)
• Women are 3 percent of Fortune 500 CEOs
• Women hold only 3 percent of clout positions in the mainstream media
• 65 percent of American women and girls have an eating disorder
• Only 16 percent of protagonists in films are female
• More than 70 percent of women on TV are in their 20s and 30s even though they represent only 39 percent of the female population
Wow. As the film continued I found myself getting angry. Why have we women become so complacent? We need to wake up. We need to demand that media companies hire more women, create more multi-dimensional female characters in movies and on TV and stop producing franchises like the Real Housewives, which portray us as nothing more than backstabbing gold diggers. We need to stop magazines from shrinking women's bodies through digital manipulation and put regulations in place that require models to be a healthy weight and size. We need better representation in government, business, everywhere.

I wanted to shout this to the world, or at least to the 30 women and one guy in the room, but I couldn't. And I couldn't because I watch the Real Housewives and I read trashy celebrity gossip websites. I've tried numerous times to stop, I really have. But before I know it my resolve weakens and I'm back to observing women debase themselves for fame. A feeling of shame washes over me. I'm part of the problem. To make matters worse, throughout the movie I notice that my Spanx are slowing riding down my ribcage and my muffin tops are about to pop out. I start to sweat. Once the screening ends, I will have to admit to this group that I'm guilty of supporting an industry that objectifies women as my rolls break free from their sausage-like casing.

I needed to pull myself together, so I went to the bathroom. Once inside I looked at myself in the mirror, took a few deep breaths and said to myself, "Look at those arms, Wendy. Those arms tackled boys in football, cleaned rooms and waitressed to pay for college, and rocked your baby girl. They are beautiful." Then I zoomed in on my midsection and said, "Look at those hips, Wendy. They do a rockin' samba, bring your husband tons of pleasure, and six years ago helped produce a new life. They are beautiful." After a few more deep breaths, I rolled the Spanx down, as far down around my waist as they could go and -- muffins blazing -- I proudly returned to the auditorium. Soon after, the movie ended and I led what turned out to be a thought-provoking conversation about the damaging influence of today's media. Girl Power indeed.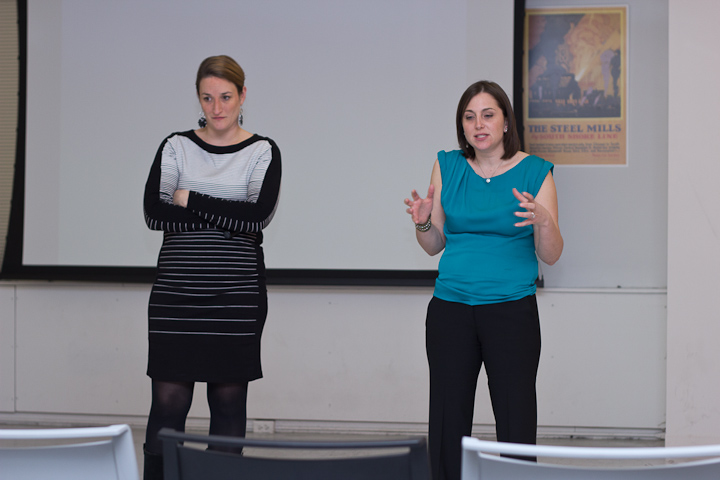 Photo credit: Trooque Photography
I wish I could say that I finished the evening completely transformed. I wish I could say that I now love and accept my body. But the truth is, in the week since the screening I've spent a lot of time staring at the photos from the event, despising myself because of those hips and arms. This is a tragedy, I know, one that is holding me back personally and professionally.
However, I also know that by hosting and watching films like Miss Representation, I'm taking the first few steps in reclaiming my body. I am declaring to the world and to myself that I am more than hips, arms and breasts. I am more than a 39-year-old woman who is grossly underrepresented or pathetically caricatured in movies, magazines and on television. Someday, I will finally do something to help change an industry that objectifies women just to make a buck. Someday, before another generation of girls is lost to misrepresentation.