By Rachel Ward, San Francisco editor, Whereᅡᆴ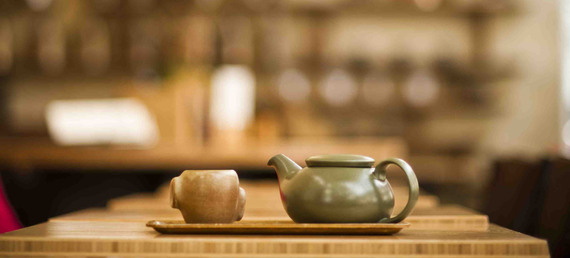 Photo courtesy Samovar Tea Lounge
When traveling in a fast-paced metropolis, a moment of respite in a quiet place is a luxury to relish. In San Francisco, peaceful havens cater to that need, providing an escape. Here's where to go to relax, renew and recenter:
Japanese Tea Garden
An alluring destination designed for meditation and reflection, the harmonious five-acre Japanese Tea Garden in the heart of Golden Gate Park is the oldest public garden of its kind in the country, constructed in 1894. You'll find a soothing waterfall; stately lanterns, bridges and sculptures; and fragrant wisteria and azalea. Enjoy tea or Japanese snacks al fresco at the teahouse overlooking the Koi pond.
Samovar Tea Lounge
Samovar Tea Lounge is an elegant sanctuary devoted to global teas, situated right in the center of busy downtown. Settle in for a worldly tea service (selections include Russian, Moorish and Ayurvedic traditions) in the lounge or patio overlooking the green Yerba Buena Gardens. The owner has relationships with artisan tea farmers all over the world and sources small-batch, handcrafted varieties that are thoughtfully paired with international small plates.
Taste Tea
A modern and calm teahouse in chic Hayes Valley, Taste Tea brings traditional Chinese tea culture to San Francisco. Soft lighting, a library of tea books and a Buddha statue set the mood for a serene experience that explores the history and technique surrounding the ritual of tea. Grab a plush corner nook and enjoy a personal or group tea service. If you're not pressed for time, consider ordering the time-honored Gong Fu Cha ceremony, which involves a meticulous steeping procedure that develops the flavor and aroma of the leaves. Teas are complemented by tasty snacks such as steamed buns and house-made macaroons.
Kabuki Springs & Spa
The traditional Japanese communal baths at Kabuki Springs & Spa, in Japantown, attract a steady stream of locals and visitors seeking a ritual to disconnect from urban stresses. You'll find a hot pool, a cold plunge, a dry sauna and a steam room. The baths are designated for either men or women only, depending on the day of the week, except on co-ed Tuesdays, when bathing suits are required. The menu of spa services includes the usual massages and facials as well as pan-Asian wellness treatments including acupuncture, reiki, grounding, craniosacral therapy and matcha body wraps.
Archimedes Banya
Archimedes Banya, a high-tech, four-story bathhouse on the city's southeastern edge, melds ancient international bathing traditions for an alternative social activity. A renowned Russian artist designed the tile and murals; a rooftop deck has breathtaking waterfront views; and a cafe serves fresh Eastern European fare. The spa offers massages, scrubs and the works, as well as the house specialty: a traditional venik platza treatment, which involves getting thrashed with eucalyptus leaves.
PHOTO GALLERY
5 Places With Zen In San Francisco
Rachel Ward is San Francisco editor for Where.
More from WhereTraveler.com: