By Jennifer McKee, Las Vegas editor for Where®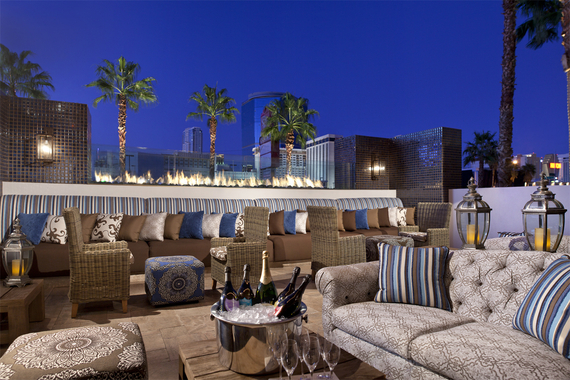 Springtime in Vegas means temps in the 70s-80s, the return of shorts and sundresses, and a fresh wave of visitors who want to shake off the cold environs of the rest of the world and head to this town known for its warm temps, fun times and great cuisine. Now's the perfect time to dine outdoors, and we've rounded up the best places at which to do so. Bon appétit!
The Barrymore
This jewel-box restaurant (pictured above) harkens back to the days of Frank, Dino and Sammy with its retro design and throwback cocktails. One of our favorite features here is the patio -- the relaxed, sexy vibe makes it a great place to snuggle with that special someone. "Social hour" takes place nightly from 5-7 pm, and gives you a chance to sample multiple menu favorites. You can find The Barrymore at the Royal Resort Las Vegas hotel, located just down the street from the Las Vegas Convention Center.
Border Grill
There's nothing quite like sipping a mojito and people-watching to your heart's content at this sunny spot adjacent to Mandalay Bay's pool complex -- it'll put a smile on your face while the sun is at your back. And Chef Mike Minor's imaginative menu items make it even more divine.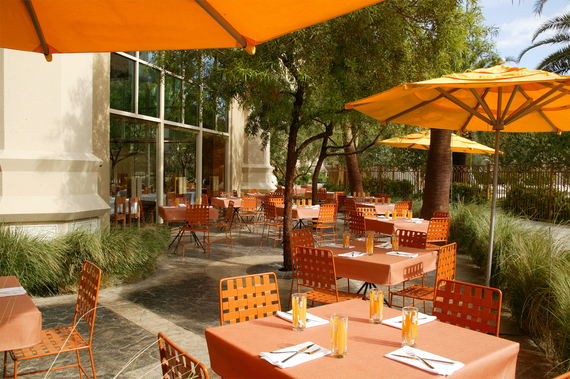 Carmine's
Just in time for spring, this Italian dining gem with legendary family-sized portions debuts a balcony dinner package with a spectacular view of the mid-Strip for 20 guests. The four-course dinner includes menu highlights such as Lobster Fra Diavolo and Porterhouse Contadina, and the extensive Italian wine selection featuring premium Barolos, Super Tuscans and Amarone was hand-picked by the restaurant's sommelier.
Culinary Dropout
The 3,000-square-foot patio at this hip gastropub overlooks the Hard Rock Hotel's pool and offers fire pits for its diners. It's a great place to hole up with a beer and people-watch.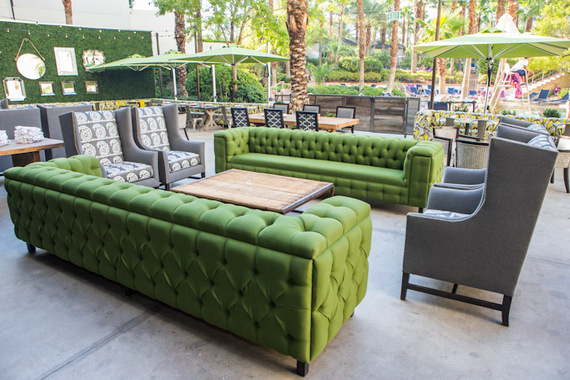 Estiatorio Milos
Authentic, refined Greek cuisine is available in Las Vegas, thanks to Estiatorio Milos, the West Coast outlet of the famed seafood specialist revered in New York and Athens. The Cosmopolitan spared no expense when it comes to style and quality, which can be witnessed throughout the restaurant, including on the glorious patio.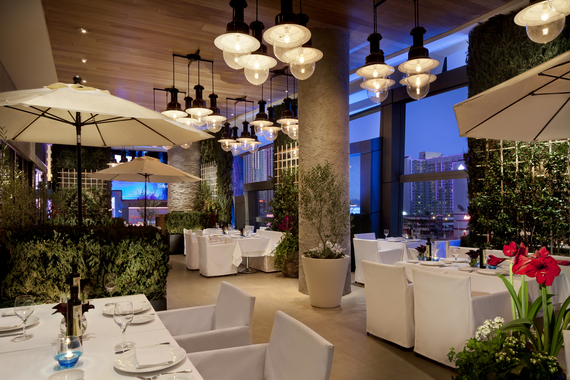 Margaritaville
It's always 5 o'clock somewhere, and at Margaritaville, that feeling never quits. This is the place to let your hair down, kick back and party with friends and neighbors. The restaurant, inspired by the lyrics and philosophy of Jimmy Buffett's classic song, has refreshed its coastal menu, adding and enhancing more than 15 dishes and drinks. Enjoy them from the Euphoria deck that overlooks the center of the Strip -- the windows open for an al fresco dining experience.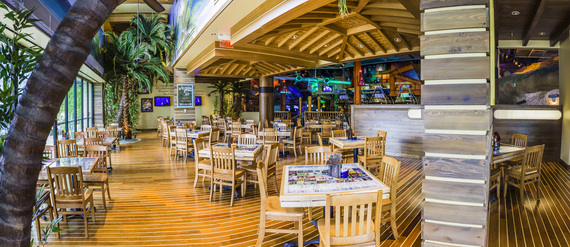 Picasso
A 13-time recipient of the AAA Five Diamond Award, Julian Serrano's menu is inspired by the regional cuisine of France and Spain where Pablo Picasso spent much of his life. The wine cellar at this Bellagio restaurant is stocked with more than 1,900 selections from the finest vineyards, and the restaurant features Picasso masterpieces as well as a collection of his charming ceramic pieces. Patio seating with a view of the Bellagio Fountains is also available.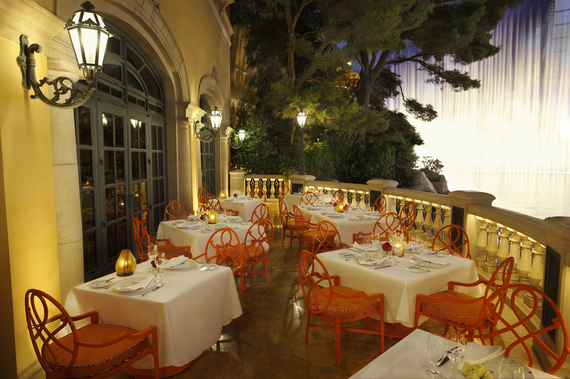 Poppy Den
Located at Tivoli Village, this charmer from Chef Angelo Sosa features not one, but two divine patios. Downstairs, find a breathtaking botanical garden; upstairs, ultra-lounge The Den offers guests a cozy patio.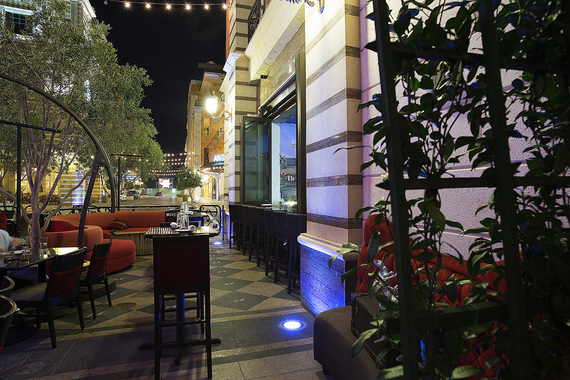 Sinatra
Chef Theo Schoenegger's culinary salute to Ol' Blue Eyes has one of the most picturesque patios in town. In true showmanship manner, it's presented amid the perfectly manicured pool area of Encore at Wynn Las Vegas.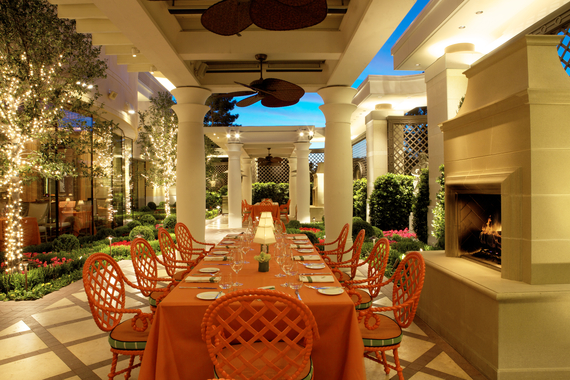 Sugar Factory
There are so many things to love about Sugar Factory, and that make it a wonderful dining option for spring: the fishbowl-style drinks that make heads turn, served over dry ice; the cocktail cart that can turn any drink into a frozen concoction. The best way to enjoy these inspired drinks and the numerous creative dishes on the menu? On the patio that fronts the Strip and makes for hours of engaging people-watching.
Verandah
We could while away the hours at this beyond-chic restaurant at the Four Seasons, whose expansive outdoor terrace sits next to one of the most gorgeous pool areas in town. And, since the pool is private, you won't be disturbed by throngs -- quite the contrary, it's a haven of tranquility.
Find more tips and travel ideas at www.wheretraveler.com.
More from WhereTraveler.com:
Photo credits: ©J Public Relations, Courtesy Border Grill, Courtesy Culinary Dropout, Courtesy Estiatorio Milos, Courtesy Margaritaville, Courtesy Picasso, Courtesy Poppy Den, Courtesy Sinatra, Courtesy Verandah