In an election that's been characterized by record corporate spending, capitulation to moderation, and a lack of leadership behind visionary ideas, the youth clean energy vote is showing the leadership it demands. In hundreds of locations, thousands of young voters are standing up to Big Oil, challenging special interests, and mobilizing their peers around bold clean energy solutions.
In California, young voters are literally standing up to Big Oil. The oil industry has been bankrolling two dirty and deceptive ballot measures, Propositions 23 & 26 and young voters are fighting back with hard work, wit and people power. The California Student Sustainability Coalition's (CSSC) Power Vote Campaign, in partnership with CalPIRG and Environment California, has organized on over 50 campuses and collected over 160,000 "No on Prop 23 pledges." The CSSC and the statewide community organization alliance against Prop 23 launched the Clean Energy Tour, a traveling hip hop show to merge arts and activism. And Joel Francis, a student leader at Cal State, Los Angeles issues an incredible debate challenge to oilman Charles Koch, one of the lead financiers of Proposition 23, has drawn national attention to the people-powered battle against dirty corporate interests.
In response to the BP drilling disaster, young leaders are mobilizing peers around clean energy solutions that can protect their coasts from dangerous energy like offshore drilling.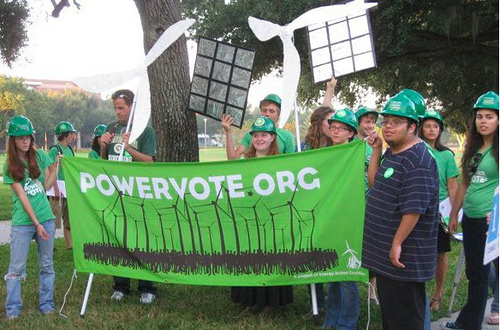 The Southern Energy Network and Florida YES Coalition have engaged over 5000 young voters in their Power Vote campaign to promote Solar in the Sunshine state. Their creative actions on campus, like "Human oil spills" and "Marches to the polls" have captured the attention of local media, and their energetic presence at the Florida Senatorial debate pushed energy into the dialogue.
"Windmills, Not Oilspills" is the chant you'll hear around Virginia. They've mobilized thousands of voters around it, and brought it to political debates across the state, inculding to Virginia's 5th Congressional District where their most active chapter has been an important voice in the tight race. Over 1000 young people from Charlottesville and University of Virginia have pledged to carry their demands for clean energy to the ballot box on November 2nd, and in the lead up to the election they organized Halloween events and Dorm Storms to ensure strong turnout.
Ever seen "mass transit train" Halloween costumes? You would have if you were in Ohio on Halloween. You also would have seen young clean energy advocates captivate an enormous rally with break dancing - it sounds crazy, but it's true! The Ohio Student Environmental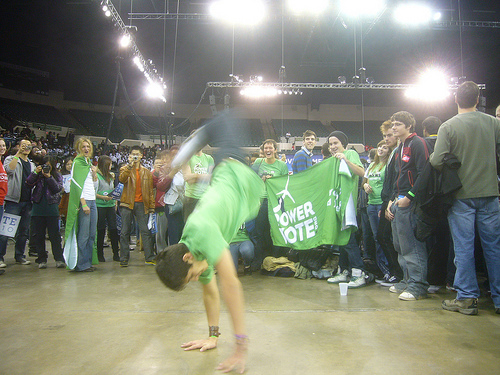 Coalition is mixing it up and breaking it down with creative tactics and brass-tacks grassroots organizing. They stormed dorms across Ohio in costume, and are organizing all day phonebanks for election day.
But election day isn't over and the chips haven't settled yet. Get out there and join these young people in voting and pushing through for a clean energy economy - if we don't, no one else will.