Just why I'm intentionally venturing off to a place with 'death' in the title, I'm not quite sure. The thought of a valley where people suffered and perished in a desolate landscape certainly doesn't promise a light-hearted excursion, but I've had enough of the glitter and false facades of Las Vegas, and I'm ready for some gritty reality and wagon train lore. And besides, I'm told by the folks at Pink Jeep Tours, that there is unexpected beauty and fascinating history in this rugged valley with the unfortunate name.
Early morning finds us hopping into an impressive jeep safari vehicle painted bright flamingo pink and greeting our guide for the day, Boston Bob.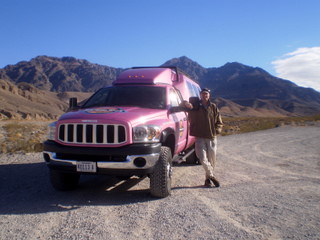 As we pass through the outskirts of Las Vegas heading west toward California, Bob imparts historical tidbits of the city we're leaving behind. Before long we're passing Red Rock Canyon, the Valley of Fire and Mt. Charleston where we're told there's skiing in winter. As the landscape becomes more desolate and boulder strewn, we cross The Old Spanish Trail used by wagon trains to make their way westward from New Mexico, winding between pockets of underground springs all the way to California. The scenery reminds me of a Lone Ranger movie, rough rocky hillsides strewn with millions of boulders; outcroppings perfect for a rifle perch, and tumble weeds rolling along. I can almost hear the clip, clip, clip of horse hooves now.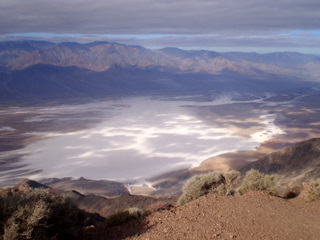 Soon our perky jeep is motoring up a steep mountainside to a 5,400 foot scenic overlook, Dante's View. Peering over the edge, the valley basin unfolds below us revealing Death Valley, the hottest, driest and lowest elevation in North America. The view is unexpectedly quite beautiful with a ring of purple mountains in the distance and a valley floor of pure white salt. With this panorama before us, we hear the legend of how Death Valley got its name. In 1849 a wagon train of prospectors heading for the California gold rush decided to take a short-cut across the valley to find a pass through the Sierra Nevada Mountains. Their journey was extremely arduous in the hot, dry basin, and the group resorted to slaughtering their horses and burning their wagons to survive. They thought they would all surely die in the valley. While only one person died during the transit, after reaching the mountains, the group looked back and one declared "Goodbye Death Valley", and the valley has held the name ever since.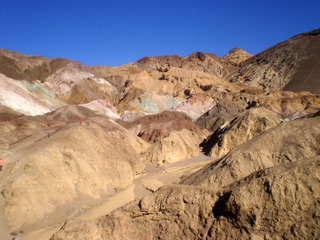 The next few hours see us wandering through rugged canyons where generations of miners have extracted minerals from the landscape. Tales of 20 mule team borax workers come to life at Furnace Creek Ranch where evidence of borax mining can still be seen in surrounding areas. We are awestruck by the vibrantly colored rock formations along 'Artist's Scenic Drive' where hillsides shine with green, purple, pink, yellow and orange hues. Instead of being the drab lifeless region we had imagined, Death Valley National Park is actually filled with fascinating displays of dramatic rock formations and colorful vistas.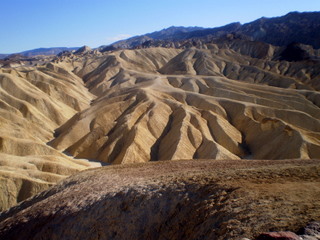 Bob has saved the best for last, a stop a Zabriskie Point where a short climb brings us to an overlook revealing a jaw dropping field of golden rock formations smoothed into undulating waves by centuries of erosion. Mesmerizing!
So now as we head back to the glittering man-made streets of Las Vegas, our minds are filled with visions of natural beauty and colorful landscapes emerging unenhanced from the earth. This excursion into a desolate valley has revealed an abundance of life and surprising beauty in Death Valley.