If it's 3:00 pm on Campobello Island, beloved summer retreat of Franklin and Eleanor Roosevelt, it's time for tea and conversation. Tea with Eleanor has become a favored tradition for visitors at the Roosevelt Campobello International Park in New Brunswick, Canada, just across the bridge from Lubec, Maine. With tickets in hand, we could hardly wait to learn more about the personal life of Eleanor Roosevelt; the longest serving First Lady of the United States (12 years), first Chairperson of the United Nations Human Rights Commission, and perhaps the most quoted women in history.
The aroma of freshly baked cookies beckoned us to enter the charming tea room at the Wells-Shober cottage on the Roosevelt estate. Smiling guides welcomed us to Eleanor's afternoon tea party and we settled down to sip steaming Earl Grey Tea and hear poignant stories about Eleanor Roosevelt, her life and traditions on Campobello Island. Theresa, Violet and Dawn, our hostesses, enthusiastically brought Eleanor into clear focus, as they related stories shared by their family members who had worked at the Roosevelt estate since the early 1900's. Violet reminded us that today, just as it was in Eleanor's day, rule number one at the tea party; no talk of politics allowed!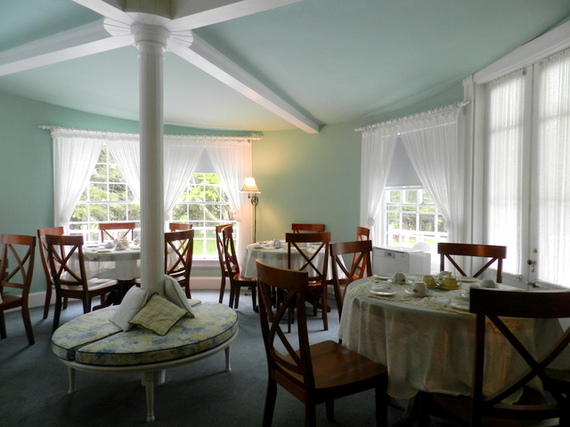 It was clear that Eleanor's kindness and genuine interest in the community of Campobello Island endeared her to the islanders. She was known to invite just about everyone she saw from one afternoon to the next for tea, so the staff never knew whether to bake cookies for 1o or 50. Dawn laughed as she told us how Eleanor ordered dresses from the Sear's Catalog to wear while on Campobello Island, so she just might be wearing the same outfit as one of her guests. Ever the gracious hostess, Eleanor was far more interested in people's ideas than in their attire or social status. During the war years, Eleanor frequently hosted knitting circles to make socks and mittens for the troops, and you can still see her knitting needles standing at the ready in the display case.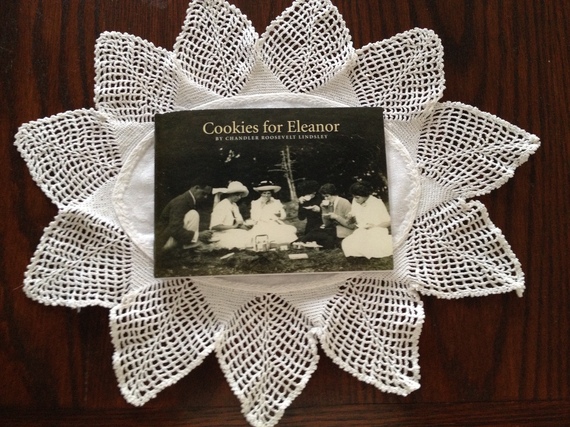 During her public life as the wife of FDR, one of the most esteemed Presidents in American history, Eleanor redefined the role of First Lady of the United States. Being First Lady was largely a ceremonial role, but Eleanor changed all that by holding press conferences and issuing agendas. While Franklin broadcast his fireside chats on the radio, Eleanor took to pen and paper, authoring 27 books and penning 7,300 My Day columns which were syndicated in newspapers across America. Each night Eleanor wrote a 500 word column of her thoughts and reflections and she never missed a deadline. While it wasn't always welcomed or popular, Eleanor advocated for women's rights, racial equality and the elimination of segregation in America. She traveled to the Tuskegee Airbase to shine light on African-American military pilots and visited the South Pacific as a moral-building tour, visiting thousands of wounded soldiers. After Franklin's death, Harry Truman appointed Eleanor as the first United States Representative to the United Nations Commission on Human Rights where she successfully lobbied for the passage of the UN Declaration of Human Rights.
Eleanor's self-assurance and positive personality belied her sad and difficult childhood. Eleanor's early years were punctuated by the tragic deaths of her mother, father and brother, and her strict upbringing by a domineering Grandmother. But despite heartbreak, hardships and unexpected challenges, Eleanor grew to be one most respected women of her time. Eleanor met challenges head on, from stepping in to make campaign speeches for Franklin when he as stricken with polio, to meeting with world leaders in pursuit of her own worthy causes including Global Health and Wellness and Human Rights initiatives.
Dawn shared with us one of Eleanor's fondest sayings, and very apropos to our gathering, "A woman is like a tea bag.... you never know her strength until she's in hot water".
Tea With Eleanor takes place three times a day at the Roosevelt Campobello International Park in New Brunswick, Canada. Two of the teas are free, with tickets being distributed on a first-come basis at the Visitor's Center each morning. An additional afternoon tea can be booked in advance for a $12 ticket fee which includes a copy of Cookies for Eleanor, a cookbook of the favorite cookies prepared for Eleanor's afternoon teas.
The Roosevelt Campobello International Park is located just offshore from Lubec, in Downeast Maine (about a four hour drive from Portland). The International Park which is celebrating it's 50th birthday this year, is jointly owned and managed by the United States and Canada and is open for free exploration from May to October. Visitors can tour the stately, but comfortable, 34 room 'summer cottage' owned by FDR and Eleanor, as well as several neighboring homes. There are great hiking trails, scenic lighthouses and wonderful restaurants on the island. After visiting Campobello Island, it is clear to see how this rugged and beautiful island helped shape the personalities of both Franklin and Eleanor Roosevelt.
For more information about the remarkable lives of Franklin and Eleanor, you might want to tune in to the Ken Burn's PBS special, The Roosevelts: An Intimate History which will begin airing on September 14, 2014. And for an introduction to Lubec, Maine, gateway to Campobello Island, you might want to read, Lubec Maine, Eastern Most Town in the U.S.A.