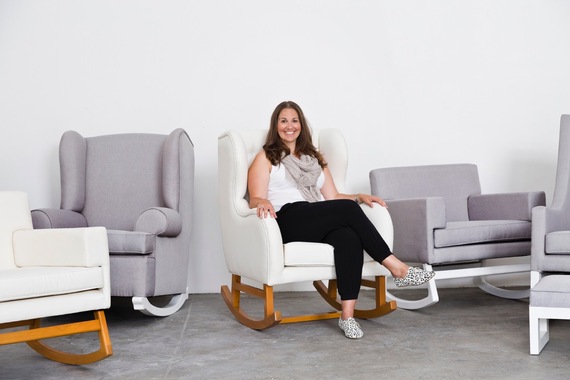 Most first time parents with a newborn are lucky to be thinking straight, let alone launching an international furniture business.
Samantha Hobbelen is not most people.
Elbow deep in nappies, and averaging two hourly blocks of sleep, Samantha launched Hobbe Home.
Hobbe Home was born from a place where most entrepreneurial ideas are conceived, a gap in the market.
With her first child on the way, Samantha was looking for a rocking chair to nurse in. What she quickly found were chairs that were expensive but not necessarily comfortable or stylish and chairs that were cheap, uncomfortable, and completely impractical for feeding a baby.
Welcome to Samantha's light bulb moment.
"I have a passion for style, I love all things interiors, and I have a background in furniture," Samantha explains. "When I couldn't find a chair that looked great and was also in a reasonable price bracket, I decided to design my own."
Samantha is an entrepreneur if ever there was. Her first venture was importing handbag hooks to sell at weekend markets, on top of her Monday to Friday job.
Her second venture came from a chance observation of hire furniture.
"Just because people are having to hire furniture for a wedding or event, doesn't mean they should be limited to plastic chairs and tables."
This time with a business partner, Samantha launched a furniture hire business. What differentiated their offering was that they designed and manufactured their own range of high-end furniture.
Little did Samantha know the importing, manufacturing and warehousing experience from her first two ventures, were building blocks for Hobbe Home.
A dietitian by qualification, Samantha's business education has grown organically. Learning along the way, each larger, more complex venture expanding on her skill set.
Enlisting a business coach during the hire business has been the only formal guidance Samantha has sought.
"You generally go into business with a very clear passion or purpose, then find yourself having to do a huge amount of tasks that aren't actually what you love doing. The business coach helped us stream line many of the things that we didn't love, so we could grow the business and spend more time doing what we did love."
For each of her ventures, Samantha has had her "village." Just as it takes a village to raise a child, it also takes a village to raise a start up.
"There is no way I could have come this far without my friends and family supporting me in various ways."
Asked if she has a businessperson she looks up to, Samantha takes a moment to contemplate.
"I didn't know it until I met her, but Kristy from Incy Interiors."
Kristy Withers is the founder of a multi million dollar Australian business built on a kid's bed. New to the industry, Samantha introduced herself and asked Kristy if she could buy her a coffee. Kristy said yes.
"She didn't know me, she didn't have to, but she was so generous and incredibly insightful."
Samantha explains of the initial meeting she had with Kristy.
"Not only is Kristy a successful business woman, she is a beautiful person too, and that's extremely refreshing in what is a highly competitive market."
Two years on, Hobbe Home is sold Australia wide, stocked in 15 stores, and has just had their first international customer - a royal family none the less.
With more than two-hour blocks of sleep and the end of newborn nappies for her second son fast approaching, the sky is the limit for Samantha Hobbelen.