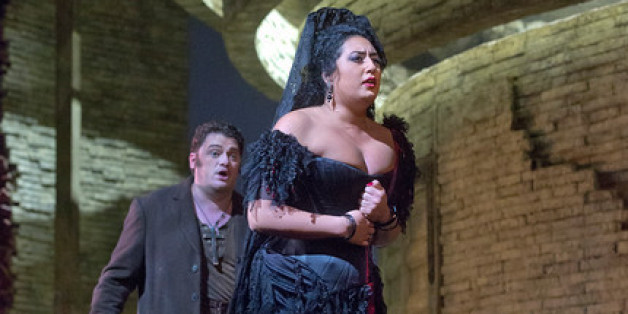 Few operas can match Bizet's Carmen for passion, jealousy, revenge, and ultimate tragedy, set to stirring and glorious music, and the Met Opera's sweeping production by Richard Eyre brings it all vividly to life.
Anita Rachvelishvili's sultry and earthy mezzo takes on the role of the fickle and doomed gypsy for the second time in three years, and she will repeat her performance for audiences around the world on Nov. 1 when the Met offers it as part of its Live in HD series in more than 2,000 theaters in 68 countries.
Carmen was Bizet's great masterpiece, but he didn't live to know it. The premiere in Paris in 1875 was ridiculed by French critics and audiences and the composer died three months later at the age of 36. Within the year, however, it scored a huge success in Vienna and soon was a staple in the repertory of all the major opera companies in the world. The Met has performed it nearly 1,000 times, and the music is some of the most recognizable in all of opera.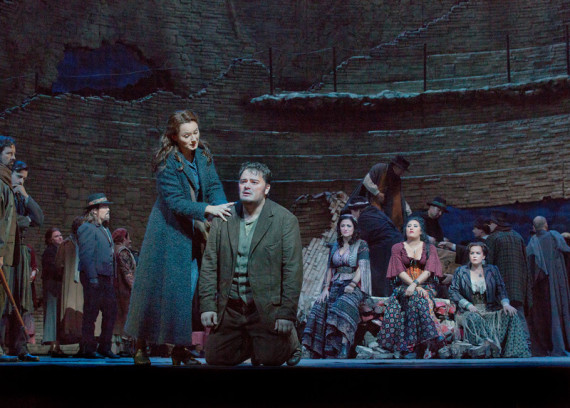 Anita Hartig as Micaëla and Aleksandrs Antonenko as Don José in Bizet's "Carmen." Photo: Ken Howard/Metropolitan Opera.
Eyre's 2009 staging sets the action in 1930's Seville, a place and time of which he seems particularly fond. His smashing new production of Le Nozze di Figaro, which opened the Met season, is also set in 1930's Seville. Before a note of Carmen is played, intimations of the tragic ending to come emanate from a black curtain with a giant, blood-red bolt slashing down the middle of it, like a jagged stab wound.
That curtain then parts and a pair of dancers perform an erotic pas de deux during Bizet's rousing overture, which the Met orchestra charges through like a bull under Pablo Heras-Casado's assured baton. This is only the Spanish conductor's second outing at the Met, after a Rigoletto last year, and one may hope to hear more from him in the future.
When the curtain rises, a garrison of Guardia Civil, complete with tricorn hats, lounge behind a chain-link fence at the base of what appears to be the ruins of a colosseum or bullring. Some are shaving, some playing cards, some reading mail or looking at what one assumes are girlie pictures.
Eyre, ever the brilliant theater director, starts building the tension in Carmen from the outset by having the soldiers virtually manhandle Micaela when she arrives looking for Don Jose, bearing a letter from his mother. The sex theme continues when the entire neighborhood, or at least the male population of it, turns out to watch the cigarette-factory girls take their break and exchange flirtations.
The center of attention, of course, is Carmen, and she is certainly something to watch as she suggestively bathes her legs and taunts the garrison commander, Lt. Zuniga, with a flower. But it's the shy corporal Don Jose she has her eyes on, and the little peck that Micaela, Jose's hometown sweetheart, bestows is no match for the sensual pleasures Carmen can offer.
Rachvelishvili's Carmen is full of fire and mischief, her eyes flashing as she sets about seducing Don Jose. She has a strong voice and she uses it to fine advantage to convey a woman who is free-spirited and unafraid even in the face of death.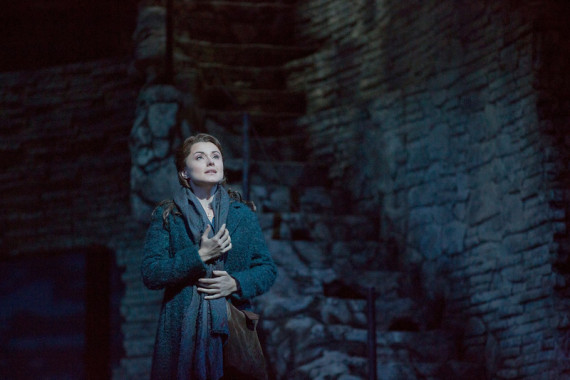 Anita Hartig as Micaëla in Bizet's "Carmen." Photo: Ken Howard/Metropolitan Opera.
As Don Jose, the hapless corporal bewitched by Carmen, the Latvian tenor Aleksandrs Antonenko was clearly suffering from a cold at a recent performance. In his best moments, he displayed a big voice that was secure in top notes. But he was struggling in some passages and plainly having trouble finding his place in duets.
Micaela has the loveliest songs in the opera, and the Romanian soprano Anita Hartig, whose Met debut was in this season's La Boheme, delivered them with aching tenderness and delicate phrasing, especially her third-act aria "je dis que rien ne m'epouvante." The Italian baritone Massimo Cavalletti supplied a thumping "Toreador Song" but seemed a bit wooden for a dashing bullfighter.