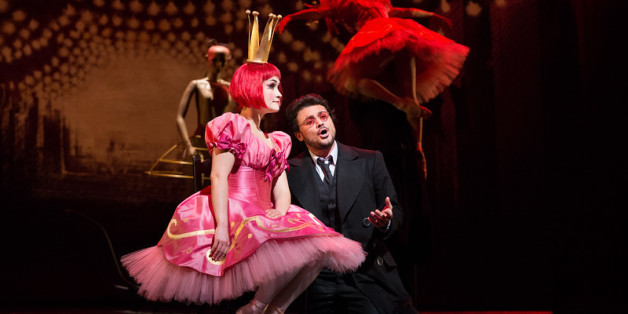 Everybody has at least one love affair he or she would like to forget. Hoffmann, the hapless poet hero of Les Contes d'Hoffmann, has four that haunt him in Offenbach's grand final opera, which the Met returned to the stage last night with the Italian tenor Vittorio Grigolo brilliantly singing and acting the title role in Bartlett Sher's spectacular production.
The mezzo Kate Lindsey is excellent as Hoffmann's friend and muse Nicklausse and the soprano Erin Morley scores a knockout as the wind-up doll Olympia to lead an all-round fine cast that brings fresh vitality and artistry to Sher's 2009 staging. And the Canadian conductor Yves Abel leads the Met orchestra in a stirring reading of Offenbach's score.
All in all, it's a thrilling night of opera that the Met will offer as part of its Live in HD series on Jan. 31 when it simulcasts that matinee performance to more than 2,000 theaters in 69 countries around the world. The Met also will perform Hoffmann 11 more times this season, the last six with a different cast and James Levine in the pit.
Offenbach spent his entire career as a composer of light comic opera and he is mostly familiar to audiences today for his music to the can-can (from his opera bouffe Orpheus in the Underworld). It was only toward the end of his life that he undertook his first serious opera, and after years of work it was still not quite finished when he died. The premiere was at the Opera-Comique in Paris in 1881, but the score had several versions over the next 100 years. The current one at the Met is based on Offenbach's original concept for the opera.
The story is taken from the writings of E.T.A. Hoffmann, whose tales of disillusion in romance take fantastical twists. The opera consists of three acts sandwiched between a prologue and epilogue. At the start, Hoffmann is waiting in a tavern for his current inamorata, an opera diva appropriately named Stella. But his rival, a lawyer named Lindorf, predicts it is he who will win Stella in the end. To pass the time, Hoffmann tells the other barflies stories about three of his previous loves, each of which ends in disaster.
In the first, Hoffmann finds himself in the workshop of an inventor named Spalanzani. Sold a special pair of rose-colored glasses by Spalanzani's onetime partner Coppelius (a k a Lindorf) Hoffmann is bewitched by what he thinks is the man's daughter Olympia, but is actually a mechanical doll.
Next Hoffmann tells of his passion for Antonia, a singer with a weak heart whose father implores her to give up singing lest it prove fatal. Enter Dr. Miracle (Lindorf again), who convinces her that her father's fear is unfounded and she can sing as much as she wants. She starts singing and falls dead.
The third tale moves to Venice where a wild party is in progress at the home of a courtesan named Giulietta. One of her guests, a certain Dapertutto (Lindorf once more), offers her a big diamond if she can seduce Hoffmann. She does and her current lover, Schlemil, challenges Hoffmann to a duel. Hoffmann accepts and dispatches Schlemil.
The production itself is a marvel to behold thanks in large part to Michael Yeargan's fabulous sets. Sher, a theater director who has had five Tony nominations, knows how to grab an audience's attention and keep it. The prologue, for example, is a bawdy German beer hall with a group of live mannequins in nothing but G-strings and pasties among the clientele. Each succeeding act offers something special.
Spalanzani's workshop looks like a cross between a traveling carnival and a mad scientist's lab on a TV cartoon show for kids. And the Venetian palazzo in Act 3 is a model of debauchery with those same girls wearing next to nothing and who could double as pole dancers. An orgy of simulated sex is in progress, and after Hoffmann kills Schlemil, Giulietta escapes on a gondola.
The big excitement with this revival, however, is a cast mostly made up of young singers who are building their careers. Grigolo, a fine actor, is the epitome of a self-pitying poet who is down on his luck and likely to remain that way. He has a rich tenor voice that gained strength through the evening and positively soared in the final act and epilogue.
Kate Lindsey is a revelation as Nicklausse, who accompanies Hoffmann through all his amorous travels, and his Muse. She is also a first-rate actor and has a lilting and pleasing mezzo that one will look forward to hearing again. The soprano Erin Morley turns in a small tour de force as Olympia with the doll's song "Les oiseaux dans la charmille," her robotic gesturing and collapsing to the floor perfectly timed to the tempo.
The Russian soprano Hibla Gerzmava, originally announced to sing all three of Hoffmann's loves, delivered a lovely "Elle e fuit" as Antonia. The mezzo Christine Rice, in only her second role at the Met, is sultry as Giulietta. And the reliable baritone Thomas Hampson is maliciously gleeful as all the villains, especially as Dr. Miracle, looking a bit like Vincent Price on speed.