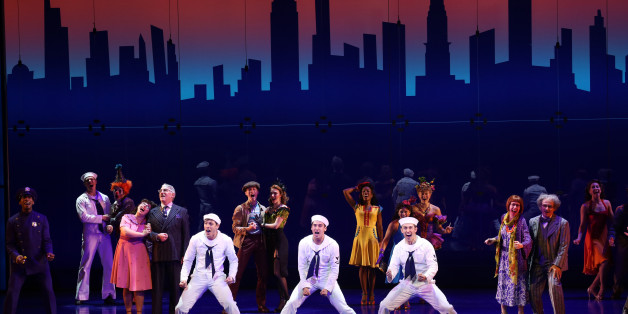 The Bronx is still up and the Battery is still down, but the rest of this delightful new Broadway revival of On the Town has been given a facelift that turns the tale of three sailors looking for a night of romance into a sexy comedy romp enlivened by some acrobatic and dazzling choreography.

The latest incarnation of this 1944 musical, a brainchild of Jerome Robbins with music by Leonard Bernstein and a book by Betty Comden and Adolph Green, begins with a homage to the age in which it was conceived, when America was at war and a large part of its male population was in uniform. A 48-star flag serves as the curtain and the orchestra plays the Star-Spangled Banner before it comes up.
The fleet is in town and three sailors -- Gabey, Ozzie, and Chip -- disembark at the Brooklyn Navy Yards for a 24-hour shore leave. But despite all the talk about finding "dates" for their one night on the town, any pretense they are wanting anything other than one-night stands for sex is quickly dispelled by John Rando's jazzed-up direction and Joshua Bergasse's exciting choreography.
Ozzie and Chip quickly find willing and eager partners in Hildy and Claire in a taxicab and at the Natural History Museum, thoroughly modern gals who are as randy as the sailors. Gabey, however, has fallen head over heels for Ivy Smith, a girl he has seen only in a photograph on a subway poster proclaiming her Miss Turnstiles of July. The rest of the show consists of Gabey trying to track her down, abetted by his Navy buddies and their pickups.
All of this is played strictly for laughs with exaggerated performances, including some slapstick, that might seem more at home in a TV sitcom pilot. Some scenes made me think of episodes on the Carol Burnett show, especially those with Maude Dilly, Ivy's dipsomaniacal voice coach at Carnegie Hall, and the search party's bar-hopping trips to various nightclubs.

The only problem with this approach, which is quite funny and produces its fair share of laughs, is that some of the more poignant moments in the show are eclipsed, seeming at times to be almost like filler material until the sexy scenes resume.

When it first appeared on Broadway, there was a movement afoot that decreed the future of the American theater would be a serious fusion of music, dance, and words, and "On the Town" was a result of that thinking. With Bernstein composing the score and Robbins choreographing the movement, the story by Comden and Green was the least important element.
By moving the girl-hunt to center stage and giving it a 21st-century sensibility of permissive promiscuity, some of Bernstein's wistful and ruminative music, such as the first-act "Lonely Town" and "Lucky to Be Me," or the melancholic quartet "Some Other Time," and Robbins' insertion of balletic dance sequences seem almost out of place.
Bergasse's choreography for this revival is something of a tribute to Robbins. Bergasse has put together lively and energetic ensemble numbers -- especially the Times Square Ballet that closes Act 1 and one in which Ivy is tossed around by the New York Giants like... well, like a football. And the two pas de deux between Ivy and Gabey are lovely.
Megan Fairchild, a principal dancer with the New York City Ballet, is stunning in her Broadway debut as Ivy, and Tony Yazbeck delivers an admirable performance as Gabey. Clyde Alves and Jay Armstrong Johnson are commendable as Ozzie and Chip, and Alysha Umphress and Elizabeth Stanley are suitably oversexed as Hildy and Claire.
With a cast of dozens playing some 40-odd roles, there is not a sour note in the show. One standout is Jackie Hoffman as Maude Dill and a trio of nightclub warblers trying to sing "I Wish I Was Dead."