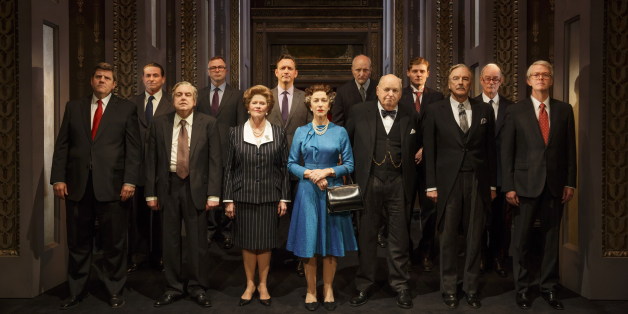 In an episode of Prime Suspect, the gripping 1991 TV crime series, the remarkable Helen Mirren, playing DCI Jane Tennison, snaps at a detective who addresses her with the deference due her rank: "Don't call me Ma'am. I'm not the bloody queen." Well, she certainly fooled me.
In a performance as regal and majestic as the character she portrays, Mirren so embodies the persona of Queen Elizabeth II in Peter Morgan's play The Audience that, given the unlikelihood of my ever being invited for the weekend at Balmoral Castle, she will forever be the image of the Queen of England in my mind.

Elizabeth Windsor has been on the British throne for 63 years and in September will pass her great great grandmother, Queen Victoria, as the nation's longest reigning monarch. She has traveled further and seen more of this world than any other sovereign, and she has endured the challenges and travails of a changing world with grace, dignity, and even humor.

Mirren captures every nuance and complexity of a young woman, thrust onto the stage of history by a quirk of fate that made her father rather than her uncle a king, who learns through subtle wit and tolerant forbearance to survive and preserve a crown for her son and grandson. It is Mirren's second turn as Queen Elizabeth, having won an Oscar for her portrayal of the British monarch dealing with the death of Diana, Princess of Wales, in the movie The Queen.

If Morgan's play is first and foremost a portrait of Queen Elizabeth II at work, it is also a survey of British history over the past 60 years and conveys a sense of the tradition and grandeur that comes with a royalty that goes back 1,000 years.
At the outset her Equerry explains the mechanics of the weekly Audience, a pair of Household Guards march on and off in lock step, and when the play moves to Scotland a couple of well-behaved Corgis race across the stage.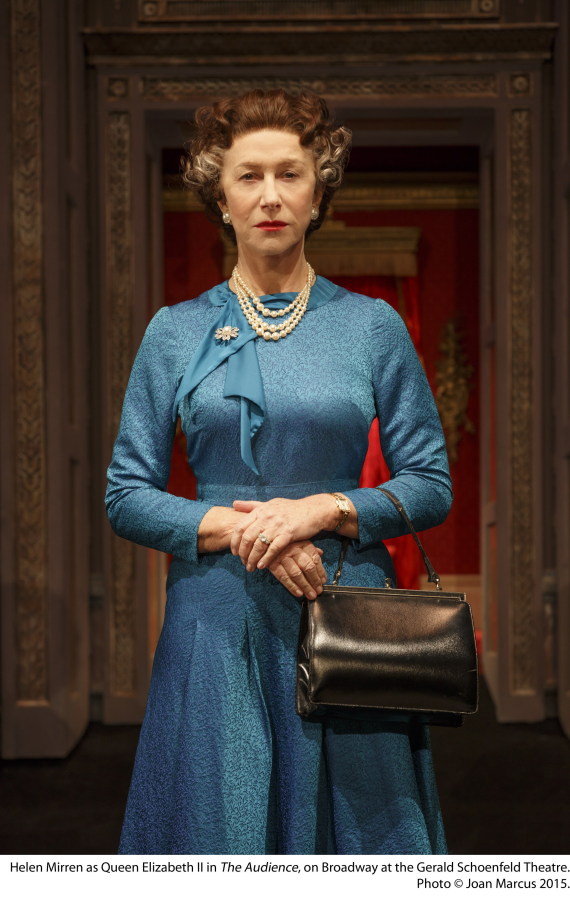 The point of view of the play focuses on the weekly Audience the queen has with her prime minister, a 20-minute chat during which she is informed of the government's policies and any action it is about to take. She has had an even dozen first ministers during her reign, and as she tells the present one, David Cameron: "I'm not done yet." With a general election coming up in May, she possibly could have her 13th by summer.
The Audience also includes poignant flashbacks to Elizabeth's childhood in which Mirren converses with her younger self, growing up and yearning for nothing more than a quiet life. When she is told as a girl that that life will not be possible for her, that "no one will ever call you by your name or look you in the eye" she laments, "why did daddy have to become king?"
Superbly directed by Stephen Daldry, the Audiences go backward and forward in time as the parade of prime ministers come and go, and for each Mirren undergoes a quick costume and hair change. It is an amazing sequence of seamless scene-change transitions (Mirren's dressers should get a curtain call) and it is part of Mirren's brilliance that she modulates her performance to reflect the age at which she is appearing in each.
When we see her with Winston Churchill after her ascension in 1952, for example, Mirren sheds years to credibly appear as an eager if naïve 24-year-old. Even her voice is girlish. By the time of her audiences with Tony Blair, Gordon Brown, and Cameron, Mirren seems to physically shrink and vocally age.

The first Audience on which we eavesdrop is a 1995 meeting with John Major, who is fretting about his dwindling popularity. Mirren's queen is stately, sitting in one of two chairs in the Audience Room of Buckingham Palace, her ankles crossed, her hands clasped in her lap. She is in a red suit, a string of pearls around her neck and a diamond brooch on her jacket. When Major whines that all he wanted in life was "to be ordinary," the queen conversationally asks: "And in which way do you consider you've failed in that ambition?"

It will later be Major who delivers one of the biggest disappointments of her life, decommissioning the royal yacht Britannia, launched the year of her coronation and the one refuge she had from her public duties.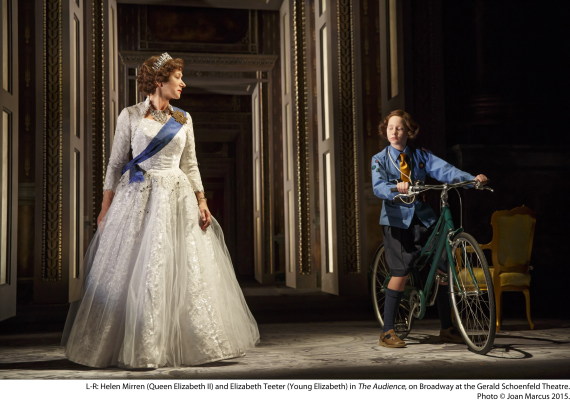 When the Labor Party comes to power in 1964, Harold Wilson arrives at his first Audience like an awe-struck tourist, complete with a Polaroid camera, but with a red-brick, working-class chip on his shoulder. Wilson nonetheless becomes one of the queen's favorites, and when years later he informs her of his decision to resign, she tells him she would accept an invitation to dinner at Downing Street, an honor previously accorded only to Churchill.
During that first Audience with Churchill he tells her, calling her by her childhood name Lilly-Bett: "One by one your prime ministers will fall under your spell. In here. In the Audience. In this room. Then they will be yours to guide and steer. Perhaps even influence."
Her influence, however, has had its ups and downs. She tried but failed to persuade Anthony Eden to delay the ill-advised debacle of the Suez war. Decades later Blair uses almost the exact same words as Eden in explaining the rationale for the invasion of Iraq.
"That's what happens if you stick around long enough," she says later. "The same people, the same ideas, come round again and again. Wearing a different colored tie."
Only Margaret Thatcher turned out to be impervious to the queen's spell. The two women clashed swords from the outset with Thatcher refusing the queen's urging to consider sanctions against South Africa's apartheid regime and threatening to dismantle the British Commonwealth, a cause for which the queen has worked all her life.
A fine all-round cast brings "The Audience" vividly to life. Richard McCabe is excellent as Wilson. Dakin Matthews harrumphs a first-rate portrayal of Churchill and Rod McLachlan makes dour Gordon Brown seem sympathetic. Judith Ivey is viciously cut-throat as Thatcher and Dylan Baker is appropriately wishy-washy as Major. Sadie Sink, who alternates as the Young Elizabeth, is bright and perky, and Geoffrey Beevers brings pleasant British snobbery as the queen's Equerry.
In that first audience with Britain's then young monarch, Churchill further prophesied: "Great things have happened to this country under the scepters of its queens. And you should be no exception."
He has been proved right. And Helen Mirren has showed us how it was done.