As ticket prices to Super Bowl XLVI continue to hover around $3,500 on average, one has to wonder what is the cost that fans are willing to bear to see their team play for a shot at the Lombardi Trophy.
Tickets to the big game in Indianapolis have averaged $3,474 in secondary market sales since the New York Giants and New England Patriots clinched a berth in the big game with last Sunday's wins over the San Francisco 49ers and Baltimore Ravens, respectively. That's more than 18 times the average price of the Indianapolis Colts' top home game this season against the Pittsburgh Steelers ($188). For that price you could get courtside seats to see the Lakers take on the Celtics at the Garden. Or getting out of sports entirely, you could score a three-day rental for a Ferrari California, spend a week on your own private island or go on an African Safari. You could even start making mortgage payments for a luxury condo at the Conrad Hotel, which just so happens to be located a stone's throw from Lucas Oil Stadium.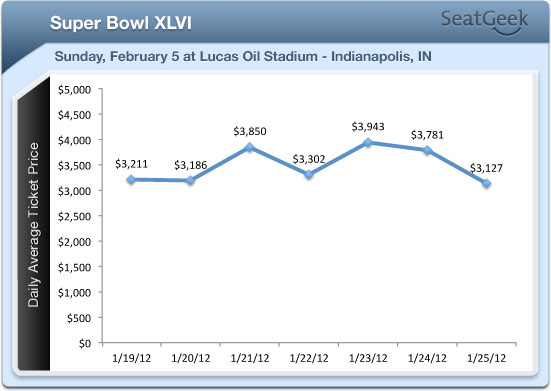 So why are fans making this the most expensive event that SeatGeek has ever tracked? We're thinking the intrigue surrounding a rematch of Super Bowl XLII has a lot to do with it. The Giants upset the Patriots in 2008 while handing them their first loss of the season, ending a pristine streak of 18 games. The two sides met previously in 2011, where a 1-yard touchdown pass from Eli Manning in the final seconds sealed the game at 24-20 for New York. The Patriots haven't looked back since, stringing together 10 straight wins since their meeting with the Giants in Week 9. In case you were wondering, the average ticket price for that showdown in the Meadowlands was $331, making it the most demanded game involving the Giants this regular season.
As it happens, it looks like New Yorkers will have plenty of company in Indy for pre-game tailgating. Just shy of one third of all shoppers on SeatGeek's Super Bowl event page within the last 72 hours hail from New York and New Jersey, far outpacing the traffic from users in New England. 22% of all shoppers to SeatGeek's Super Bowl page come from New York, while 9% come from New Jersey. By comparison, users from Massachusetts account for only 8% of all traffic, and the sum of all users from the six New England states (MA, CT, ME, RI, NH and VT) only adds up to 14.4% total.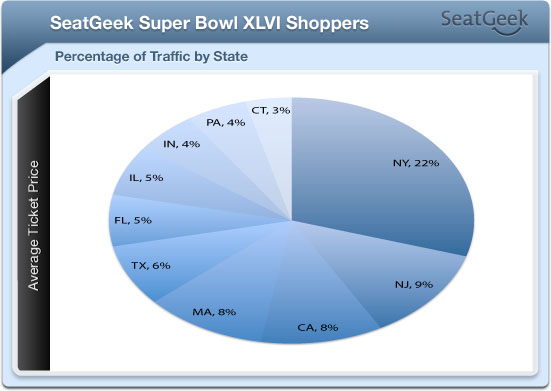 So if you're set on attending, scouting out the seats is really where the rubber meets the road. How much you pay for SB XLVI tickets depends in large part on what section you sit in. If you're OK sitting in the 600-Level of Lucas Oil Stadium, expect to pay around $2,786. For the 400-Level and 200-Level, tickets are averaging $3,461 and $4,180, respectively. However, the most interesting disparity between prices comes in the 100-Level field seats where there is almost a 2.5x price premium for club seats versus non-club lower level seats. At Lucas Oil Stadium, the club section is comprised of all lower level seats between the 25-yard lines, so If you want to sit there expect to pay a whopping $10,742. To sit elsewhere in the lower level -- say the end zones or corners -- it will cost on average about $4,300.
Right now on SeatGeek the most expensive ticket listing is a $608,475 listing for a full Street Level suite at Lucas Oil Stadium. There are also three full Field Level suite listings on SeatGeek for over $600,000 and 2 half-suite listings around $300,000 a piece. For those on a bit more of a budget, the cheapest seat in the stadium currently is priced at $2,098 for a seat in the 600 Level End Zone. Beyond that, there are numerous nose-bleed listings in the $2300-$2400 range.