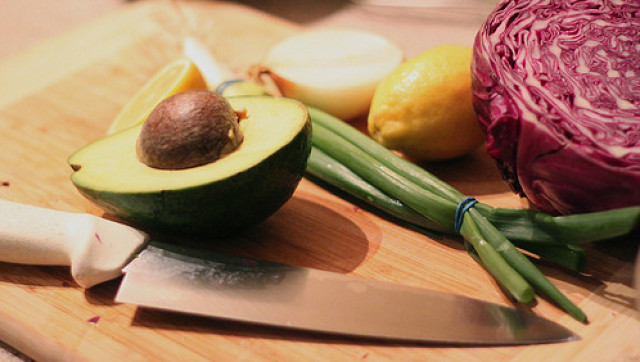 My education in cooking was a bit unconventional. I had always cooked here and there at home -- baking cookies with my grandmother, helping my mom make the fillings for tacos -- but it was nothing serious. Nothing that gave me the opportunity to explore in the kitchen, understand how ingredients come together, how to cook with what you have. I hadn't the faintest idea how to chop an onion.
So I became determined to learn. Not just how to chop an onion, but to learn my way through every ingredient, every dish, every kitchen appliance, and every cookbook I could get my hands on. I was in the 5th grade, and my best friend and I would meet up on weekends to experiment with cooking, learning to roast a chicken, to make fresh tomato sauce or to flip the perfect crepe. We'd soak up the Food Network, take local cooking classes, and read our way through a treasured edition of a culinary school textbook we'd gotten our hands on. We spent hours in the kitchen and learned the fundamentals of cooking.
A year later, at the age of 13, we opened our own catering business, WA Catering, for which we managed all aspects of the business -- event planning, cooking, serving, you name it. It was trial by fire, and we learned fast. By the time we graduated high school, we could make a damn good crab cake -- and then some.
I was lucky to fall into the world of cooking and create for myself a solid foundation in the kitchen. But too often is proficiency in cooking forgotten in our national conversation about food policy. Too often do kids leave home having never turned on a stove. Too often are families plagued by diets that rely on prepared, processed foods. To often do we overlook the kitchen and the importance of teaching people how to cook.
Were there a missing link in today's food chain, it would be food education. Every time a new year rolls around, the food media industry explodes with predictions for the coming year's food trends: fried eggs, Latin food, soba noodles, casual French bistro dining -- you name it. Like any fad, these trends rise and fall with the seasons.
In 2013, the one trend that we should hope stays for good is food education.
A healthy food system relies on serious food education, and a nation of healthy eaters is only as strong as the cooks in its kitchens.
The promise of a well-educated populace has always been central to our hope for a better future. That food and cooking -- that most basic skill -- should be generally overlooked from our national syllabus a loss for all of us. Food is one of the most basic way we connect with ourselves, our health and with others. It is at the very center of a healthy, happy, productive lifestyle. It takes only a glance at the nightly news or at the First Lady's agenda to realize how few of us understand and practice healthy relationships with food. It needs to change.
While addressing such a fundamental need for change is no simple task, the opportunities to do so are endless. The resources needed to provide someone with basic cooking skills require no science lab or industrial kitchen, no hard to find ingredients and no culinary degree. But to create basic change will require tackling the problem from all angles. It will require parents, even ones who will have to catch up on basic cooking skills themselves, to commit to having their children leave home with the basic skills necessary to buy fresh food and cook it for themselves. It will require schools and community organizations to think of innovative, effective methods for teaching students to create long-term, healthy relationships with food.
It will require many students spending many, many hours in a kitchen -- chopping, searing, assembling, looking, touching, smelling, eating. There is no other way to learn to cook. A computer screen may be the math classroom of the future, it may be the textbook of the future, even the art studio of the future, but an education in cooking must always take place by the stove, and a healthy relationship with food will always begin and end in the kitchen.
Undoubtedly, we're seeing this trend begin throughout the country. Individuals and organizations from coast to coast are going into schools and working with families and their communities to make food education a priority. Jamie Oliver's popular Food Revolution, which sought to bring holistic food education to communities from West Virginia to Los Angeles and beyond, is just one of the grass roots pushes for change. In New York City, foundations like The Sylvia Center are doing groundbreaking work with youth in community centers and subsidized housing kitchens to make food education a top priority. Schools are planting vegetable gardens. Local governments and national organizations are waking up to the importance of food education. Families are cooking together at home.
But a lifelong relationship with healthy eating and with enjoying the pleasures of the kitchen and the table will require more than a single cooking lesson or a rare night preparing dinner from scratch. It will require a fundamental understanding of the benefits of cooking, and it will require that everyone be given the confidence and skills to find their way in the kitchen. I know it paid off for me to learn -- and I hope in 2013 it becomes the latest and greatest food trend for the rest of the country as well.