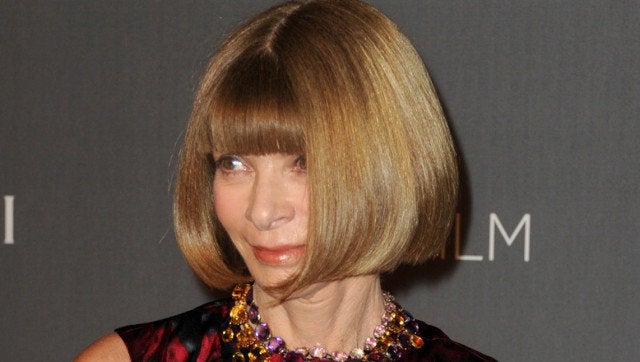 Gone are the days when women were tortured by all-male creations: corsets that caused headaches, weakness and (true) even death. Chinese feet-binding that made walking impossible. Male-designed clothing of the Elizabethan era that made it difficult for fashionable women to stand, much less run or play sports.
Today, women designers lead the trends: Donna Karan, Tracy Reese, Kate Spade, Anna Sui, Elsie de Wolfe, Alberta Ferretti, Sonia Rykiel, Vivienne Westwood, Carolina Herrera and many others inspire and generate billions of dollars in sales. Female fashion editors -- from Anna Wintour to Suzy Menkes -- guide women in what to wear. And Glamour magazine's debut all-woman issue with female photographers, writers and stylists, is just hitting the stands -- including a story on MaidenNation.com, the first e-tailer totally populated by women designers, which launches this week.
What can we expect now that women rule?
1. Beauty will reign. We still love pink, and we have no plan to burn our bras. Women adore beauty, and it radiates from every woman's design. (Speaking of bras: We may give up the painful underwire version invented in the 1940s by Howard Hughes who wanted it on Jane Russell to emphasize her breasts in The Outlaw. Russell said the "ridiculous" contraption was painful and she wore her own bra while making the movie; she just didn't tell Hughes.)
2. The private will be public. Whereas in the past, women put their artistry into the only place they had freedom -- loose-fitting clothes worn in the home and, in the 19th century, beautifully embroidered undergarments expressing artistry women weren't allowed to show on the surface -- we now see these designs flowing down public streets.
3. Giving will be part of the story. Women's generosity and community caring is in the DNA of women's lines: Kate Spade's work in Rwanda, Chan Luu's Haitian creations, Donna Karan's work with global artisans. As Tory Burch commented, "From the beginning, I knew giving back would be a part of the fabric of our company. I wanted to help women and their families. I spent a lot of time thinking about and researching the best way to get involved... It's not charity; it's empowerment. It's an investment in our collective futures."
4. Comfort will be more common. We want to move freely, peacefully and with power, so we can dance and create and express... if we wear uncomfortable, but fabulous, stilettos, it's because we want to. Our muse is Katniss Everdeen, not Eliza Doolittle.
5. All bodies will be okay. We won't have to resemble Twiggy, the 1960s icon created by men who wanted women to look like young boys. We'll ignore the 19th century gents who created the bustle so we'd look like their beloved horses (no matter that we couldn't sit down while wearing one). Now we can be our shape and have a fashion-icon first lady who looks glorious with her God-given generous hips and buff arms.
Welcome to the future, where visionary women rule! It's a maiden nation in a vibrant world.