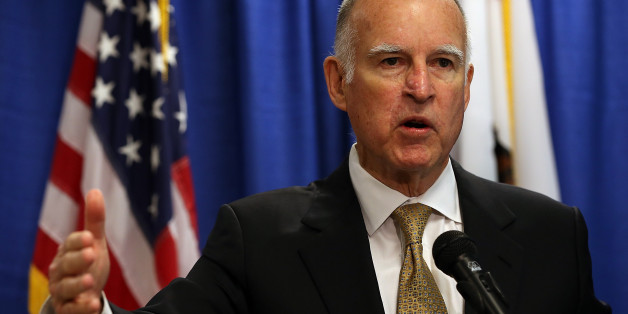 Just one month to go until California's June 3rd primary election. Can you feel the excitement?
In the absence of big initiative battles or high-profile, big money candidates slugging it out, we are left with, well, what we are left with. Primarily, that's the question of which little known Republican will emerge from the open primary into the November run-off with Governor Jerry Brown.
Yes, there are a slew of other statewide races, with Democrats salivating to repeat 2010's sweep, and a little suspense about two in particular, the races for state controller and secretary of state. In both those races, public polls have shown Republicans to be in the lead, with Fresno Mayor Ashley Swearingen, who rose to prominence as a leader of the Arnold Schwarzenegger-created California Partnership for the San Joaquin Valley, leading for controller and former marketing executive Pete Peterson, director of Pepperdine University's Davenport Institute for Civic Engagement, leading for secretary of state. Each benefits from being the only name Republican in a field with two or more prominent Democrats.

The only serious threat to Governor Jerry Brown's re-election is, as I warned last fall, his continuing stubborn refusal to plan to prevent deadly kaiju attacks. This kaiju attack scenario, resulting in the destruction of Brown's hometown of San Francisco, made available by Pacific Rim producers.
Also at stake is an early test of a statewide independent candidacy. We'll see if independent Dan Schnur can stage a late surge in the secretary of state race to finish in the top two and make it into the November general election. Former communications director for Pete Wilson's governorship and John McCain's first presidential campaign, Schnur, director of the USC Unruh Institute for Politics changed from Republican to independent several years ago and served as former Governor Schwarzenegger's pick chairing the Fair Political Practices Commission. He's a very capable guy whom I've known for over 20 years who could do a great job as secretary of state. But is there a base of voters for an independent who is not vastly funded?
But most interest in this most sedate of California elections is around the fight for the right to lose to Jerry Brown in the fall. Having smashed eBay billionaire Meg Whitman's biggest spending non-presidential campaign in the history of American politics to win his third term as governor before going on to end the state's chronic budget crisis, Brown's decision to go for a record-setting fourth term, which I predicted from the beginning, proved a tremendous disincentive for anyone else to run.
Since I also expect U.S. Senator Barbara Boxer, with whom I worked on the state solar commission during Brown's first go-round as governor when the future senator was a Marin County supervisor, to run for yet another term in 2016, the next big decision point in California politics likely won't come until 2018.
That is when Brown will be prevented from running for a fifth term as governor by California's term limits law, which did not apply to him until now because it was enacted after he served his first two terms in 1970s and '80s. That is also when Senator Dianne Feinstein will be up again for re-election. Like Boxer, who is now 73, Feinstein was first elected in 1992. But DiFi turns 81 next month. Now having a rough go of it as chair of the Senate Intelligence Committee, she would be 85 running in the 2018 general election. Not impossible, but I don't think likely.
But the drama of 2018 -- perhaps not quite as dramatic if Brown, who I always thought was a more natural senator than governor, opts for a global debating society phase in his life adventure -- is still off in the distance. For now we are stuck with the "battle" for the GOP gubernatorial nod -- and arguably the soul of what is left of the California Republican Party -- between fringe right state Assemblyman Tim Donnelly and former U.S. assistant Treasury secretary Neel Kashkari, the new hope of Republican modernizers after Schwarzenegger's appointed lieutenant governor, veteran legislator Abel Maldonado -- the logical choice to mount a respectable opposition campaign against Brown -- saw his campaign implode.
Since then, despite a lot of publicity for Kashkari, he has remained mired in the low single digits in public polls, with Donnelly running a clear if extremely distant second to Brown. Kashkari has even trailed the Republican mayor of Laguna Hills, whose name I always forget and who, in any event, has dropped out due to ill health, as well as a registered sex offender who, for some reason clear only to him, saw fit to run for governor of California.
The Kashkari camp has said not to worry, that the coordinator of the Wall Street bailout would close the gap and surge ahead of Donnelly with paid advertising. But that costs money. A lot of money in a big and relatively indifferent state like California. And it seems that Kashkari's candidacy for governor, like much of the rest of the American economy, is yet another investment opportunity that the bailout recipients have decided to pass up.
As I predicted, Kashkari's quick fundraising start just as quickly fizzled. He raised a million dollars in the first two weeks following his announcement of candidacy. Since then, he has struggled to raise as much again.
In fact, by my estimation of campaign reports since the March 17th filing deadline, Kashkari is still short of the $2 million mark. He's raised about $1.8 million since he began. Given his past spending practices, my guess is he has a little over a million dollars cash on hand going into the final month of the campaign.
That's not enough money to run any appreciable television advertising campaign, which is what an unknown candidate needs. Kashkari could do some radio, and/or a few targeted direct mail pieces. And he's already signed on to a number of slate mailers, on which his name will appear with a host of other candidates pushed for a slew of offices.
Unless Kashkari raises a few million dollars in the next two weeks, he simply won't be able to communicate in any serious way through advertising. And even that would be an iffy proposition.
And what is he communicating?
His campaign announced his first campaign mailer, refusing to say where it was going or how much was being spent on it. It proclaims the candidate to be a "conservative Republican." But as a pro-gay marriage, pro-choice, pro-illegal immigrant rights person from a South Asian background who never served in the military but who did preside over one of the biggest government spending programs in American history, and voted for Barack Obama in 2008 to boot, he doesn't really look like a conservative Republican.
Plus he has a twofold communications challenge.
Kashkari has to build himself up at the same time that he takes down Donnelly.
Is there an independent expenditure committee for that purpose about to pop?
Frankly, the Republicans would be better off trying to run, well, me as their modernizer candidate. As a WASP who was in the military, did not front the Wall Street bailout, and has a much better idea of how to run against Jerry Brown, I'm a better choice.
A facetious choice, of course, to make a point.
Not that I would ever campaign against Brown, who is merely the first person I ever voted for. Unless he was secretly leading the effort to establish a global surveillance state with the aim of launching a constantly orbiting fleet of ultra-tech gunships to immediately wipe out potential opponents to a new world order of fascism.
Wait, that's from the plot of a movie.
Hey, it wouldn't be the first time Robert Redford played a fictionalized version of Jerry Brown. You have seen The Candidate, haven't you?
Meanwhile, Brown, sitting on a $20 million-plus campaign warchest, isn't running ads or sending direct mail in the primary. And he's not doing campaign events, either, though he may be doing a few more state events than usual. Maybe.
What else is he up to? Well, he is working to put his version of a state rainy day fund on the November ballot and deciding whether or not to also go this fall for a revised version of the big state water bond that Schwarzenegger wrestled through the legislature a few years ago. And he made this year's Time 100, that august if more than a little quirky annual assemblage of the (very) arguably most influential people in the world. The article accompanying his selection is by none other than former Governor Gray Davis, who served Brown for seven years as Brown's extremely able chief of staff during his first go-round as governor.
Davis, in a brief piece entitled "The Turnaround Artist," plays up Brown's frugality with the story of Brown refusing to replace the old and increasingly threadbare carpeting in the Governor's Office inherited from the Reagan Administration.
It's a good and telling story, though other stories might come to mind.
Davis does lose out in the cheek sweepstakes to fellow Time 100 chronicler Harvey Weinstein. Dubbing Redford "The Godfather of Indie Film," Weinstein recounts his recurring problem with Robert Redford, i.e., the film legend's amazing pattern of never being able to pick up the check for their lunches and dinners. After discussing Redford's great acting abilities, Weinstein goes on to recount the end of their most recent lunch, with Redford delivering an even better performance of searching for his missing wallet.
Clearly his fee for the new Captain America movie -- in which Redford, hero of classic '70s conspiracy thrillers, stars as one of the most admirable people in the world -- will solve that problem.
The problem of California Republicans might have been solved if they had listened to Schwarzenegger at their very fateful fall 2007 state convention outside Palm Springs.
There, Schwarzenegger -- who's just begun making a time travel-oriented new Terminator picture with brilliant former Doctor Who star Matt Smith in the cast -- urged his fellow delegates to move the ever rightward-sliding state party back toward the center. As Schwarzenegger had, just the previous November, won a second landslide election as governor of California, you might think his words would carry a lot of weight. But even invoking St. Ronald of Reagan, who would be a liberal in today's GOP, availed him not, with delegates choosing the red meat rhetoric of Texas Governor Rick Perry, who followed Schwarzenegger on that Friday night in Indian Wells.
By the next day it was clear to me where the state Republicans were going. It was clear to then state Insurance Commissioner Steve Poizner, too. Schwarzenegger brought him into state politics after Poizner ran a losing Assembly race in 2004. But Poizner, with his eye on the governorship, tacked hard to the right, anticipating the ideological gauntlet that he and Meg Whitman would ultimately run in 2010 as they sought the Republican nod for governor.
I called Brown from the convention to get his thoughts on what I'd just seen and to offer my own. My take was that, if there was any doubt in the then California attorney general's mind about going again for the governorship, he should immediately dispense with that doubt. For the circumstances were turning in a way that could greatly advantage him as a candidate and give him the chance to make history.
Now the Republicans are staring into an abyss, faced with a choice between an utterly unelectable extremist and, well, I'm looking to avoid a snappy description because I think Kashkari means well. The reality is that each of the potential Democratic candidates for governor in 2018 -- and I don't think that they are all publicly known yet -- has bigger potential problems overall than Jerry Brown had in the run-up to his re-emergence as governor. But will the Republicans still be viable enough as a political entity in California to offer up anyone of note?