In 1962 the campus of the University of Mississippi was the holiest temple of white supremacy in America, a bloody battlefield where James Meredith triggered the mini-Gettysburg of the civil rights era and, along with a multitude of federal marshals and U.S. Army combat
troops, dealt a death blow to white "massive resistance" to integration in the South.
When Senators Barack Obama and John McCain meet Friday night on that same campus, once the epicenter of a wild 14-hour riot of over 2,000 white civilians that caused hundreds of casualties and two fatalities, they might pause for a moment to gaze at the great white columns of the Lyceum building, still bullet-marked from the battle. They could imagine it as a symbolic Pantheon of black and white American heroes who were bombed, shot, lynched and otherwise martyred in Mississippi so a day like this could occur, a temple of spirits gathering to witness the spectacle of a young black man fighting to be president of the United States.
There would be Medgar Evers, perhaps with a hearty laugh and some sharp wisecracks as he watched Obama and McCain arrive, remembering the days he dashed around the state in various disguises investigating atrocities against black citizens as NAACP field secretary, and recalling the time he conducted his own abortive exploratory bid to enter the university, helping pave the way for the triumph of his good friend James Meredith. Evers was assassinated by a bullet in the back just weeks before he planned to see Meredith graduate at "Ole Miss."
And there would be the serene Clyde Kennard, like Medgar a former U.S. Army paratrooper, who in 1959 attempted to become the first black student to attend an all-white state school by applying at Mississippi Southern College. In a swift, sadistic orchestration of state terror,
Kennard was arrested and framed on bogus charges of stealing $25 in chicken feed and sentenced to a wildly excessive seven years of hard labor at the notoriously brutal Parchman state prison farm, where he contracted stomach cancer and died of medical neglect in 1963. Before he died, Kennard said he'd do it again, explaining "it was a matter of being a man."
The Rev. George Washington Lee from the Delta town of Belzoni would be there at the summit too, the black Baptist minister probably offering a prayer of benediction. On May 7, 1955 he was shot in the head after taking the revolutionary step of registering to vote. By his side
would be Lamar Smith, the 60-year old farmer who weeks later registered to vote in Brookhaven and encouraged other blacks to join him, too. He was publicly ambushed and executed by gunfire in broad daylight before a crowd on the courthouse lawn.
They would be joined, of course, by young James Cheney from Philadelphia, Mississippi, and his white colleagues from New York, Michael Schwerner and Andrew Goodman, all three kidnapped and assassinated in the night by Klansmen, some of whom escaped justice until just a few years ago. And Vernon Dahmer, the burly, dignified family man, farmer and civil rights activist who was killed while defending his own house in a firebomb attack.
Just as James Meredith is today, most of these men were highly energetic, enthusiastic characters, and it's easy to imagine them smiling at the Obama-McCain contest and even cheering both men on, for the simple joy of seeing pure democracy in action. They would likely
applaud all the progress blacks and whites have made in Mississippi and the nation since the 1960s.
But it's very easy to imagine them admonishing us, and strongly, to never forget where America came from.
It was only yesterday, they'd say.
Don't forget that less than a half century ago, the beast of white supremacy held a stranglehold on Mississippi, and much of the North and South, and in some respects still poisons our soul even today. Teach the full truth in your homes and your schools, explore it,
debate it and revel in it, so your children and their children will know, and remember.
Don't forget the light years we've come, they'd say, but don't deny the light-years we have yet to travel together.
At this point the bookish, literature-loving Clyde Kennard might grin as he invoked the passage from William Faulkner's Intruder in the Dust: "It's all now you see. Yesterday wont [sic] be over until tomorrow and tomorrow began ten thousand years ago."
In the debate hall at The University of Mississippi, the lights will dim and the spirits of the Pantheon would fall silent, riveted like the rest of us by the drama about to unfold. As Barack Obama walks onto the stage, we'd understand if they were to pump a fist, slap a knee or shake their heads in wonder at what would happen next.
Mississippi, like America, may be a creature destined to be forever fossilized in the ember of race, struggling to break free. But when that state, and this nation, finally see themselves not just as they are, but as they really were in the not-so-distant past, perhaps they
can then fully appreciate the depths of their own horror, and the fullness of their potential beauty.
The following are never-before-seen color photos of 1962 Mississippi Riot Day: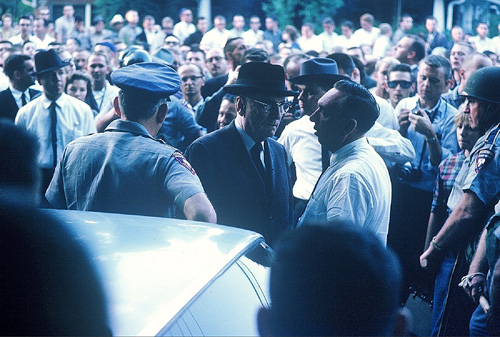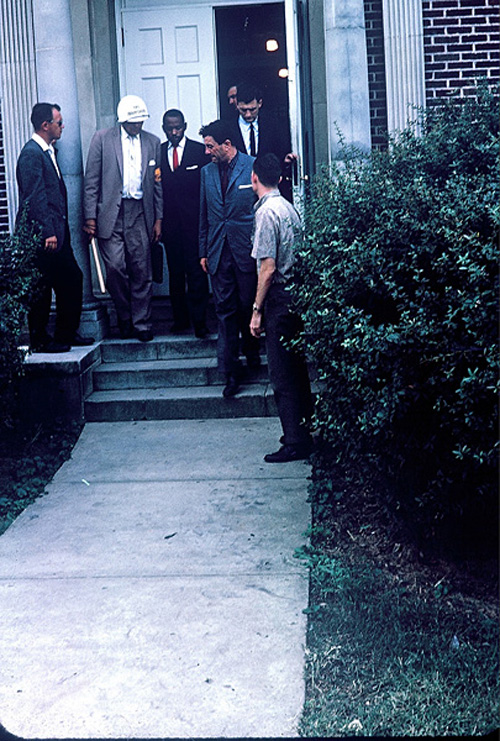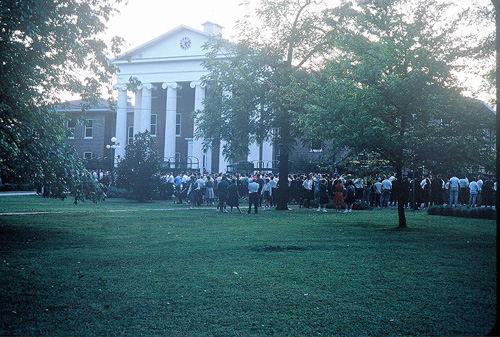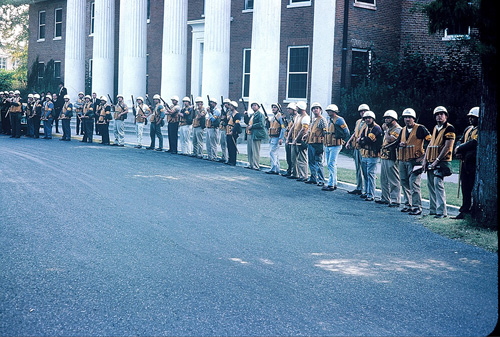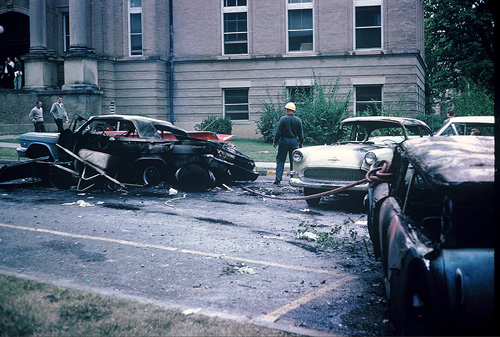 All photographs are Copyright Donald J. Proehl and the Estate of Donald J. Proehl. Permission is granted to accredited media to display these photographs without restriction until January 1, 2009 only. Any other use, reproduction or sale is expressly forbidden without approval of the copyright holder, who can be contacted at: hlp50@juno.com
William Doyle is author of An American Insurrection: James Meredith and the Battle of Oxford, Mississippi, 1962 (Anchor paperback). He lives in New York.