The College of Mount St. Joseph in Cincinnati has set up a unique way to help 27 charities in one afternoon. And they want everyone to get involved. They are calling it Mount Miles.
On Saturday, April 12 at 3pm, at the Schueler Athletic Field, people are invited to come and walk around the campus track using the free app Charity Miles. When you download this app it keeps track of your workouts. For every mile you walk, run or bike it generates a donation to charity. You just simply pick the charity and start exercising. It's that easy.
The donations are paid for by sponsors. Some of the sponsors of Charity Miles include Lifeway Kefir, Humana and Johnson & Johnson.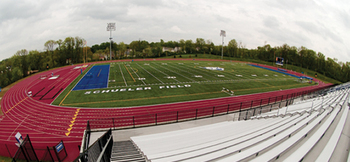 So you can use Charity Miles every day to generate donations for Wounded Warrior Project, Feeding America, World Food Programme, Autism Speaks and so many great organizations. Right now there are about 27 charities that benefit from the Charity Miles donations. Stand up to Cancer is one of them, an organization dedicated to finding a cure for the silent killer. New charities are being added all the time.
When you do the workouts, you can post your results to Twitter and Facebook so everyone can see and learn about the charity you are helping.
On April 12 one of the largest assemblies of Charity Milers will come together at Mount St. Joseph to help these organizations at once.
Students Jake Layne, Amanda Shelby, Kelleen Scott and Adrien Brooks set up the idea of the community Charity Miles walk. They had been using the Charity Miles on campus and came up with this Super Bowl of Charity Miles events.
It's a great model too for other colleges to use and set up their own event. A community walk can put the spotlight on charities and the great work they are doing.
The UN World Food Programme, for example, is leading the most dangerous humanitarian mission in the world right now in Syria. They are trying to get food to over four million starving war victims inside the country and also to several million refugees throughout the Middle East. They are not only facing the dangers of war but also low funding. WFP had to cut rations recently. As they rely on voluntary contributions they need as much fundraising and awareness as possible. Charity Miles offers one way to build this support.
Mount St. Joseph has helped the World Food Programme not only through Charity Miles, but also using FreeRice as part of its classes. In Cincinnati Authors class, students have raised hundreds of thousands of grains of rice by answering trivia questions using this online game. A graphic design major, Jennifer Vogel, is drawing illustrations and supplying photography for a story that will aid world hunger relief.
Mount St. Joseph, by the way, will be officially a university this summer. It was founded in 1920, around the time when Herbert Hoover and General John Pershing kicked off a nationwide fundraising effort to help those starving in the aftermath of World War I. Fundraisers in Cincinnati and across the country fed millions.
Today, those ideals still continue on in different ways, the community Charity Miles walk being the latest chapter.
Visit CharityMiles.org to download the app and get started.