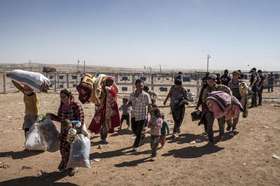 The ISIS assault on the town of Kobane in Syria has sent almost 200,000 people fleeing for their lives. They have to brave a dangerous journey to reach safety in Turkey.
The UN refugee agency (UNHCR) has heard terrifying accounts from these civilians. They have witnessed executions being carried out by ISIS. When on the run, the refugees had to evade land mines or even wade through rivers to finally escape the enemy.
The Syrians are also starving. For even if they escape ISIS and land mines, hunger can still kill. Malnutrition can cause lasting physical and mental damage, unless there is someone to help.
Fortunately, for these war victims the Turkish Red Crescent (TRC) is there. The TRC has set up kitchens to give hot meals to Syrians arriving in Turkey. Biscuits, water, first aid and psychosocial support also are provided.
A simple meal. For many of us that might be something we take for granted on a daily basis.
But think of the Syrian refugee who has been through the horror of fleeing an army of terrorists. Think of a family that has traveled for days with little or nothing in their possession. Getting that meal is some little bright moment of hope amid the storm. We need to make sure that help continues.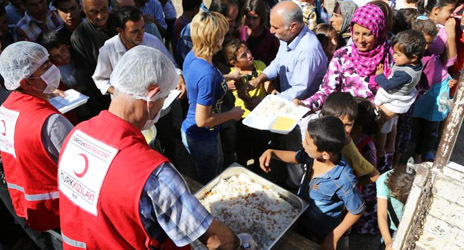 The Turkish Red Crescent Society deployed mobile kitchens near the border and has been providing meals to tens of thousands of people who entered Turkey from Syria in recent weeks./TRCS
The TRC is being reinforced by the UN World Food Programme (WFP), which is feeding around 7 million Syrians in the region. WFP is bringing in food supplies for this latest influx of refugees.
But WFP too needs funding as they are really stretched to the limit because of this war. Laure Chadraoui, WFP spokesperson, says,
"In partnership with the Turkish Red Crescent (TRC), WFP will start in the coming couple of days providing daily hot meals -- enough for 60,000 people for two weeks -- through TRC's mobile kitchens... We have been buying food for our operations inside Syria in Turkey, and some of this food can be used to provide immediate assistance to the new arrivals but these stocks will need to paid for and quickly replaced."
With conflict escalating in the region, we need to increase humanitarian aid. That is a massive challenge the international community faces right now. Donations have not been able to keep up. WFP has tragically had to reduce rations for some of its operations inside Syria and other countries. This is devastating news.
Until this conflict is brought to an end, hunger will continue to threaten millions. Famine looms behind every war.
The World Food Programme needs at least US $ 35 million a week to feed Syrians trapped inside their war-torn country. In addition, WFP is feeding millions of Syrians who have fled into Jordan, Turkey, Lebanon, Egypt and Iraq.
The relief mission gets further complicated because of the ISIS attacks inside Iraq, which has displaced almost two million people. WFP is actually feeding both displaced Syrians and Iraqis in the Northern Kurdistan region. Some of those fleeing Kobane are also finding refuge in Iraq.
WFP and the other aid groups rely on voluntary donations. Until peace can be won and food production restored, aid must continue to be supplied. Syrians and Iraqis are facing multiple enemies. The most powerful though, if left unchecked, is hunger.