Imagine you are a humanitarian aid worker in war-torn South Sudan. You're in a remote area of the country where people have fled for their lives. They are starving.
There is nothing to eat except whatever little you can gather in the wild. How do you get food to the hungry? It's not so simple.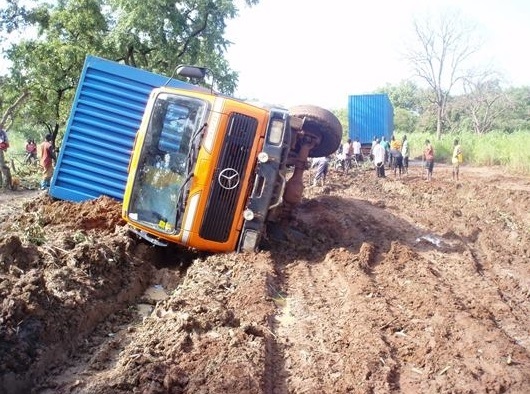 The terrible road conditions in South Sudan make it extremely difficult to deliver food. Aid groups are forced to do more expensive air drops when roads become impassable. (WFP/Richard Taban)
In South Sudan roads cannot be used this time of year because it's the rainy season. What roads are available to move food are flooded. So instead you need to call in an airplane to drop food into this remote location. But you need a landing area and a place to hand out the food. You are going to be feeding thousands of people. This is no tiny operation.
You go in search of the best location, having to walk for days, even through high water. Once you find a good spot you use hand tools to clear out an overgrown bush area. Now the life-saving food drops can begin.
This is exactly what aid workers from Catholic Relief Services (CRS) had to do recently trying to save South Sudan's people from starvation. The UN World Food Programme (WFP) successfully air lifted the rations to the area cleared by CRS workers. The food distribution took place for around 40,000 people. Brigid O'Connor of CRS South Sudan explains:

"The air drops are taking place in the middle of nowhere. People have scattered to remote areas where they feel safe. Our team has to essentially go in and clear a large area of land with hand tools so that the food can be dropped. They also have to create a temporary airstrip for helicopters to land and offload items like oil and corn soy blend that are too fragile to drop..... Keep in mind there is nothing there for them when they arrive. They must carry everything with them and live in the bush for up to two weeks at a time. ... There are snakes and millions of mosquitoes because we're at the peak of the malaria season."
This kind of heroic work by CRS is a long-standing tradition going back many decades. When famine loomed in Europe after World War II CRS, then known as War Relief Services, responded. Their organization was new, having just started in 1943. But they were up to the challenge.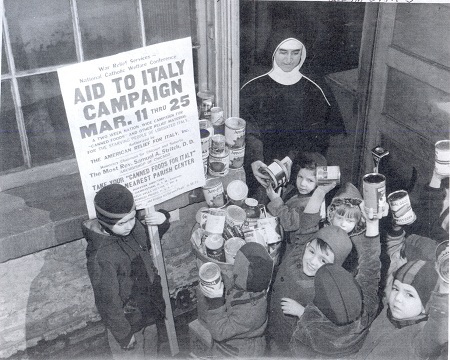 Collections took place at churches and schools across the United States. People donated food and clothing for war victims. CRS distributed these life-saving items overseas in Italy, Poland, Austria and other countries leveled by the war.
While today their name is a little different, the mission is the same. Right now, CRS is coming to the aid of suffering civilians in South Sudan.

They have known nothing but war in this African nation in recent years. Last December things took a turn for the worse when South Sudan's government began fighting with a rebel opposition group.
The new war in South Sudan has displaced almost 2 million civilians, with some fleeing to other countries. The conflict has created a humanitarian disaster. Food shortages threaten 3.9 million people according to WFP.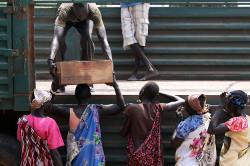 One of the most devastated places is Jonglei, the largest state in South Sudan. CRS recently fed about 50,000 people in Jonglei's Bor and Twic counties. Children got nutritious high-energy biscuits to ward off malnutrition. Lack of food for children can cause lasting physical and mental damage.
CRS is also trying to help the people of South Sudan rebuild and grow their own food. Seeds have been distributed to farmers in Jonglei.
Sara Fajardo of CRS says they will be feeding around 100,000 people in Jonglei during the coming months. Fajardo also points out that there is great farmland in South Sudan.
The key is allowing farmers the freedom from conflict so they can grow the crops. With just the initial boost of support and training from CRS, South Sudan's farmers can grow a lot of food. Before the December conflict CRS was running a Jonglei Food Security Program to help them do just that. O'Connor says,
"Communities want to help themselves if we give them resources. People don't want handouts. This is not a civilian war. South Sudanese don't want this fighting; they don't want their kids to be conscripted. We're hearing increasing reports that the communities themselves are trying to repair broken relationships."
CRS will continue to help South Sudan's people get through this time of desperation. In partnership with the U.S. Food for Peace program and WFP they are working to save the country from famine. It will be a massive task that needs the support of people all over the globe. But we know that it's a fight that can be won.