As President Obama sets forth a plan to destroy the terrorist army ISIL, a broader initiative must be in place to fight hunger. The recent escalation of violence has displaced over 1.7 million Iraqis from their homes and livelihoods.
Where there is war you will find food shortages and hunger. The UN World Food Programme (WFP), the largest hunger relief organization, has fed over 800,000 Iraqis since June. With needs growing by the minute, WFP plans to increase this number.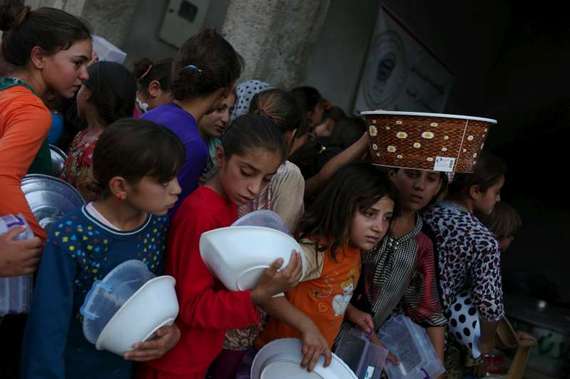 A group of internally displaced Iraqi girls queue for food at a community kitchen in a village in Iraqi Kurdistan's Dohuk governorate. (UNHCR/B.Szandelszky)
Aid agencies and the U.S. military are carrying out airlifts to reach some towns. WFP's Mohamed Diab says, "The number of people displaced by violence across Iraq is increasing at an alarming rate and access to certain areas is very difficult."
Hunger and malnutrition may get much worse too. Every indication is that the war in Iraq will continue for some time. Think of how this will harm Iraq's ability to produce and distribute food to its citizens. The U.S. Food for Peace agency says,
"Relief actors have expressed concerns about the viability of agricultural production in conflict-affected areas of Iraq. The U.N. Food and Agriculture Organization (FAO) reports that large-scale displacement, lack of access to farmland, and disrupted supply chains could contribute to deteriorating food security and agricultural output. "
WFP recently began distributing food in al-Anbar Governorate after months of being blocked by fighting. The town of Amirli was recently freed from a siege. The U.S. military quickly air-dropped humanitarian supplies. UNICEF sent in a truck convoy with family food packs, bottled water, special food for malnourished children and other supplies. The mayor of the town arrived with the convoy.
Iraqis need freedom from the violence brought on by ISIL. They also need freedom from the hunger and want that is devastating their lives.
International cooperation will be key. WFP depends on voluntary donations for its hunger relief missions. The U.S. Food for Peace program is the largest single WFP donor. Saudi Arabia recently made a large donation to WFP operations in Iraq. Many nations have to be involved to provide food for Iraqi war victims.
Iraq is also home to refugees from the civil war in Syria. They too depend on humanitarian assistance. WFP, for example, needs around US $ 35 million a week for its Syria mission. They are feeding around four million Syrians trapped inside their war-torn country. WFP is also feeding over two million Syrian refugees in other countries, including those in Iraq.
UNICEF needs funds to treat children under five years of age who are most vulnerable to malnutrition. The war in Iraq may lead to a significant increase in child malnutrition. This will cause lasting physical and mental damage to Iraqi children, unless aid agencies have enough supplies and access to provide treatment.
In addition, these humanitarian agencies are confronting famine conditions in South Sudan, Central African Republic and other areas in dire need. So there is certainly a major strain right now globally on the humanitarian aid system.
One last warning. Winter is fast approaching and displaced Iraqis are in need of adequate shelter. A hunger winter could be facing millions of Iraqis. The international community needs to plan adequately to respond to this growing emergency in the Middle East.