The UN World Food Programme (WFP) is asking for your help to save 1.7 million Syrian war refugees from starvation. WFP has launched the 1 Dollar for Syrian Refugees campaign.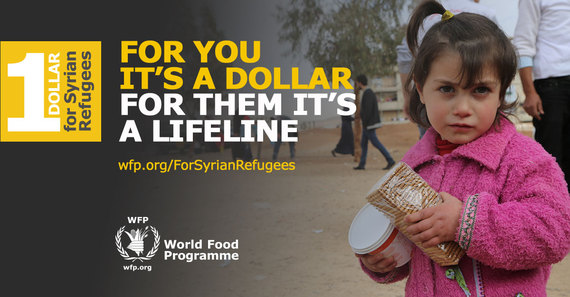 Citizens are being asked to donate at least one dollar to the campaign, which can restore food aid to Syria's war victims. WFP, because of low funding, has been forced to stop food vouchers for Syrians who had fled to Jordan, Lebanon, Turkey and Egypt.
The vouchers allowed the refugees to purchase food at markets in or near the refugee camps. Now they can buy nothing as WFP has no funds to provide any more vouchers. WFP is appealing for the public to help.
If 64 million people respond with one dollar donations, then Syrian war victims will have food this month. Ertharin Cousin, the director of WFP, says,
"Even one dollar can make a difference. We're saying to people: 'For you it's a dollar, for them it's a lifeline.' We know that people care - and we're asking them to show it, by giving even this small amount to Syrians in need. All it takes if US$1 from 64 million people."
The refugees, forced from their homes, have lost their livelihoods and have little or no resources. As WFP spokesperson Laure Chadraoui says, it is tears that tell the story of Syria's suffering people. They have been through years of civil war with no end in sight.
Syrian refugees depend on food aid from the international community to survive. WFP, as the lead hunger relief agency, relies entirely on voluntary donations to do this life-saving work.
The war in Syria has caused such a massive hunger crisis, that WFP has struggled to keep up. In addition to feeding the refugees, they are also taking on a dangerous mission to provide food inside war-torn Syria for millions. In addition, WFP is feeding other countries on the brink of famine including South Sudan, Iraq and the Central African Republic.
WFP is facing probably the most difficult period in its history, because of the number of wars and the hunger that follows. There are more refugees now globally than any time since World War II. This means large and expensive hunger relief missions. These can only go as far as donations allow.
The campaign lasts for three days, through Friday December 5. If the world responds, Syrian refugees will eat this month.
Prior to the food aid cuts, 60 Minutes did a feature on the World Food Programme's relief mission for Syrian refugees. You can see the full feature here.
So when you sit down for dinner tonight, picture a "silent guest" at your table, one of these Syrian war refugees. They want to have food for their families this month.
For just one dollar, you can feed that "silent guest," in this time of tragedy and war. You can learn more here.
Then you can tell others about the "silent guest" you fed. If 64 million people respond in the same way, we can bring some food and hope to starving Syrians.