"We were appalled at the idea of another Rite of Spring coming into the world," said Bill T. Jones recently -- strong words for a choreographer about to bring A Rite, a 21st century meditation on The Rite of Spring, to the stage of University of North Carolina's Memorial Hall. The first-ever collaboration between the Bill T. Jones/Arnie Zane Dance Company and theater director Anne Bogart's SITI Company, A Rite glosses on what Stravinsky and Nijinsky's masterpiece means a century after its premiere. The mixed feelings were understandable: The Rite has been choreographed dozens of times, more than any other piece of music from the 20th century. "It is a masterpiece, chestnut, warhorse -- whatever you want to call it -- but in the minds of many of us in the dance world, it's dusty," Jones reiterated.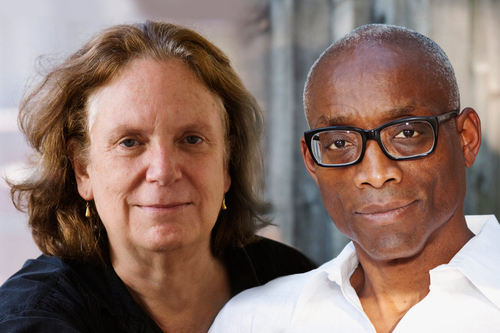 Choreographer Bill T. Jones and director Anne Bogart
These comments came out of a preview conversation last week on UNC's campus that brought together Bogart and Jones with Emil Kang, the executive director of Carolina Performing Arts -- the commissioner of A Rite, part of a year-long "The Rite of Spring at 100" festival -- and Severine Neff, UNC's Eugene Falk Distinguished Professor of Music. Jones and his colleagues, fortunately, had quickly pushed past the dustiness of The Rite -- they realized they had an opportunity to draw upon the historical and artistic baggage of the work's history and create something truly new.
More importantly, the opportunity to bring together the highly trained dancers of Jones's company with the gifted actors of Bogart's troupe allowed for a collaboration that could recapture the visceral, interdisciplinary action of the original Rite. "It's a group of dancers and a group of actors, and they come from very different traditions," Bogart said. "They kind of fell in love, and then they had sex. No, they dated -- no, they cruised each other for a while -- anyway, they've had sex now." Watching a rehearsal for the upcoming weekend's performances, it was impossible to tell who was a dancer and who was an actor -- the collaborative team has coined the term "dactor" to describe the merging of the two disciplines on stage.
The lingering question for any new version of The Rite is how to address the original work: do you stage the dancing out of the earth, the augurs of spring, the climactic sacrifice, in which a virgin dances herself to death? Jones and Bogart posed the question to their companies when they began the collaborative process three years ago. "Our show, for instance -- is there a sacrificial virgin? We talked, we asked the dancers what they think has changed over the past hundred years," Jones said. "I cannot do a work right now where I make the young woman the sacrifice -- why would I do that? But we know sacrifice exists. One of [the actors] mentioned human trafficking, young women's bodies. Someone said, 'When you send young men off to war.' That is an age-old community actually sacrificing its best and its brightest. That gave us something to move toward."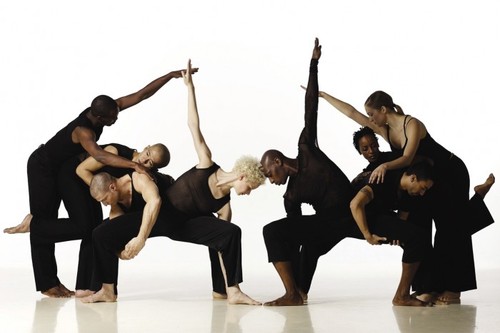 (Photo: Lois Greenfield)
Three sources emerged from which to craft a new libretto: a collection of texts from returning soldiers from World War I; the theoretical physics of string theorist Brian Greene; and the words of Dr. Neff, who coached the performers early on in the rich history of The Rite, and has become a muse for their creation. For Bogart, drawing on texts from the early 20th century and the early 21st century seemed like a natural bridge: "Here we are in 1913, and it's in a time when the paradigms of culture were shifting radically -- the birth of Cubism, Heisenberg's Uncertainty Principle, Einstein's Theory of Special Relativity -- the world was shaking, and it was called the cultural moment. Everything changed -- art changed, that reflected into science, our lives changed -- and I think we're in another paradigm shift now."
The creators, however, felt a need to address the problems of that earlier period -- the looming issue of primitivism, which emerges in The Rite in its paeans to the Russian folk, but which had a more insidious influence on other European and American modernists, who distorted African-American culture. "As much as we love them, the modernists, of which Stravinsky was one -- there is a troubling relationship at least from the point of view of an African-American," Jones said. "It was something to be 'primitivism,' it was something to be sampled and spun into something -- primitivism, what do we mean by primitivism -- turn your knees in, these wild rhythms."
Jones decided to address race head-on:
The Rite of Spring equals a precursor to the war: what did World War I meant to Americans, and particularly to the America that is just now finding its voice -- that is, the America of people of color. I thought that a lot of those guys who left Europe after the First World War, came back home and they no longer wanted to be called boy. A lot of the men who fought in the First World War, the black men came back and expected to be treated like men.
This helped explain what I saw in a rehearsal last week. To the thumping rhythms of The Bad Plus's re-composition of Stravinsky's Rite, Jones and Bogart's actors recreated the Charleston -- shimmying, snapping, waving jazz hands. A Rite brings the jazz implicit in the reception of the original work -- Claude Debussy once referred to it as "Une musique négre" -- to the surface. In drawing parallels between Russian folk primitivism and African-American primitivism, Jones and Bogart target the various legacies that The Rite of Spring has accumulated in the past century, creating a kind of panhistorical rumination on modernism.
In the preview discussion, the inevitable question emerged from the audience: could art start a riot today? The Paris audience of The Rite's 1913 premiere famously disrupted the performance -- shouting, throwing punches, and forcing the theater owners to flick the house lights on and off and call for the police.
Bogart tackled the question -- the short answer being no.
I long to be offended by something, and I can't be, because I'm a child of postmodernism. In other words, the rules have been so broken down, and so there's this hierarchy, a pillar that's been knocked over, and we've been on the horizontal plane now for a while. And we pick up little bits of history and put them together in different ways, so we're not offended by anything. I think we don't riot at art because we don't cherish principles. I believe that we have reached the end of postmodernism, that we've deconstructed to a point where nothing means anything anymore, which is part of the paradigm change. We're at this tender little moment -- and I think our production's touching on it -- where we say, 'What is a story? Whose story is it? Who is it for? What are we telling?' And I feel like that's how we're working in rehearsal -- why we're not just deconstructing The Rite of Spring -- there's an impulse to rediscover what story is in something that hasn't been made yet. Postmodernism is over, I would declare, and we are entering a new era -- what is that era?
This weekend, perhaps, we will find out.
Purchase tickets for Bill T. Jones/Arnie Zane Dancy Company and SITI Company's A Rite here -- performances on January 25/26 on the University of North Carolina campus. You can learn more about The Rite of Spring at 100 here, and read previous Huffington Post columns on the festival here. Be sure to check out Reflections on the Rite, a blog that discusses what 'The Rite of Spring' means today.