It's been a busy fall for Emil Kang. For the past four years as Executive Director of Carolina Performing Arts, Kang has been planning The Rite of Spring at 100, an exploration of Igor Stravinsky and Vaslav Nijinsky's famous ballet that caused a riot at its premiere in 1913. In late October, that plan came to fruition with "Reassessing The Rite," a four-day academic conference featuring a bevvy of international scholars, followed by two sensational concerts by St. Petersburg's Mariinsky Orchestra under conductor Valery Gergiev. It ended with -- what else? -- a searing performance of The Rite of Spring.
And that was just one week in the year-long The Rite of Spring at 100, which includes 24 concerts, 12 commissions for new works, and 19 courses taught on the University of North Carolina campus connected to the project.
A piece that dramatizes the terrifying relationship between man and nature felt particularly appropriate to that week; the Mariinsky players barely made it into Chapel Hill after Hurricane Sandy struck, and their subsequent concert at Carnegie Hall was cancelled due to the perilous crane suspended over West 57th street.
I sat down with Emil Kang in his Chapel Hill office to discuss The Rite of Spring at 100 and his vision for the performing arts at University of North Carolina.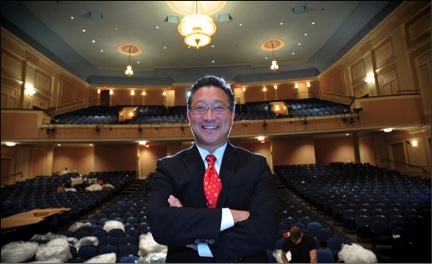 Emil Kang, Executive Director of Carolina Performing Arts, credit: KPO Photo
Why celebrate The Rite of Spring?
I think in any case, with any important moment in time or of human creativity, time is the true test of something's greatness. If it's still in the consciousness of the professionals -- those who make the work, who recreate the work -- that is the true arbiter of quality. So what we do is to take this opportunity not just to look backwards, but to give us a context to look forwards. We wouldn't just celebrate the anniversary by looking backwards, because that's what historians do, and we're not historians, we're presenters. The idea of it was to find an excuse to look forward, which I think Stravinsky would be proud of.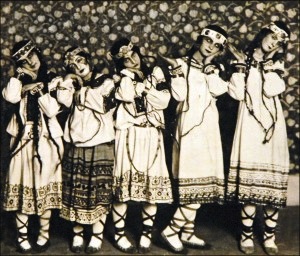 Dancers of the Ballet Russes, posing in their Rite of Spring costumes
How does The Rite of Spring at 100 combine the different strengths of University of North Carolina and Carolina Performing Arts?
UNC historically has been known for their very distinguished musicology program, that goes decades and decades back. Our performing arts program has a younger history, and in the short time we've been around we've commissioned a lot of work already.
If not at a university, then where? The idea that it should happen here, first being on a campus, secondly it should happen because of our distinguished musicology history, and because of our burgeoning performing arts program, it all makes sense to happen here, right now at this time - not five years ago, not ten years from now.
What should we be looking out for in the future?
I'm most excited for Vijay Iyer and the International Contemporary Ensemble's concert on March 26. The second one is the Brooklyn Rider evening on November 16 -- these ideas where we can ask artists to think holistically about an evening. It happens typically in dance or theater, but rarely in music. The opportunity for people to hear a performance that really does present a single idea through multiple pieces, we look forward to.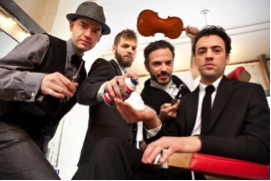 String quartet Brooklyn Rider, performing at Memorial Hall on November 16, credit: Sarah Small
What has the response been so far to the series?
It's been fantastic. If nothing, people have heard the term 'Rite of Spring' mentioned everywhere, so the idea that people are familiar with a bunch of words that say "The Rite of Spring" is a start. When we first started talking about this four years ago, people spelled the word "Right," people said "Rites of Spring" all the time. We are doing a lot of educating.
They now know why we're doing it. The next trick is to get them to pay attention and to be open to new ideas. Even in our audience feedback to Tuesday night -- if we hadn't done The Rite of Spring at 100 project, we would have gotten a lot of complaints about the Stravinsky piece. But in the 120 audience members who wrote feedback, only one person complained about Stravinsky, saying "The music is too modern for me." But everyone else just went crazy!
That allows us as a presenter to take more risks, because then we don't have to explain why we're doing this, because they understand already. Now it's simply a matter of paying attention to the piece.
You can start paying attention with this video, featuring the orchestra and ballet of the Mariinsky Theater under the baton of Valery Gergiev:
Here's a summary of The Rite of Spring at 100 project so far: