In June of 1912, a legendary meeting occurred between composers Claude Debussy and Igor Stravinsky. In preparation for the premiere of Stravinsky's masterpiece The Rite of Spring, the two composers sat down at the piano and played through -- (without rehearsing! ) -- the first half of the ballet. An observer, Louis Laloy, was left in shock: "We were dumbstruck, overwhelmed by this hurricane which had come from the depths of the ages, and which had taken life by the roots."
Stravinsky's revolutionary ballet had an enormous effect on Debussy. The older composer wrote of the private performance that "It still haunts me like a good nightmare, and I try in vain to recover the impression."
That happy nightmare can be heard in Debussy's second book of Preludes, which the illustrious pianist Pierre-Laurent Aimard performed recently at the University of North Carolina, in conjunction with Carolina Performing Arts's The Rite of Spring at 100, a celebration of the centenary of Stravinsky's Rite. Aimard programmed Debussy's music alongside that of Robert Schumann and contemporary composer Heinz Holliger, creating a powerful program that spanned two centuries. I spoke on the phone with Aimard last week, following a Carnegie Hall concert.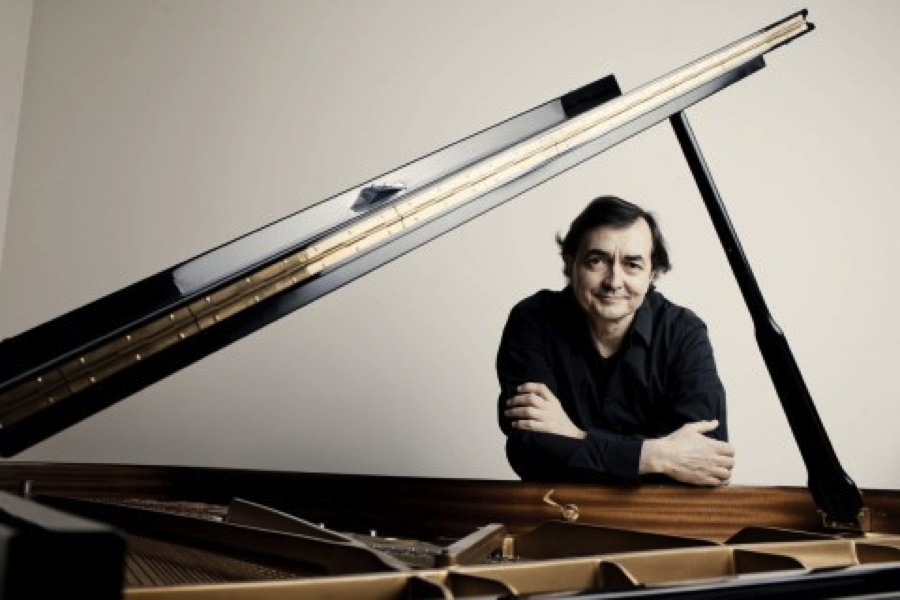 Pianist Pierre-Laurent Aimard (Photo credit: Marco Borggreve)
William Robin: How did you conceive of a program combining music by Holliger, Debussy and Schumann?
Pierre-Laurent Aimard: These two blocks -- from the 12 Preludes by Debussy and the 12 Symphonic Etudes by Schumann -- are compositions by two very different composers, but both of them share a great fantasy, and they are masters of the intimate world. I have added Schumann's five very beautiful posthumous Etudes in the middle of the cycle, and put a little bridge between Debussy and Schumann thanks to the Holliger, that is both in terms of sound and in terms of mystery refers to the world of Debussy and in terms of poetry, to the world of Schumann. Holliger is a big lover of Schumann.
Could you talk a little bit about Debussy's exploration of color through sound?
This was related to the Rite of Spring theme. The Rite of Spring is a breathtaking, avant-garde piece, first of all because of its rhythmical dimension, but also because of the rawness of the colors. Debussy is everything, but raw, he's very sophisticated and delicate and refined, but he works for renewing completely the world of the color as well. Concerning the second book of the Preludes, that had been composed more or less at the same moment as The Rite of Spring, it's amazing to see all the ways he uses to create a world of sound, a world of color. By the way, the second book of Preludes shows also Debussy's fascination, or admiration for Stravinsky, thanks to all the quotes taken from Petroushka that had impressed Debussy so much. But also this very funny quote of The Rite of Spring in the etude Les tierces alternées, one that he composed at the very end. The theme that he uses from The Rite of Spring is not used in a fortissimo or yelling way, like in the Stravinsky piece, but on the contrary, in a very soft and dry way. So this is a complete transformation, probably not without a sense of humor.
What is your own relationship to The Rite of Spring as a performer and interpreter of Stravinsky's music, as well as music inspired by him?
Well, I have no relation with The Rite of Spring as interpreter, because I've been so much overwhelmed by the piece, so impressed that I always felt that it was -- for me at least -- necessary to leave it as it is written, for orchestra. Of course, it has been then, for practical reasons it has been transcribed for piano, but for me it's a curiosity, something just interesting to look at but not something I would like to perform, because it reduces too much the dimensions of the piece.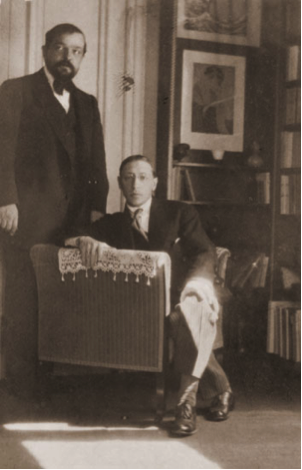 Composers Claude Debussy and Igor Stravinsky
You played an encore by the American composer Elliott Carter, who recently passed away at the age of 103, and who attended the New York premiere of The Rite of Spring in 1924. Would you like to say anything about the passing of your friend and collaborator?

He was the most marvelous human being, incredibly smart, incredibly knowledgeable, extremely positive. He remains, for us, as ever, thanks to his music that has been so creative, and a mix of sensibility and intelligence that makes so much sense, and brings so much to a musical existence.
Listen to Aimard discuss Debussy in further detail:
A Spotify playlist of music performed by Pierre-Laurent Aimard, including works by Debussy, Schumann, and Messiaen. His new recording of Debussy's Preludes is out on Deutsche Grammophone, and can be purchased here.
You can learn more about The Rite of Spring at 100 here, and read a Huffington Post interview with Carolina Performing Arts's executive director Emil Kang here. Be sure to check out Reflections on the Rite, a blog that discusses what 'The Rite of Spring' means today.