The dining room on the seventh floor was full for the recent holiday dinner. The mood was upbeat as our clients -- men and women living with HIV and AIDS -- relished the beautifully-prepared meal. As the Chef of the GMHC's Meals Program, I enjoy walking throughout the room and talking to our clients, many of whom I see throughout the year. At one table, I noticed a man who, while seated with others, was alone. He was quietly eating and crying. I found an empty chair by the windows and pulled up next to him. I wanted to find out why he was in tears. He turned to me and shared how the food reminded him of his mother's cooking. She had died a few years ago. And what made his grief even worse, I learned, was his father refused to talk to him because he was HIV-positive.
Isolation. Stigma. Shame. Words I would have not connected to cooking until I came to work at GMHC 10 years ago. Over 90,000 hot and nutritious meals are served annually. The lunches and dinners are not only delicious and elegant, they create comfort and arrest people's fears about being hungry. Each day, our dining room becomes a community room, a family room, a place to connect to others. Because of the stigma attached to people living with HIV and AIDS, there are clients who continue to be made to feel like they don't deserve good things in their lives. It is very disheartening to hear about times when family members and neighbors have shamed our clients for living with HIV or AIDS. Our clients deserve the best and I purchase the best quality of food I can get. I know that the people we serve are so appreciative.
I also contribute my culinary skills by teaching the staff and high-school interns who are part of a vocational training program. I am always teaching. One staff person, in particular, came to me through GMHC's Workforce Development Department. He had experienced homelessness, substance use and other traumas. Over the years of working with him, he now has a stable home, he is healthy and sober, and is an enthusiastic cook. He actually helps me train the high-school students and is giving back to the community. My staff, volunteers and interns are a terrific team. We are a family. While we have our rough days, we also have so much fun. A happy kitchen cooks great food!
A lot of what I do is from the heart. I love cooking and have a passion for both it and feeding people. That's why I am excited about our fifth annual fundraiser, Savor, which will bring together some of the best chefs in the country to provide guests with a once-in-a-lifetime dining experience. It is an honor and a privilege to have Alex Guarnaschelli, executive chef of Butter and The Darby, who recently won, The Next Iron Chef on the Food Network, and Colleen Grapes, pastry chef of the Red Cat and the Harrison, as part of Savor's culinary dream team.
This year, GMHC will have two honorees at Savor -- the Keith Haring Foundation and Joy Tomchin. The Keith Haring Foundation has been tremendously supportive in funding our Keith Haring Food Pantry Program which distributes groceries and provides nutritional counseling to clients in need. I work closely with the program's nutritionists when preparing my menus each week so they are heart healthy (i.e., low in sodium and fat). Joy Tomchin is being saluted for her longstanding philanthropy to GMHC and for producing the powerful Oscar-nominated documentary, How to Survive a Plague. These chefs and honorees are all passionate in their work and support in the fight against AIDS. By joining us for Savor on March 21 at Cipriani 42nd Street, you can help us nourish people living with HIV and AIDS.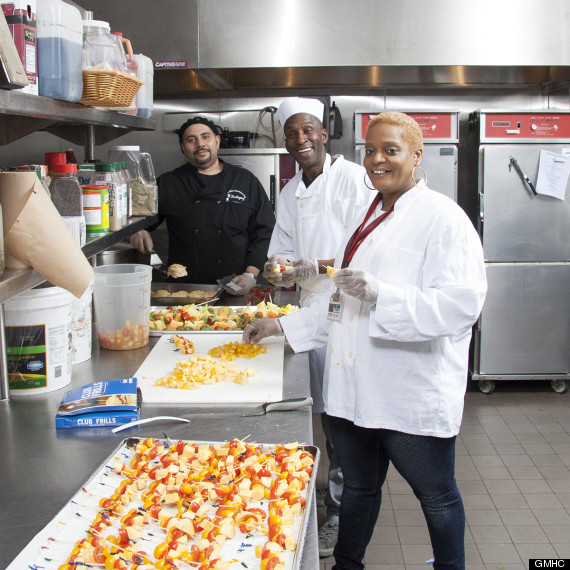 For more information, please visit gmhc.org.