When working through a difficult issue, whether it involves a relationship, financial troubles, or even an addiction to Candy Crush, we are often told that the first step is "admitting you have a problem."
While most of us are in stable relationships and have our mobile-gaming urges under control, many of us have yet to admit that we have a problem with our retirement planning. For the past several years, top research groups have surveyed older Americans, and a growing percentage of seniors and boomers have saved little or nothing for retirement. Sadly, the statistics don't lie. The most recent study to catch my attention, sponsored by Wells Fargo, states that 34 percent of middle-class Americans are not currently contributing anything to a retirement plan.
Many so-called retirement experts have also failed to address the fact that such a large number of people are behind on their saving plans. The retirement planning industry, it seems, has yet to admit that it too has a problem.
For years, financial advisors of all sorts offered simplistic solutions to complex problems when it came to retirement planning. Seniors and boomers, not saving and often having trouble making ends meet, would be told to "save more." Yet how can they save more or use a catch-up provision if they can't pay their mortgage? Seniors and boomers need more options from the retirement-planning community. Fortunately, some things are moving in the right direction.
Plan to work and consider "unretirement." Many aging Americans have given up on the idea of retiring and figure they will "die at their desk." Not so fast. This solution is actually not as easy as it looks. We learned during the Great Recession that older Americans who lost their jobs had a difficult time finding new employment. Seniors who believe they can re-enter the workforce if they run out of money during retirement are likely mistaken. Ageism in the work world runs rampant, and changing technology can make someone unqualified for a position they held just a few years earlier.
One solution is for seniors and boomers to research and make a plan regarding how and for whom they will work during retirement. Essentially, working should be part of the plan, not just a failsafe. In addition to outlining other strategies, a recent article in the New York Times describes how several seniors have accomplished this. Author Chris Farrell published a book last year called "Unretirement," which suggests that boomers have the potential to, once again, transform the workforce by "extending their working lives, often with new careers, entrepreneurial ventures, and volunteer service." But it won't happen automatically. Seniors and boomers need to take charge of their work plans for retirement before they reach retirement age.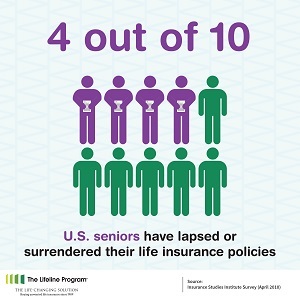 Embrace more creative financing. As previously mentioned, the idea of "saving more" is much easier said than done. Today, seniors and boomers need to think more creatively about how to pay for and manage retirement costs. Because the main cost will almost always be housing, seniors need to look for new ways to cover this expense. If you own your home, for example, then you might consider having a friend or relative live with you, which is a way to earn rental income and save on expenses. Both parties benefit from such arrangements, and they will certainly become more common in the coming years. One can also consider tapping the equity from a home with a reverse mortgage to help pay expenses. Seniors should also look at other assets and find ways to leverage them to pay for retirement costs. Jewelry, art, and other personal items may have grown in value, and even unneeded or unwanted life insurance can be sold for immediate cash as a life settlement. Four of out of ten seniors have lapsed or surrendered a life insurance policy. All options should be explored.
Go online and do it yourself. Financial planning tools have been online for many years. But a wide array of retirement-planning websites and apps now help seniors plan for retirement in entirely new ways -- from sites that help you figure out what to do during retirement to longevity calculators that zero in not only on how much you need but on how long you will need it.
Because financial planners often focus their efforts on the wealthiest individuals, many middle-class Americans are left to figure things out on their own. A recent story in the Wall Street Journal introduces many of the latest online apps that can help seniors plan for a less traditional retirement. Even though "how much do I need" calculators have been around for decades, these new sites help soon-to-be retirees understand what they may want to do, how long they might live, how much to save, how to manage social security payments, how to pay for medical care, end-of-life issues, and when to seek out an estate plan. A tremendous number of online tools are now available to help plan, and pay for, a less conventional retirement.
As I have stated repeatedly in recent years, America's system for retirement planning is flawed and broken. Traditional savings tactics aren't working for more than one-third of our citizens, so we have to embrace new thinking. The good news is that many of us still have time to save and create a wonderful retirement. But the first step is admitting that we have a problem.
PHOTO GALLERY
12 Websites To Aid Your Reinvention