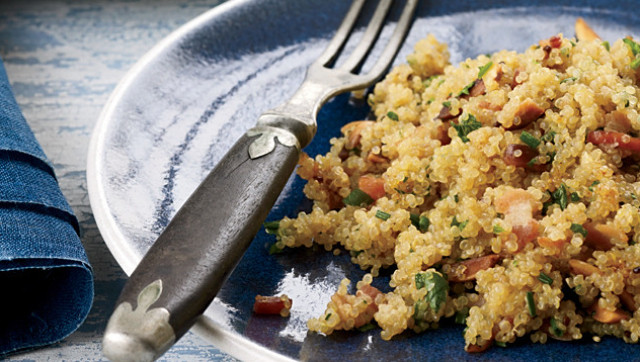 For Women & Co. by Suzanne Rust, LivingWithRust.com
When it comes to kids and the holidays, visions of sugarplums do dance in their heads. Far be it for us to kill their dreams, but why not offer some treats that are both delicious and healthy? What's more, they're quick to make and they won't break your budget. Jenny Gensterblum, author of Secret Sauce: Kid-Tested and Approved Recipes from the Léman Manhattan Chef Jenny Gensterblum has worked for years in the restaurant world, as chef to private clients, and as executive chef at the Léman Manhattan Preparatory School. Here, Jenny shares five of her favorite kid-approved snacks.
1. Sweet Potato & Rutabaga Baked Chips with Onion Yogurt Dip
"Chips-and-dip is a crowd-pleasing snack at a holiday party. Pass on the store-bought version and please the palate of both kids and adults with this healthier fiber-rich baked option."
To make the chips, wash and thinly slice sweet potatoes and rutabaga. Try using a mandoline for the slicing. Toss in olive oil and spread in a single layer on a baking sheet. Sprinkle with salt and bake at 375°F, flipping every 10 minutes or so until golden brown and crispy.
For the dip, Jenny suggests swirling caramelized onions, salt, and pepper into non-fat Greek yogurt. But if you're pressed for time, I suggest adding salt, pepper, and some chopped fresh chives to the yogurt instead.
2. Pumpkin Yogurt Muffins
"I don't think there is a child out there who would turn down a muffin. Try this healthier version packed with yogurt, applesauce, and hunger-fighting pumpkin." Jenny likes to make mini muffins for snacking.
Drain ¾ cup of applesauce and mix with ¾ cup puréed pumpkin, ½ cup nonfat Greek yogurt, 1 large egg, 1 tablespoon molasses, 1 tablespoon pure vanilla extract, and ½ cup honey. In a separate bowl, combine 1 ¼ cups whole wheat flour, ½ cup old-fashioned oats, 1 ½ teaspoons baking powder, ¼ teaspoon baking soda, ½ teaspoon salt, 3 teaspoons cinnamon. Gently stir wet and dry ingredients until just combined. Spoon into lined mini muffin pans and bake at 350°F for 10-12 minutes.
3. Quinoa Snack Bites
"Quinoa is truly a super grain. Gluten-free and high in protein and fiber, quinoa is a staple at our school. This recipe can be made with leftover cooked quinoa, so next time you serve it for dinner, make a little extra to use in this easy, no-bake, kid-friendly recipe. It's also great to make with your kids, start to finish."
Combine 1 cup cooked quinoa, ¼ sunflower seed, almond, or peanut butter, ¼ cup shredded toasted coconut, ¼ cup dried cranberries or raisins, and 2 tablespoons agave nectar in a bowl. Roll small balls with the quinoa mixture and refrigerate until set.
4. Zucchini Potato Latkes
"A classic Hanukkah dish, crispy potato latkes are a real kid-approved favorite. Add zucchini to the recipe to boost the nutritional value."
Sauté 1 onion in vegetable oil until tender. Combine with 1 tablespoon each of granulated garlic and granulated onion. Grate 2 pounds zucchini and 1 pound of peeled potatoes. Toss with 1 teaspoon of salt and place in a kitchen towel. Close the towel and squeeze out all of the liquid you can. Combine onion mixture with potato zucchini mixture in a bowl. Add 3 beaten eggs, ½ cup flour, ¼ cup breadcrumbs, 2 teaspoons salt, and ¼ teaspoon black pepper. In a nonstick skillet coated in oil over medium high heat, cook scoops of the mixture in batches until golden brown on both sides.
5. Spiced Kale Chips
"These delicious snacks are always a favorite. They're healthy and tasty and take just minutes to prepare."

Clean one head of kale by removing the tough stems from the center of each leaf. Rinse and dry thoroughly. Cut kale into bite-size pieces and toss with a couple tablespoons of oil. Spread on a baking sheet in a single layer. Bake at 500°F for 3 minutes. Toss the kale gently with tongs and return to the oven for another 2-3 minutes. Season with salt, ground paprika, granulated garlic, and a pinch of cayenne, if you want them spicy.
About Women & Co.:
Women & Co.®, a service of Citibank, is the go-to personal finance source for women. Women & Co. delivers financial content with sharp, insightful commentary and a female point of view. Sign up for free at womenandco.com.