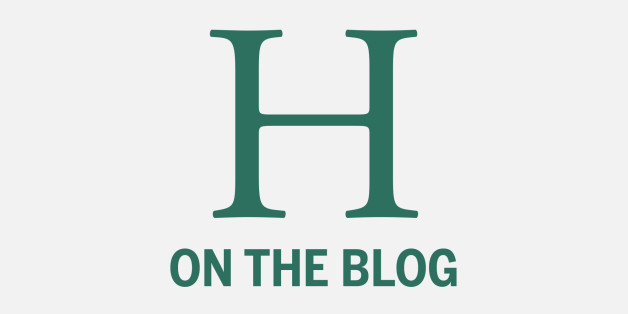 by Adel Sarkozi, World Vision communications officer in West Africa
You decide to start this story at the end. It's the place you're trying most to understand.
It finds you about to reach Nouakchott, Mauritania's capital. You pass by small makeshift camps in the desert: a mix of fluttering tents, thin cattle and camels, and mostly hard-faced men under softly colored turbans. The austere sand around them is dotted with tiers, an old bathtub with water for the animals, colorful buckets and tin containers, and litter.
By now, you know why they are here. The answer involves words,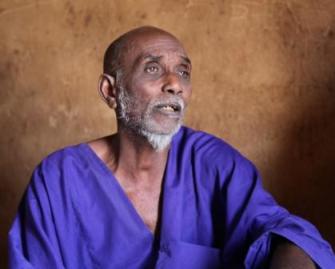 and half sentences such as: 'hungry', 'fleeing villages as there are no means of copying there,' 'no harvest last year,' 'no food for people or animals this year.' It means that Mauritania -- with 700,000 people battling food insecurity out of a population of 3.5 million -- faces a food crisis three times worse than the one which struck the West African nation two years ago.
But what you don't know or you find hard to foresee is how this 'end' will actually end.
A day earlier when you asked the same question of 72-year-old Gori Ngoko, a villager, he looked you in the eye for minutes before answering: "You can see it in our eyes, faces how tired we are, how much we have suffered. I've lived a long life, and have seen people and animals suffering before, but never the two suffering together as much as now. We don't know how this will end. But we know we don't want to see what being worse than this could be like."
In his village of approximately 100 people only the old men, women and children are still here. The younger men and older boys have left with the remaining cattle in search of pasture in Mali or Senegal. In other areas, the men have settled near the capital with hopes of finding food and work.
More than 1 million cattle from Mauritania roam Mali and Senegal in search of pasture. Gori's son and two of his grandsons left for Mali a few months ago; they walked for one month (with short rests after every few days) to reach a place where they could let their animals graze. Animals and men alike live in the open air with minimal shelter. The only difference, says Gori, is that the men can share their pain, the animals can't.
Rumor has it that Mauritania is home to about 3 million people and 30 million cattle.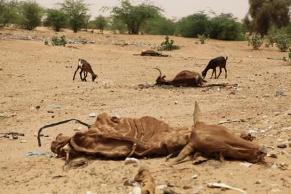 Two days earlier, you saw so many of the latter -- along with donkeys, goats and camels -- all dead and decomposing near the road or in the desert that it became common to spot yet another dead animal on your way.
You're bewildered. Everywhere you look, the landscape is a solid embodiment of flesh, bone, life and death side by side.
In a courtyard, in the backdrop of a group of goats, you see dried goat skins -- treated to become water carriers -- hanging on walls, filled with water. Nearby, an old man is diligently carving himself a pipe, and a little boy a toy from goat horns littering the ground around them. Goats and cows wander in the desert, chewing at rubbish and dusty shrubs only steps away from those that fell and were never able to rise on their feet again.
You remember Gori's equation: the more the animals are affected, the more the people. Often their only source of livelihood, selling the animals is not an option, especially when they would have been forced to sell at a very low price, he says. And so the younger men have left with their herds whilst their families live in fear that their sons, husbands, fathers or brothers might not return. They are aware the situation is dangerous in Mali but danger is still a better option than allowing their family and animals to go hungry.
A desperate measure requiring desperate solutions type of scenario, which leaves children such as Gori's granddaughter, 14-year-old Ramata saying: "Every day I go to school thinking about this situation. This year is a very difficult year for us. My father didn't have to go away with the cattle before. [...] I could eat milk with cereal. [...] We used to have a lot of milk, and my mother would make yoghurt out of it. Now, we need food the most, especially rice and cereals.'"
You sit and nod, words piling up in your head.
You catch Gori's red, tired eyes burning some transparent flame for some hope, for a solution. Then he smiles. No angles, no catches, just a sincere smile. He thanks you for coming, for leaving your world to visit his -- harsh as that is now. He says he can see it in your eyes that you understand his troubles, and he knows you won't forget him. And thinking about him and his family, not forgetting him is what counts the most for him right now.
And you realize that whilst you still don't understand or foresee the end of your story, this is where your story should begin.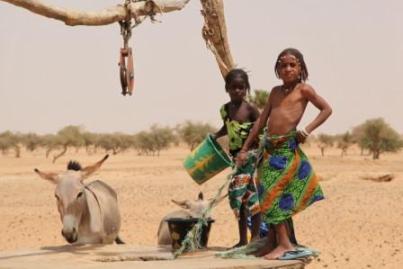 Note:
Families in Mauritania face food shortages as they have not been able to grow enough food to eat last year due to below the average and short-lived rainfall. Crops and animal pasture have been lost, causing food prices to rise. Access to food for poorer families becomes very difficult because of the shortfall in local production and high prices of imported food (from double to 100% higher compared to previous years).
The situation has worsened since January 2012 with over 60,000 refugees fleeing conflict in Mali and crossing into areas of south-eastern Mauritania causing an unprecedented double emergency.
World Vision has scaled up its emergency response in Mauritania. It targets 290,000 people who are benefitting from activities such as: food security, health and nutrition, distribution of food vouchers.