By Matthew Scott, World Vision's Director of Peacebuilding, reporting from Gulu, Uganda
I could no longer resist an irresistible urge to take off my shoes. The summer sun beating down on the Kaunda parade ground in Gulu, Northern Uganda was uncomfortably hot. Like many of the hundreds of people I was seated next to, I was wearing formal attire -- in my case a suit and tie. It was not the stifling heat that drove me to shed my shoes and socks, though; it was an overwhelming sense, which many of us shared, that we were suddenly standing on holy ground.
To understand this extraordinary moment, I need to take you back about 10 years. Gulu, in Northern Uganda, was in the midst of one of the most horrific insurgencies on the face of the planet. A marauding group of rebels known as the Lord's Resistance Army (LRA) were fighting Ugandan army troops in the streets of Gulu. The LRA abducted children, killed indiscriminately, and pillaged rapaciously wherever they went. Blood and bullets ran down Gulu's red-dirt streets. The stench of death and diesel hung heavily in the air. Shots rang out throughout the day, echoed by screams of terror and pain. Hope, it seemed, had deserted this beautiful place.
But in this land of living nightmares there was a bright spot in a Catholic priest, John Baptist Odama. Archbishop Odama, as he is now known, knew that his Lord Jesus Christ brought light to the darkness. At great risk to his own life, Archbishop Odama met with government and rebel soldiers alike. Though he had a comfortable parish house to sleep in, he chose to sleep out in Gulu's open marketplace stalls alongside the children who came into town from miles around to sleep in safety at night. He reached out to Protestant clergy and Muslim religious leaders, and rallied them to the cause of protecting children. He mobilized community groups and non-profits like World Vision to unite for child protection and peacebuilding. All because he believed Jesus was calling him to spend his life in this way.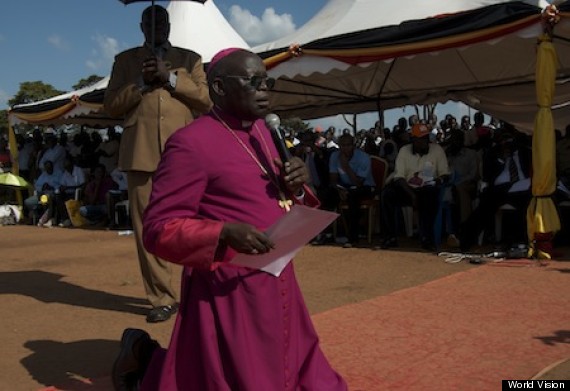 About nine months ago, someone he had not even met nominated Archbishop Odama for World Vision International's Peace Prize. Now in its fourth year, the prize is judged by an independent awards committee. It recognizes extraordinary grassroots peacebuilding efforts from around the world with a trophy and cash prize. Archbishop Odama won unanimously.
So on this day, I found myself among the throng who had gathered to celebrate the archbishop's accomplishments. Thousands of people -- students in school uniform, politicians in suits and countless other well-wishers -- sat for hours in the sun in a dusty parade ground listening to endless speeches, dancing and even political tirades. Then came the time for the Archbishop to receive his award and speak.
In the hot sun, wearing his purple bishop's robes and a large crucifix, and surrounded by television cameras, Archbishop Odama began by lamenting the death and killing that was still happening, even in Uganda. He urged people to unite in our common humanity. He spoke of God's desire to turn swords into ploughshares, quoting the prophet Isaiah. He even publicly forgave all those who at one time or another had wanted him dead, including a local politician who had publicly insulted him earlier in the proceedings.
As I read along in the text of his speech that he had provided, my eye was drawn to the commotion in front of me. The bishop had dropped to his knees. In all his robes, he was now kneeling on the dusty ground in front of thousands of people. After he had pronounced forgiveness, he also asked for forgiveness. His voice cracked with emotion as he begged adults and children alike for forgiveness if he had insulted, hurt or abandoned them in any way. This holy man, admired and adored by the thousands who had come to wish him well, was on his knees pleading for forgiveness. Though he was being bestowed with the high honor of an international peace prize in front of dignitaries and soldiers, he humbly knelt down to ask for mercy. I could think of nothing else to do than to take off my shoes. For this dusty, once blood-soaked ground in Gulu was now, unmistakably, holy ground.