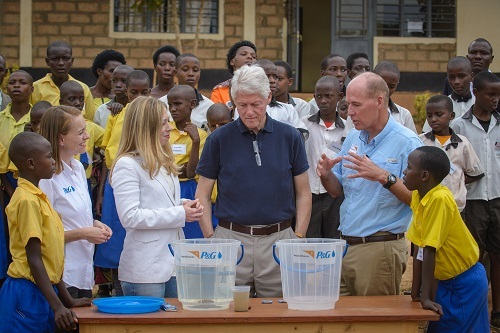 Recently, on a trip to Africa, former President Bill Clinton and his daughter, Chelsea Clinton, got a personal look at the toll of unsafe water on a community as part of their visit to Groupe Scholaire Camp Kanombe primary school in Kigali, Rwanda.

"Water is life" is not just a cliché phrase, it's a fact. UNICEF estimates nearly 2,000 children die every day from diarrhea -- more than HIV/AIDS and malaria combined, and every seven seconds a child dies of a water-related illness.
The Clintons were able to talk with rural children and community members from the town of Ntarama to learn the challenges of not having clean, easily accessible water. When clean water is scarce, all aspects of life are impacted including health, food production, economic growth and education.
World Vision and Procter & Gamble(P&G) are partnering to change that. During the father and daughter visit, water experts demonstrated P&G water purification packets. Within 30 minutes the small packet transforms brown, dirty and dangerous water, making it safe for drinking.
It's important for non-profits, private sector and the public sector to work together to improve people's access to clean water, and the week before the Clinton visit with World Vision and P&G, the Water for the World Act (HR 2901) was introduced in the House of Representatives.
If passed, this bill will help to direct funds to the countries and communities most in need, recognizing evidence that the poorest people benefit most from receiving water, sanitation and hygiene(WASH) services. Currently, 60 percent of USAID funded WASH projects are in the Middle East. The Water for the World Act will also further best practices for aid -- including experts to create effective and sustainable programs, increased monitoring and evaluation and leveraging non-governmental partnerships, including the partnerships that USAID has with World Vision.
This critical piece of legislation builds upon the Senator Paul Simon Water for the Poor Act of 2005. The Water for the World Act does not involve any increase in spending, but rather increases accountability and directs funds to the most vulnerable.
Upon seeing the work World Vision is doing in Rwanda, former President Bill Clinton said:
Let me say how grateful I am to both P&G, one of the greatest companies in the world in terms of its responsibilities to society and building into their business model lifting lives of people, and to World Vision, one of the great treasures of NGOs, and the fact that they're doing this together means a lot to me.
These types of projects and effective partnerships would increase under the Water for the World Act.
The World Health Organization reports that 90 percent of deaths due to diarrheal disease and malaria are children under 5 -- both diseases are factors of unclean water and inadequate sanitation facilities. The Water for the World Act can help more children reach their fifth birthday, and you can help get this critical legislation passed by asking your representative to sponsor the Water for the World Act.