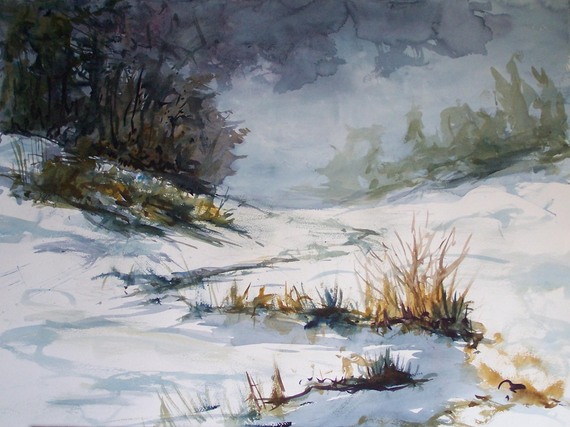 Why Skidmore?
by Sophia Barachi-Ehlrich
In brief, why do you feel that Skidmore is a good match for your academic and personal goals? (700 ch)
The prodigious emphasis on the arts is one of the many things that drew me to Skidmore. It was the first school I visited where Studio Art is one of the most popular majors, which is important to me because I am a passionate painter. Many colleges claim to be largely art-oriented, but Skidmore uniquely and wonderfully combines classroom art with environmental aesthetics. The campus' visual aspects give the students an electrified spark and the notion that anything is possible. In addition, the students can combine their artistic passions with other academic subjects, thereby doing what they love.
Sophia Barachi-Ehlrich, a 2012 graduate of The Ethical Culture Fieldston School, is a sophomore at Skidmore.
Why Barnard?
by Amanda Honeywell
"GO LIONS!" I could hear myself getting louder with the crowd as we watched the football game between Penn and Columbia. Seeing my chattering teeth, my mom told me to wait with the rest of the family; she'd be right back. I continued to cheer, ignoring the cold air against my face. Moments later she reappeared, wearing a light blue sweatshirt with BARNARD written across the front. She handed me an identical sweatshirt, informing me that I was now wearing her Alma Mater. As a six-year-old, I did not know what that meant, but I continued to cheer.
Last summer, I re-entered Barnard's gates, overjoyed to have been accepted in the Pre-College Program. I enrolled in The Mental Life of Babies, studying infant cognition. One class just wasn't enough. I hated saying goodbye to Milbank Hall and Pilar, my roommate who became a great friend. The experience reinforced strong interests in Barnard as a setting where I could thrive alongside brilliant women.
Besides, where else is a dancing bear the mascot?
Amanda Honeywell, a 2013 graduate of the kew Forest School, is a freshman at Barnard.
Why Syracuse?
by Doulgass Holloway
Who or what influenced you to apply to Syracuse University?
The wind was brutal. It slapped my face and sent my body into a shiver the minute I stepped out of the car for my first visit to Syracuse University. I was not expecting Bahamas weather, but there was something about the snap of that first Syracuse wind that awakened my mind and body to a new day. I saw the smiles on the faces of students walking together and obviously enjoying their conversations. I wanted to pull out a video camera and begin shooting a series: Smiling Through the Engaging Winds of Syracuse Life.
My creativity was so comfortable within the cold world of Syracuse. I love to ski and felt like I was on my favorite slope as I toured the campus and learned more about the S.I. Newhouse School of Public Communications, specifically of the Film/Television/Radio program. I began imagining a life of classes that will compel me to study content in new ways. I envision assignments in which I create content that stretches the limits of different genres of film and television programing. I also appreciated the opportunities to study other subjects such as history and literature.
I had heard the Syracuse spin from many alumni and friends from my high school who attend the school. They say all the good things that loyal students and alumni celebrate about any good school: great faculty, a challenging curriculum, accomplished alumni, good sporting events, school spirit, engaging and quality campus experience, yeah, yeah, yeah. However, I saw the wonders of the alumni and student's descriptions on my tour and in the classes I visited. By the time I was in the car on the way home with the heat blasting, I had acquired a strong taste for a new color. In fact, at breakfast the next day, my orange juice was not too sweet but not at all bitter. It was just right!
Douglass Holloway, a freshman at Syracuse, is a 2013 graduate of Scarsdale High School.