For those of us in Downtown LA, we knew it was coming, but now, officially, the cool factor just went up a notch. It's the Ace Hotel. In the words of Saturday Night Live character Stefan, "This place has everything: modern leather goods, gothic architecture, Moroccan pillows, cowhide chairs, Jesus Saves sign, vinyl records, light-changing orbs, pulleys, orchestra pit." No burlesque on roller skates or frog as a bouncer but who knows.
PHOTO GALLERY
15 Things at Ace Hotel LA
There is however a dope rooftop lounge, a great restaurant, a fitness center done in collaboration with sneaker freak temple Undefeated, a vinyl record player in every room and a screening room.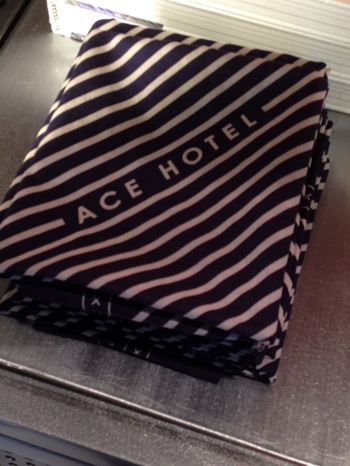 It will be easy to try to sum up Ace as a 'hipster hotel', but that would sort of miss the point (though yes, the skinny jean quotient may be higher than average here). The Ace team has been doing pioneering work in an industry that often succumbs to the most blah, mass-produced, common denominator standards -- the hotel business. Sounds a bit like Hollywood at times doesn't it? And the attentive intersection of that place in history and forging ahead by Ace starts right there. See those kinds of details in the accompanying slide show.
Ace opens in the historic United Artists building in Downtown LA. Built in 1927 for the maverick film studio, the ornate, storied theatre and tower already stood out. But once dusted off and looked at inside, this monument to a group of seminal American artists (led by actress Mary Pickford) pushing out on their own is likely to anchor the Broadway Theater District's modern rebound. The building also had a life as a church.
As they like to say, it's a "marriage between decadence and democracy, between 1920's Hollywood glamour and modern minimalism." But lets just say, it's very Ace. With the help of the design firm Commune and its own Ace Atelier, that has meant redefining what a hotel experience is supposed to be in the first place.
Ever since hotel chains like the W and Aloft figured out how to pimp the look and feel of inventive Ian Schrager- Phillipe Starck properties -- The Paramount, The Hudson, The Mondrian, and others with their mass-produced, scaled-up wannabe boutiques -- there's been a question about where to go next. Ace is answering part of that question. The Ace properties in Seattle, Portland, Palm Springs and New York all have this feel of going over to somebody's cool loft apartment or an underground art gallery mixed with an eccentric uncle's tricked out garage.
That kind of vibe and quirky sensibility is another part of why it's so great for downtown. The fact that it geographically sits as a missing link between the Disney-ish LA Live and the downtown historic core may oddly put it at the center of things, rather than the outskirts of Broadway. And while one of its leading voices, co-founder Alex Calderwood, recently passed away and did not get to this opening, the spirit of his vision and the team's idiosyncratic collaboration is living on.
This is a big leap for them as its their largest property so far. It's a big leap for downtown. It will either be a turning point for all parties involved or the latest promise of downtown regeneration. And hopefully it will co-exist seamlessly with the downtown community. But one thing is for sure right now: It looks so cool. Not grand or ooh-la-la. Not luxurious. Just cool.