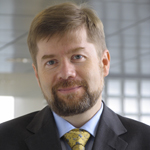 By W. Tapani Ryhänen
Tapani Ryhänen heads Nokia Research Center's Sensor and Material Technologies Laboratory in Cambridge, Espoo, and Moscow.
Health care services are one of the key pillars of any modern society. Aging populations across the globe, emerging diseases, people living without access to proper medical services, growing economies with limited resources and serious environmental issues are our major challenges today and for the generations to come. Human creativity is needed to find innovative solutions to these global problems in terms of radical changes in health care technologies, in methods of their use and to the value chains.

Personalised and more distributed health care services are emerging. Improving capability to measure and gather personal physiological information continuously and anywhere will dramatically improve diagnostics and remote patient care. Advances in micro- and nanotechnologies, biotechnologies and data analytics are jointly creating a basis for a completely new generation of intelligent sensors that can be used in personalised and remote health care services. Secondly, these intelligent sensing devices can be connected to backend services with more computing and data storage capabilities and greater access to reliable, accurate diagnostic and medical services.

Human activity and behaviours, including how they change in response to changes in our physical environments, can be recognised based on information collected by motion sensors, touch sensors, optical sensors, microphones and cameras that can be found in nearly all high end smart phones. Technological innovation means that these sensing and analysis capabilities are becoming richer. This information can be gathered and aggregated over longer periods of time, and it is possible to analyse human behaviour and to compare data of individual persons with the aggregated data of larger populations. This is a concrete existing information asset that only now is just beginning to be used in the development of new concepts for health and wellness related measurements and services. Before being overly enthusiastic, let's remember that the challenges in data security and privacy of this information need to be solved.

A sensing solution does not have to refer only to new advanced sensor technologies, we think of it as also the process of data collection using these new advanced technologies, performing analysis and comparison with other sources of data and presentation of the conclusions. By launching the Nokia Sensing X CHALLENGE we aim to stimulate the development of new components of, or even complete, sensing solutions that might, for example, consist of new biochemical or physical sensors, data analytics and intelligent algorithms embedded in sensing devices.

Secondly, we need to remember that we are interested in concepts relevant to anybody as opposed to only highly trained medical professionals. How to make these devices easy to use, robust, wearable and reliable? How do consumers become motivated to use these technologies? In general, meaningful and easily understandable representation of results and data is essential for consumers to be able to use sophisticated technologies. In health and wellness applications the information will aim to change and improve human behaviours. How this message is given to the user is vital as we are all individuals and we can react differently to same information.

Nokia Sensing X CHALLENGE competition guidelines explain our objectives. I am sure that concrete innovative solutions to revolutionise measurements and diagnostics of health, wellness and human environment will emerge from this new Challenge.
Visit X PRIZE at xprize.org, follow us on Facebook, Twitter and Google+, and get our Newsletter to stay informed.