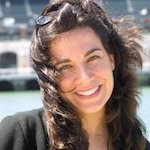 By Joni Blecher
Joni Blecher is a freelance writer who has spent her career covering tech and a myriad of lifestyle topics. When she's not writing, you can find her exploring the food scene in Portland, Oregon.
What do you get when developers, engineers and space geeks from around the world come together one weekend for a hackathon? Over 900 projects aimed at solving the myriad issues surrounding planetary and space exploration. The International Space Apps Challenge, sponsored by NASA, was held in 135 cities around the globe earlier this month. The event brought together nearly 13,000 scientists, designers, educators, developers, entrepreneurs and students who used publicly available data to create solutions for global challenges.
The participants were tasked with coming up with solutions to 35 challenges across four categories: Outer Space, Earth, Humans and Robotics. The challenges included such topics as finding ways to show the value of asteroids as an exploration destination; mapping of drinking water resources; the benefits and feasibility of allowing astronauts to print their own food; and designing a drone for moving items around a manned spacecraft or station.
The challenges were announced a month in advance, so people could start thinking up ideas for the competition. Additionally, NASA provided data and tools that could be used in the projects. This year, the Space Apps Challenge kicked off at the Global Mainstage in New York with a Data Bootcamp focusing on "Women in Data" and featuring NASA Astronaut Cady Coleman and NASA Chief Scientist Ellen Stofan, among other notable speakers.
Teams from Kathmandu to Kosovo also competed for local prizes awarded at the culmination of the hackathon. Here are a few of the winning projects and the challenges they were looking to solve.
OUTER SPACE
The 10 challenges in this category included things as varied as creating an asteroid mission, to finding ways to send messages to astronauts in space, to developing a camera that could orbit in deep space.
Challenge: Visualize the Asteroid Skies
Project: Asteroid Movement Simulation
This team used the data saved in NASA databases to create a visualization tool that allows users to track how each asteroid moves in the solar system. Check out the demo here.
Challenge: Print Your Own Space Food
Project: 3D Food Printer in Space
This team developed a concept for creating food with a 3D printer. Cartridges would contain vitamins, proteins, minerals, color and sweeteners. The printer would include software with a pre-programmed menu that provides astronauts with daily meals consisting of 2,600 calories.
EARTH
This theme featured nine challenges covering topics affecting our planet. Some of the topics in this category included clean water, food issues, open-source air traffic tracking, and observing volcanoes and icebergs from space.
Challenge: Clean Water Mapping
Project: Whered the Water Go
An Android app that can be used to access, update and modify data that tracks sources of fresh water on the planet.
Challenge: Volcanoes, Icebergs, and Cats from Space
Project: NatEv Explorer
A Web-based app featuring a 3D globe with the most interesting/dangerous events in a user's location. The goal is to inspire users to explore additional data from the NASA Earth Observatory system and register new discoveries.
HUMANS
In this category, the 11 challenges focused on space and the human experience. For example, some of the options included a game that explores lava tubes on Mars, wearables, and what can be learned from metabolic observations of space explorers.
Challenge: Survivor: Mars Lava Tubes
Project: Lavamatic
An educational game that uses crowd-sourced data to explore lava tubes on Mars.
Challenge: Space Wearables: Designing for Today's Launch & Research Stars
Project: AirOS
An augmented reality platform that uses gestures and voice to monitor a user's vital signs and situation, and increases the user's senses through external sensors.
ROBOTICS
This category only had five challenges, but they all included ways in which robotics can help in space. It had everything from building and programming your own robot, to using sensors to monitor for danger, to creating drones for space.
Challenge: Spacecraft Thermal Power Consumption
Project: RoboKitty
Managing a robot through a mobile app that uses heat sensors to evaluate power consumption and lost energy in the environment. (No video is available for this project)
Challenge: Robotic Observatory
Project: ScopeNet
A low-cost solution designed for hobbyist astronomers that provides the ability to automate and share telescopes online.
At the culmination of the hackathon, venues chose up to three projects (two global nominees and one people's choice award) for consideration in the global judging process. You can get involved in the award process by taking to social media and voting for your favorite People's Choice award. Check out the complete list of nominees at Space Apps Challenge Awards to learn more about each project and view the code. Next month, five finalists will be selected to move into the round of judging by NASA executives. Global winners will be eligible to attend a NASA launch event, and NASA will even provide transportation to and from the launch site.
Visit XPRIZE at xprize.org, follow us on Facebook, Twitter and Google+, and get our Newsletter to stay informed.