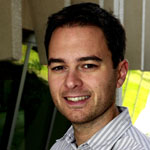 By Matt Hudson
Matt Hudson, PhD is a chemical engineer working for Shell Aviation Technology who recently interned at the X PRIZE Foundation through Shell Gamechanger.
I believe that innovation cannot be taught or forced from anyone. It must come naturally and does so as part of a certain lifestyle.
This became clear to me recently when I was given an opportunity to experience a work environment outside of my day-to-day routine and join the guys and gals at the X PRIZE Foundation offices in LA.
My normal day job is as a scientist for Shell's Aviation Technology team in Houston, Texas, which is by no means a run-of-the-mill boring job! I'm involved in a range of interesting projects and from day to day I can be working on aircraft engine oils and hydraulic fluids for high-tech jets to researching what makes the whitest, brightest smoke for stunt aircraft at air shows!
However, last year Shell's Gamechanger group offered up the prospect to work with the X PRIZE Foundation and I was lucky enough to be awarded this amazing opportunity. During my time at X PRIZE I saw innovation in a new light and I'd like to share this with you.
It first happened when I realized that just by being in the X PRIZE offices near Los Angeles, I felt I had more freedom to think. When presented with problems, I found it easier to find solutions I wouldn't normally consider. But why? The X PRIZE offices don't appear that much different from any other offices I've been in (although they do have some great models of spacecraft!).
The answer to my conundrum hit me one day in the large X PRIZE kitchen area.
The X PRIZE kitchen offers a vast choice of food for staffers, including candy and snacks, healthy foods, fruit and enough drinks to open a juice bar down on the beach! It's restocked weekly by the pallet-load, with new selections each time. Thus, whenever I visited the kitchen, I could try something new. And that was it: I realized that every day in that office was different from the one before. Not only were my food options different, so was my office location, my route to work (normally because I got lost on route from my hotel, but it still counts!) my co-workers, even our meetings, one of which was held outdoors by a fountain.
These things made my normal life at home in Houston--based on my own "comfort-zone" routines--seem rhythmic and monotonous. How many of you have your favorite breakfast food, or daily snack you just can't do without, or have almost the same thing every day for lunch? I realized that although my job is varied, my life style was not...
Get up
Drive same route to work
Attend same weekly meetings
Coffee break at the same time
Lunch - same place, same sandwich
Drive home
Workout
Dinner
Bed
Repeat...
I realized that when I get into my comfort zone routine and go through the same cycle each day, it's hard to break out of the rhythm of doing everything straight down the line and only seeing one outcome for each problem; the one everyone else can also see as everyone's thinking along the same routine lines.
How can you expect to think 'outside of the box' if you are living inside a 'box'? If you are going to be truly innovative and think beyond standard ideas you need to break out of that cycle, lose the regularity, mix things up a bit and get your mind and body used to the unconventional, every day.
There are many opportunities for me to break out of my daily work cycle at Shell. These include Shell's Hunters Network, for example, a group I've joined that "hunts" new technologies and ideas (not deer!). I also help run Shell's Project Better World, a conservation and sustainable-development organization that deploys hundreds of employee volunteers around the globe annually to support exciting conservation projects.
A senior Shell leader had recently called with an opportunity to take part in Project Better World, a "hidden gem" of personal development. Now at first this seemed very strange to me... why would a manager recommend that his staff leave their jobs for two weeks to take part in research in rainforest soil erosion in Borneo! But now I understand and his view highlights my point: The experience puts people outside their comfort zones and allows them to develop new skills and explore their professional and personal limits. When they return to their jobs, they can apply what they've learned in ways that may not have occurred to them, and view projects from a new perspective.
To be sure, not everyone can embark on a life-changing expedition, eat a different lunch each day or even hold group meetings around a fountain. Still, in our typical 9-to-5 environments, why not try to break the monotony caused by the normal human condition that embraces the familiar?
How can you think outside the box if you live entirely inside a box? To be truly innovative and to think beyond standard solutions, it's necessary to break out of that cycle, lose the regularity, mix things up and get your mind and body used to the unconventional, every day. The question is, how do you inspire yourself and your team to leave that comfort zone and live for true innovation?
Visit X PRIZE at xprize.org, follow us on Facebook, Twitter and Google+, and get our Newsletter to stay informed.
This blog post is brought to you by Shell, our Exploration Prize Group sponsor.