All year long, Hollywood's Met Theatre has brought big Broadway musicals like Xanadu and Tommy to its intimate, and obscurely located, stage at North Oxford Ave & Santa Monica Blvd -- just west of the 101 freeway. Now the year ends with a bang as the Tony Award winning Avenue Q, and its memorable cast of mature-themed puppets, rolls into the Met from November 9 to December 16.
Helmed by Los Angeles-based theatre director, Richard Israel, the Doma Theatre Company's production of Avenue Q is the same show that rocked Broadway, but housed in a much cozier space. Israel comments:
There is kind of nuance in Avenue Q that you really catch onto in a small space like this. Teeny little things the actors are doing -- or subtle things the puppets do that the first 10 rows on Broadway caught, but a lot of others in big theatres may have missed. Plus there are these lovely heartbreaking dialogue scenes that in a smaller theatre up close and personal, it all plays a little more human.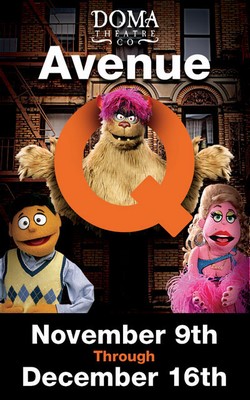 Regarding Avenue Q's fan base, Israel says there is something for every adult.
I've done a zillion shows, and of every show I've done, Avenue Q has the most demographically diverse fan base. It's not a show that has particularly gay appeal or straight appeal or anything appeal. It appeals to everyone, and I think it's because of the puppet element. It's puppets talking dirty, and having sex, and who doesn't want to see that?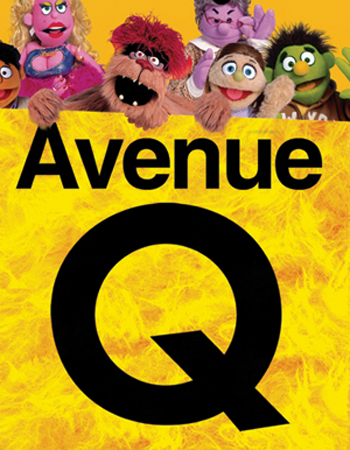 Israel says he cannot imagine working with seven better actors who also double as puppeteers.
I feel so lucky to be working on Avenue Q. It's a fun, wonderful musical theatre, but there are also these lovely, and profound life messages inside about being easy on yourself, and letting yourself mature. People walk out changed a little bit. Whatever's coming at you today, after you experience Avenue Q, tomorrow will feel a little different.

Avenue Q runs from November 9 - December 16, Fridays & Saturdays at 8 p.m., Sundays at 3 p.m., at the Met Theatre (1089 North Oxford Ave L.A. 90029). For tickets and info: www.domatheatre.com 323-802-4990
For more information on Director Richard Israel, check out: www.richardisraeldirector.com