George Bernard Shaw once said "There is no sincerer love than the love of food," and certainly Chef Govind Armstrong would wholeheartedly agree. Born in Los Angeles and raised in Costa Rica until age nine, his passion for cooking began in the kitchen with his mother and grandmother as the aromas of oxtail, curry, fresh fish and plantains filled up his home. He knew from a young age that becoming a chef was his calling. He opened his first restaurant (Chadwick in Beverly Hills) in 2001, and twelve years, several eateries, a few Top Chef episodes, and a cookbook later, he is one of L.A.'s premiere chefs running two meccas for foodies, Post and Beam on Crenshaw, and now, Willie Jane on Abbott Kinney. Soon that number will grow to three as he ventures to open a burger destination at LAX's Terminal Four in the coming year.
Willie Jane at 1031 Abbott Kinney Blvd, Venice, CA, photo courtesy of Willie Jane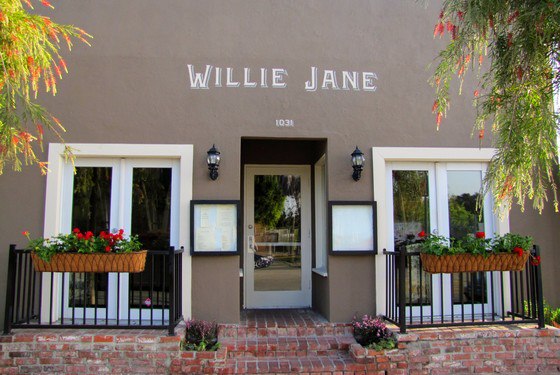 Part of what makes Govind's concept so unique is his connection to the garden. Behind Post and Beam's urban exterior is a thriving green space sourced daily for the kitchen. Likewise, Willie Jane, opened earlier this year, sits beside what was once a vacant lot now transformed into one of Venice's most exquisite vegetable gardens, complete with chicken coop. Its bounty literally feeding the business with its fresh eggs, vegetables, fruit, and herbs, as well as its accompanying bar with a creative array of cocktail ingredients freshly harvested from the garden. My dining companion called The Coal Miner's Daughter (bourbon, macerated ginger, lavender honey and lemon juice) "one of the best drinks I've ever had."
Willie Jane's interior, photo courtesy of Willie Jane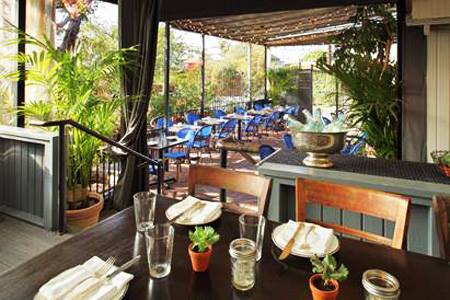 Willie Jane's garden also doubles as a learning center with a variety of classes offered. I recently had the pleasure of feasting with friends at Willie Jane, where we sampled many of the southern inspired items. Chef Govind, always down to Earth, friendly, and passionately excited about the food, sat with us to share his thoughts on his craft.
I am constantly learning new things about food. Having a garden will do that. I picked the arugula you're eating. We've had great success with the heirloom vegetables, melons, and the greens. Melon has a meatiness to it, and can be so versatile. I'm working out a grilled watermelon dish right now. Also, one green I love is the red veined sorrel, which has a tangy, lemony sort of asparagus flavor. Some think it's a garnish, but if it's on your plate, it's meant to be eaten.
Chef Govind Armstrong in the kitchen, photo courtesy of Willie Jane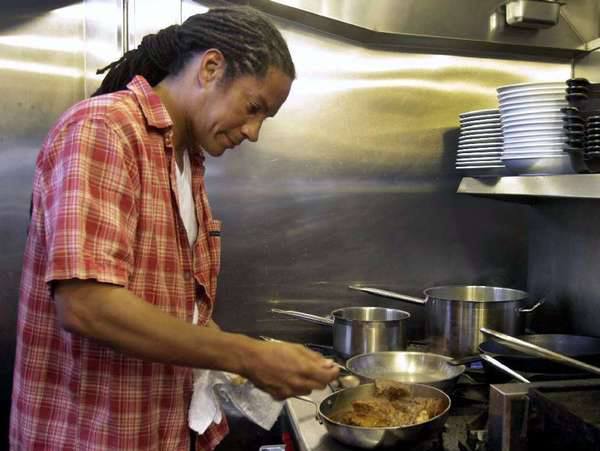 When asked about the difference between Post and Beam and Willie Jane, Govind explains --
Post and Beam is more soul food. The short rib and the black eyed peas are signature items. Willie Jane's a little more southern-inspired. The type of restaurant you'd find in the Carolinas or even New Orleans -- without the gumbo.
Willie Jane's fresh from the garden salad with homemade ricotta, phot courtesy of Willie Jane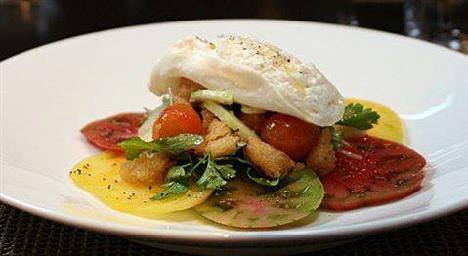 No matter where in L.A. you live, Willie Jane is a great reason to come to Abbott Kinney. One entrée we loved was the tender, flavorful pork chop, which is prepared in a sweet tea brine for 24 hours, then the whole rack is roasted with a spice mix including fennel seed, paprika, coriander, cayenne pepper, black and white peppercorns. The chop is then seared on the grill, and finished off in the oven. The first bites are gently sweet, and then, late in the chew, the spicy flavors appear -- a tantalizing treat for meat lovers.
Named for restaurateur Brad Johnson's 100 year old aunt born in raised in Georgia, Willie Jane's menu is a southern food lover's dream. Highlights include the most delicious biscuits I've had in Los Angeles served warm with an orange honey butter. Incredible! Shrimp and grits, mac n'cheese with bacon bread crumbs, perfect fried chicken, the cucumber and tomato salad with homemade ricotta. The golden raisin oatmeal cookie sandwich for dessert was sublime. I can't wait to return to sample the new brunch menu.
Chef Govind Armstrong's Mac 'n Cheese, photo courtesy of Willie Jane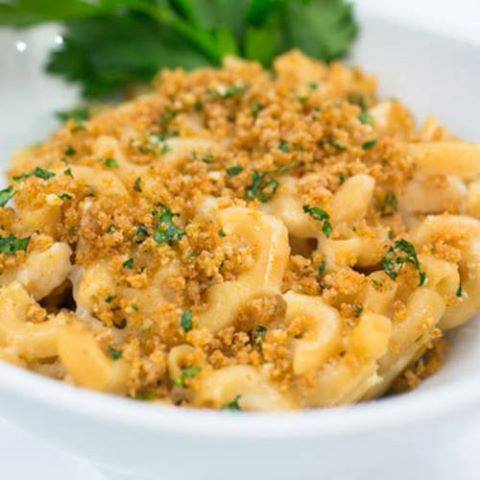 Govind notes --
I love being on Abbott Kinney in Venice because it is such a competitive street foodwise with so many talented chefs here doing great things. I never went to culinary school. I just worked in restaurants and hotels, and traveled a lot, and learned from mom and my grandmother. My first job was with Wolfgang Puck at Spago. He's still a mentor who I go to for advice - with all the success he's had, it's an honor to be his friend.
Recently Govind featured some of his artisanal appetizers at the unveiling of the beautiful chef's kitchen at Melrose's SOLI Architectural Surfaces, a stylish destination for decorative tile and natural stone.
Preparing food in a well-designed, feel-good space inevitably has a positive effect on your mood and cooking.
Chef Armstrong's carnitas tacos with poblano-cabbage slaw, photo courtesy of WIllie Jane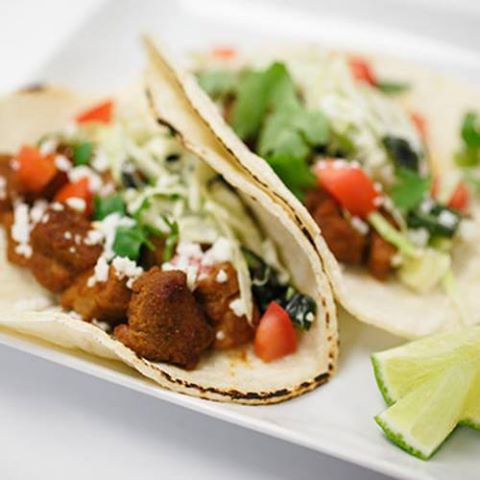 Chef Govind's other passion is fatherhood, and he is already introducing his toddler daughter to the joys of food and gardening.
My one and a half year old daughter will look at an unripe tomato on the vine and say, "not ready." (laughs) Gardening is so therapeutic and important for all ages, and walks of life. We always had gardens growing up at home. And it's such an efficient way to live. One squash plant in our garden at Post and Beam yielded about 300 pounds of vegetables. All from one seed! Imagine if cities with all these hungry people and abandoned lots turned them into gardens to feed people. I believe in that.
Post and Beam is located at:3767 Santa Rosalia Dr L.A., CA 90008
Willie Jane is located at: 1031 Abbott Kinney Blvd Venice, CA 90291
Chef Govind Armstrong, photo by Vanessa Stump