If you're looking for an unconventional night out over Valentine's weekend (Feb 15 - 17), Los Angeles theatre doesn't get more hilarious, or warped, than the Xanadu-inspired drag-musical romantic adventure, Connie Loves Juice. In this chapter of the Connie saga, the eponymous Flashdancing damsel in undress (performance artist/actor, John Cantwell) crushes on Juice (Mario Diaz) a superstar skating stud at the local roller disco. All is groovy 'til Connie finds herself under siege by Juice's mean girlfriend, Gianelli (Nadya Ginsburg).

Photo credit: Mark Nubar
Looking like the lost lovechild of Iggy Pop & Connie Britton, Cantwell's Connie is pure absurdist drag camp on the comic surface, but beneath lays a complex heroine with heart and soul of John Waters' proportions. Baltimore gave us Francine Fishpaw, L.A. gave rise to Connie. If the Los Angeles theatre scene were a Dada-ist heart-shaped box of chocolates, Connie would be the cherry cordial.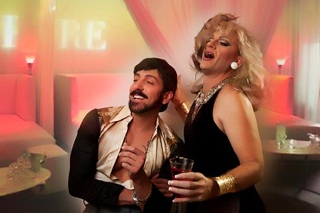 Photo credit: Dusti Cunningham
Connie Loves Juice is Cantwell/Connie's second full length musical extravaganza at Silver Lake's Cavern Club (the basement theatre space of Mexican restaurant, Casita Del Campo). It reunites the performer with director Jim (Trick, Lizzie McGuire Movie) Fall who directed Cantwell's first New York theatre piece (1993's Blood Orgy of the Carnival Queens).
Cantwell describes Connie Loves Juice -
It's about rising above your detractors and going for what you want. And it's a dance dance dance show, with twelve dance numbers. The audience will get to watch Connie go to pieces right before their very eyes. Not since Grease has watching 40 year olds acting like teenagers been so fun.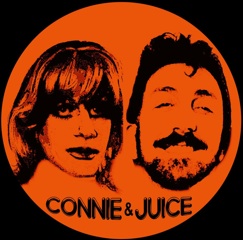 Photo credit: Dusti Cunningham
For fans of Connie's previous shows, they'll be thrilled to know that Connie's white kitty cat, Vickie (Katie Malia), returns and meets a new friend - Juice's black cat, Boxer.
Connie's shows are known for their colorful pop soundtracks, and "Juice" is no exception. Packed with music by Britney Spears, N.E.R.D., Rihanna, Kylie, Solange, Tom Tom Club, Talking Heads, and two Irene Cara songs including the show's opening number, "Romance '83", which Cantwell describes as "genius."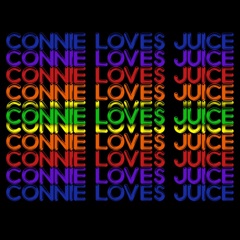 Photo credit: Mark Nubar
We asked Cantwell10 rapid fire questions about Connie.

1. How does Connie stay in shape -- is she pilates or all core training?
Cantwell: Well if you've seen Connie's core, you know she doesn't do any core training. Connie just likes to jam, shake it, and then hit Popeye's after for a post workout binge.

2. Which of the seven deadly sins is Connie's favorite?
Cantwell: Gluttony
3. How hot does Connie like her chili?
Cantwell: Five alarm.

4. Does Connie play air guitar?
Cantwell: All the time, but she's an expert at air keyboards.
5. Does Connie have any strange phobias?
Cantwell: Not really - she was raised in the bayou so she's not afraid of spiders, gators, snakes, voodoo or anything.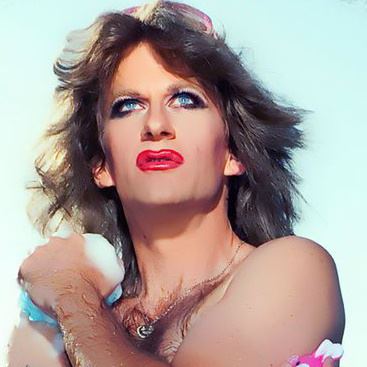 Gabriel Goldberg
6. Is Connie old fashioned?
Cantwell: I think she is actually. She's been looking for love her entire life, and would like to be married, but she doesn't really sleep around - she's surprisingly naive. I don't think she understands that when she dances, it can be perceived as a sexual thing.
7. What actor would Connie like to go out for a beer with?
Cantwell: She might like to go out with Laura Dern.

8. What James Bond girl does Connie most relate to?
Cantwell: Jill St John as Tiffany Case in Diamonds Are Forever (1971). Jill grabs a machine gun while she's in a bathing suit, and as she's shooting she falls or someone grabs the gun from her -- it's hilarious. Or Brit Ekland as Mary Goodnight in The Man With The Golden Gun (1974), which was the first Bond movie I ever saw, and the first PG movie I was allowed to see by myself, which was a huge thrill. She'd also relate to Ann Margret in The Silencers (1966), which was a Bond knockoff starring Dean Martin as Matt Helm.

9. What kind of candy does Connie eat at the movies?
Cantwell: The free kind (laughs). Actually she likes Hot Tamales and Raisinets.
10. If the Bible had a Book of Connie, what would her message be?
Cantwell: It would be like Belinda Carlisle's song, "Live your life be free."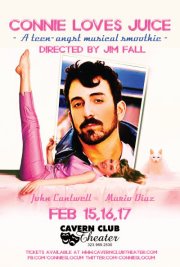 Photo credit: Mark Nubar
Showtimes:
Friday, Feb. 15 at 9pm
Saturday, Feb. 16 at 9pm
Sunday, Feb. 17 at 7pm