There are not many people who know much about Hattie McDaniel these days beyond her role as Mammy in Gone With The Wind, and her being the first African American to take home an Academy Award, but actress/singer Vickilyn Reynolds aims to expand the public's knowledge and appreciation of her with the riveting one woman powerhouse show, Hattie: What I Need You To Know at Hollywood's Hudson Theatre.
Fay Bainter presents Hattie McDaniel with the Academy Award for Best Supporting Actress (1940).
McDaniel began as a tour de force in vaudeville, playing drums and singing in jazz clubs. She was also an early pioneer in civil rights, a radio star, and a movie star appearing in over 300 films in less than 20 years.
Before tackling this project, Vickilyn Reynolds was admittedly ignorant to McDaniel's true legacy, and like many others, was under the impression that Hattie -- who rose to fame playing maids -- was a sell out to her race.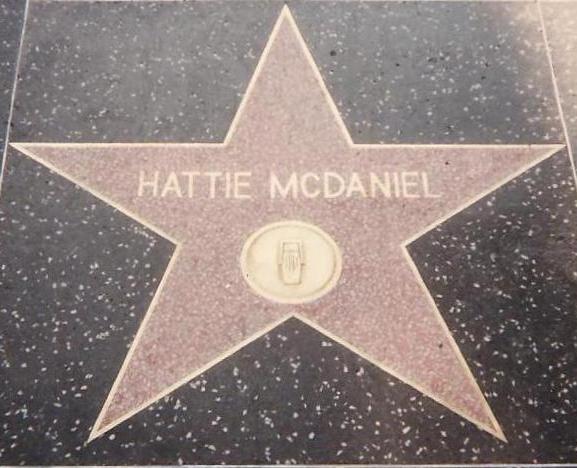 My brother was Ron Richardson, the Tony Award winner for Big River. Before he passed away in 1995, he said "Vickilyn, you should do the life story of Hattie McDaniel." And I was insulted. "Hattie McDaniel?" Then a friend of mine, Larry Riley, he played guitar and sang in A Soldier's Story, and was the first black actor on Knot's Landing... On the set of the TV movie Polly, Larry said "Vickilyn, sit down. If nobody approaches you with the idea -- if nobody offers you this -- you have to play Hattie. You sit down and create it yourself." After Larry passed away as well -- and I thought, 'these guys must be leaving me something.' So I started doing research.
Reynolds, whose film and television acting credits date back to the late 1980s, wrote and stars in the musical. She also wrote most of the show's songs that chronicle McDaniel's life from being the daughter of slaves, and the youngest of 13 children to pounding the pavement in Hollywood, and beyond.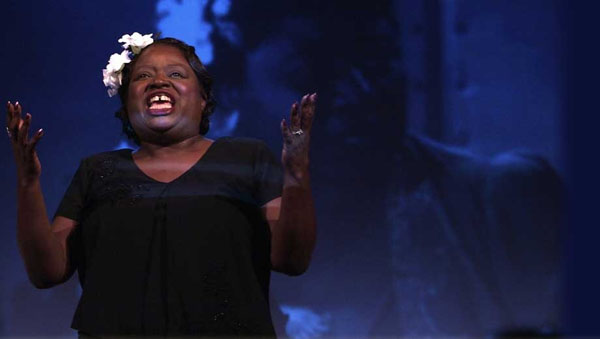 Vickilyn Reynolds as Hattie McDaniel
We can learn much from McDaniel's determination, which is surprisingly contemporary, and frankly, ripe for rediscovery. The lives of Dorothy Dandridge, Josephine Baker and Billie Holiday have all been made into successful films, why not Hattie? Vickilyn Reynolds' performance is a triumph, and in every way, proves herself to be the perfect actress for the role. She's even adapted Hattie's story into a screenplay, and is working on bringing it to the big screen.
Before I started writing it, I laid down on Hattie's grave at Rosedale Cemetery on Washington Boulevard in Los Angeles, and talked to her, and got vibrations when I asked certain questions, and when I finished, I felt her say "Go girl." I didn't realize I had a lot of self hatred, and working on this show has been healing, and helped me overcome all that. My life has paralleled with Hattie in so many ways. My brother brought me into show business, and her brother brought her into show business. Her brother died at 35, and mine died at 43. Hattie had a false pregnancy and my first child was stillborn, and I revisit that time every time I do that scene. It's hard, but it's good.
Hattie McDaniel sings Sooner Or Later from one of her final films, Song Of The South (1946)
Reynolds continues:
This role has been a gift from God. I was on the national tour of Bring in 'da Noise, Bring In 'da Funk in Boston, and this man at a party introduces me to Hattie McDaniel's great nephew, Edgar, and his wife, and she has helped with lyrics on two of the show's songs. So Hattie's spirit is with me.
Reynolds originated the show in Hattie's hometown of Denver, Colorado and took it to New York, and now to packed houses in Los Angeles.
Though McDaniel's name is etched in everyone's minds as part of Gone With The Wind, Vickilyn recommends people check out some of Hattie's other work -- most notably her amazing performance as Minerva Clay in 1942's In This Our Life, which also starred Bette Davis and Olivia de Havilland.
You really see her depth in In This Our Life. It was the first Hollywood feature role to be specifically written for a Black actor. She could have been Oscar nominated for that.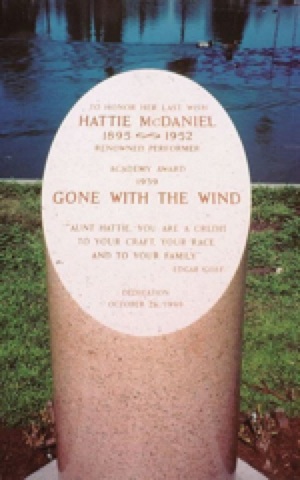 McDaniel's memorial at Hollywood Forever Cemetery
McDaniel's Oscar win was the beginning of a new chapter in Hollywood history, and African American history. In today's world, McDaniel would be rubbing elbows with Oprah, Tyler Perry and the Obamas. Yet in her day, the odds were heavily stacked against her. To make matters worse, the NAACP rallied against her. There were smear campaigns -- some from her fellow actors. Even her wish to be buried in (what is now) Hollywood Forever Cemetery was denied due to a "whites only" policy, but in 1998, McDaniel's final request was honored with a memorial placed there in her honor. McDaniel survived four marriages, overcame enormous adversity and deserves to be remembered with a show as classy, witty, soulful and moving as Hattie: What I Need You To Know.
Every weekend at the Hudson Theatre, and probably in Heaven as well, there is a standing ovation for Vickilyn Reynolds astonishing performance.
Hattie: What I Need You To Know at the Hudson Theatre (6539 Santa Monica Blvd) through April 2013. Friday and Saturday at 8 p.m. Sundays at 3 p.m.
http://www.hattiewhatineedyoutoknow.com/