On Tuesday June 12, 2012 at 9:00 p.m., (with repeat airings every night for two weeks beginning at 1 a.m.), the only PBS station still originating from Los Angeles (KLCS-TV) will host its first-ever pledge drive in 40 years. Recognizing that L.A. viewers deserve a special event around something this important, the station is proud to announce they will air the world television premiere of the acclaimed documentary film, Hollywood to Dollywood.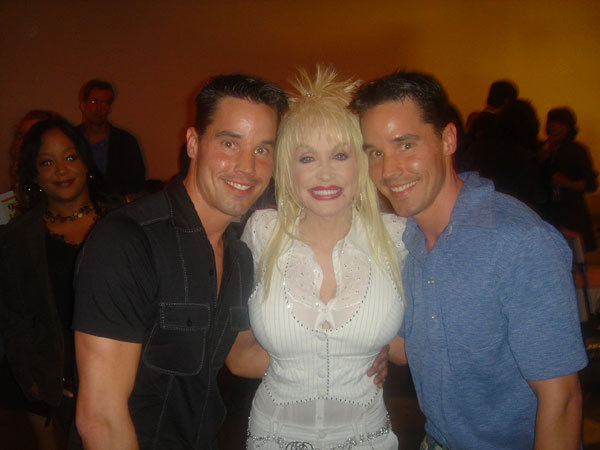 Filmmakers, Gary & Larry Lane with their hero, Dolly Parton:
Featuring 15 songs by Dolly Parton herself, the heartwarming film tells the true story of identical twin brothers, Gary and Larry Lane, and their road trip to meet their hero. Inspired by the talent and energy of the country music icon, including her message of acceptance of all LGBT people, the Lane Brothers write a script with a plum roll for Dolly, and plan to deliver it to her in person. With their friend Mike Bowen frequently at the wheel, the brothers drive an RV (named Jolene) from Parton's star on the Hollywood Walk of Fame through sandstorms, tornadoes and floods all the way to Dollywood in Pigeon Forge, Tennessee.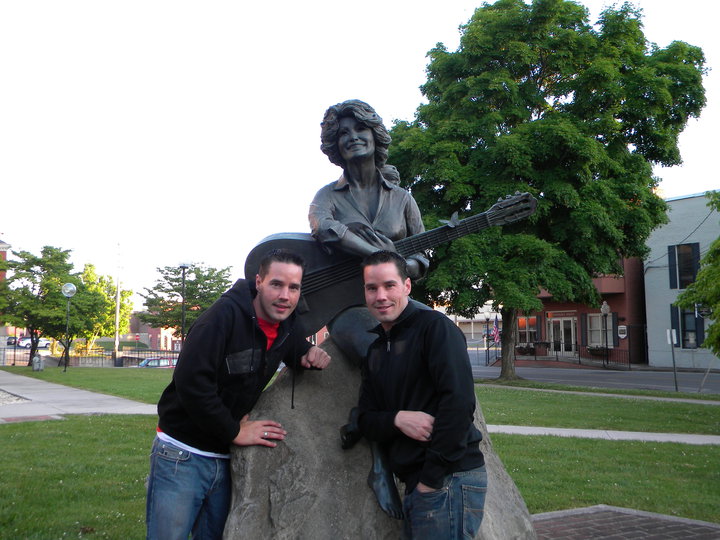 The Lane Brothers with a statue of Dolly Parton in Sevierville, TN:
Hollywood to Dollywood has won 24 film festival awards worldwide, and features appearances by Leslie Jordan, Chad Allen, Beth Grant, Dustin Lance Black, Ann Walker, and music icon Dolly Parton.
KLCS-TV is the second largest PBS station in the nation and one of only seven licensed to a school district. Deepening budget cuts at the Los Angeles Unified School District have caused KLCS the need to follow a more traditional PBS model and enlist their viewership for support. During the pledge event, those pledging $125 or more will receive a DVD copy of the film and anyone pledging $500 or more will also receive a hand crafted birdhouse replica of Dolly Parton's childhood home. This premiere event will be accompanied by interviews and anecdotes with the stars of the documentary.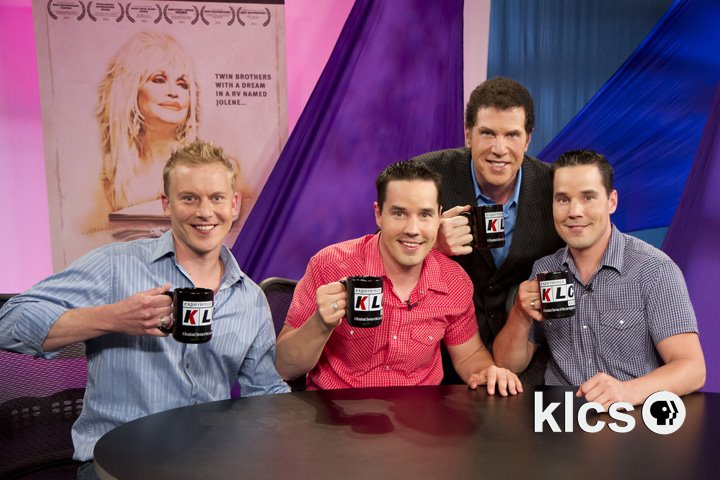 Hollywood To Dollywood's Michael Bowen, Gary & Larry Lane and KLCS-TV's Director of Development, Steven Wishnoff:
Last summer, Parton hosted two sold out nights at the Hollywood Bowl. This year, she's the inspiration of a documentary film that will benefit our city's only public television station. So come on, Los Angeles, show your support for KLCS' first ever pledge drive by calling 888-998-KLCS (5527) or by visiting their web site at klcs.org.
Hollywood To Dollywood Trailer: