Back in 2010, actress Kenyetta Lethridge wrote a 10 minute piece for a short play festival. The play didn't get in, but Lethridge knew she had the seed of something powerful, and developed it over the next year until a successful run was had in her home city of Los Angeles. Together with her producers, Diana Zollicoffer and Michael Mann, and a savvy quartet of young actresses, Innocent Flesh bowed at New York's Actors Temple Theatre this month to strong reviews, sparking a new dialogue about teen prostitution.
Not an easy subject, Innocent Flesh succeeds in telling the very human stories of four different underage girls who fall into the world of sexual exploitation. These are not caricatures, but could be girls from your neighborhood. With ample humor, compassion, and delicacy, Lethridge weaves her characters' many shades of grey into a Lorraine Hansberry-esque tapestry.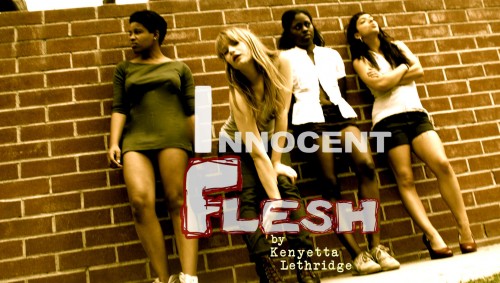 Lethridge muses on how, unlike, some girls from her school, she avoided going down the same path as her characters:
I grew up with a single mother in south-central Los Angeles, and I look back at my life and said, 'okay, why didn't I end up like those girls?' It's because I had people who were paying attention to me. But there were adult men who would drive up to me and my eighth grade schoolgirl friends in their cars trying to pick us up. And I get how girls can think 'it seems kind of cool that an older guy is interested in me. Boys aren't interested in me, but this grown man is.' Especially if they aren't being paid attention to or getting any love at home. I didn't have a dad, my father was in jail and on drugs so that was missing from my life, but I had uncles who loved me so that love was there. And my mother would have beat my ass. Some parents are like 'not my children. My daughter's on the honor roll, and in all these organizations. She's a good girl and knows better,' but predators want parents to be that naive and make that assumption.
The form of abuse you don't hear as much about is neglect. One of the girls in the show is neglected even though she has a stay-at-home mother, and her father is a doctor. Another character is from a single parent home with a mother who works all the time, and she's being neglected.
Lethridge adds that she likes having a few young people in the audience every night suggesting the show could be for teens "as young as 15."

"It's not like teens aren't seeing mature themes in movies, TV and videogames, and Innocent Flesh is what's going on in the real world."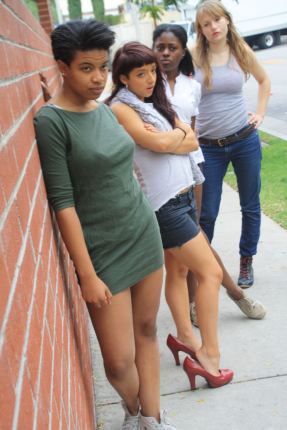 The Cast of Innocent Flesh
On whether prostitutes can up and leave, Zollicoffer's quick to point out:
If you see a 30-year-old street-walker, it doesn't seem as horrifying as an underage girl. But what you don't know is that often they have been doing it since they were 13. It's very hard to leave that career. Some of these pimps don't let you go. At 18, if all you know is prostitution, then where do you turn? What other skills do you have? You can't easily go to school -- you may not have a computer. You can't just change your whole way of thinking without any help and say I'm gonna hit the books. I'm not sure what the statistics are about breaking away from prostitution, but it's very hard to leave. I remember Chris Rock saying, 'the important thing I have to do as a parent is to keep my baby off the pole. It doesn't matter if the girl is giving you a lap dance while saying I'm saving up for a psychology degree, keep your daughter away from doing that.'
Lethridge feels the play's universal themes are relevant around the world, and would like to eventually take Innocent Flesh outside the country to London, Brazil, and other international stages.
As a writer, I want to create situations that aren't the best, and are complicated, but have audiences saying 'I understand.' People are quick to judge that just because you're prostituting yourself, you must be deplorable. I want the audience to think twice. That's a writer's challenge. And audiences are getting it.
The cast includes Daphne Gabriel, Angelina Prendergast and Jameelah Nuriddin, Clara Gabrielle and Crystal Boyd.
Innocent Flesh plays Wednesdays at 7 p.m., Thursdays at 8 p.m., and Sundays at 4 p.m. at the Actors Temple Theater, 339 W 47th St., between Eighth and Ninth Aves. Tickets are $36.50 to $59.50. Call Telecharge at (212) 239-6200 or 1-800-447-7400 or tickets@telecharge.com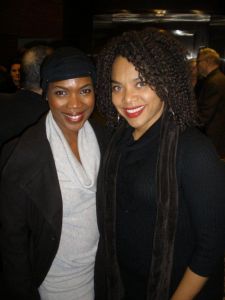 Writer/Director Kenyetta Lethridge & Producer Diana Zollicoffer. Photo by John Wegorzewski for Alchimia PR