"People of Earth, what is your problem?" asks the beautiful alien, Nine-O, in It Came From Roswell -- a question that resonates at the heart of this sweet, wacky, playful science-fiction musical.
It Came From Roswell, part The Day The Earth Stood Still and part A Prairie Home Companion - is approaching its closing weekend at the NoHo Arts Center. Though this is the first time it has been staged in Los Angeles, it is not an official L.A. premiere, it is a work in development, and a work well worth checking out.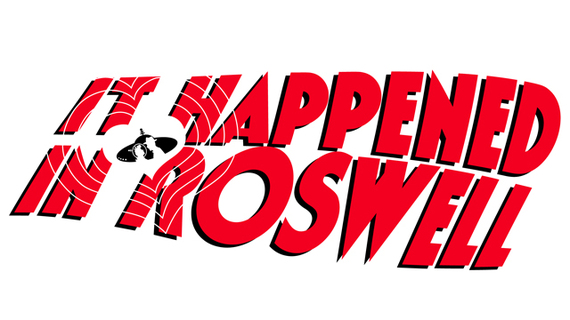 It's July, 1947 and two bit, wily junk tabloid reporter, Scoop O'Reilly (a winning Rory Dunn) is desperate for a story, and to make a buck, so with his hilarous sidekick (an hilarious Emerson Boatwright), heads to the titular New Mexico town (pop 15,007) where an array of "Aww Shucks" local yokels greet him. Ultimately Scoop comes face to face with Nine-O, the prettiest alien to ever grace the L.A. stage, played by a delightful Julie Tolivar (think Olivia Newton John in Xanadu with a stunning Disney princess singing voice).
Julie Tolivar (Photo courtesy of It Happened In Roswell)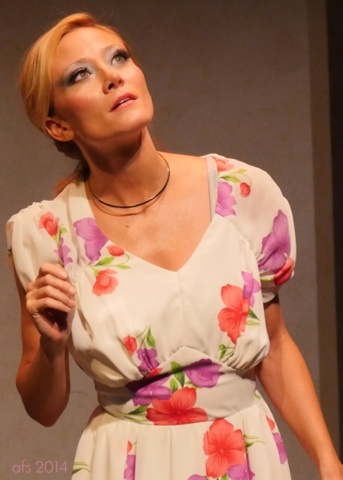 Will Scoop try to cash in by exploiting Nine-O and her hidden spacecraft? Is he falling in love with her? Will Rusty, the local deputy (a terrific Matt Herrmann) foil his plans? It's all great cornball fun -- with a cast that can SING -- highlighted by the glorious vocal talents of actress Carrie Madsen, who plays Roswell's diner owner/matriarch, Mabel Brown. Susanna Young's choreography adds a delightful layer of color to the work.
When asked about the script, Terrence Atkins, Co-Author of the Book/Co-Director, said it began in 2007 as a short play, and there was no mention of any alien, and then upon meeting locals in Sedona, Arizona who claimed to have been abducted by aliens, he gave it all further thought, and the short evolved into a full sci fi musical.
Atkins says,
I really loved the humanity of E.T., and the whole connection of how the alien works its way into the human's lives. I thought about this image of a young innocent alien girl coming to Earth and if she knows nothing and has no real idea of right or wrong from our point of view, how can she change and adapt.
Emerson Boatwright, John McCool Bowers, and Rory Dunn (photo courtesy of It Happened In Roswell)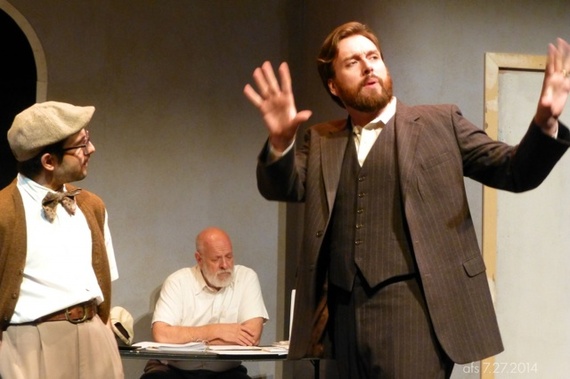 Scott Guy, Co-Director/Producer, came up with the clever idea of using comical signs seen in the classic Warner Brothers Roadrunner cartoons. Guy says,
We wanted to use the signs to explain some of the silliness and gave it a real element of fun.
The ensemble also includes Nathan Ondracek, Amy Bloom, John McCool Bowers, and Emma Sperka. Atkins wrote the Book, Music and lyrics with Jeffery Lyle Segal.
The show ends at the NoHo Arts Center Theatre (11136 Magnolia Blvd) this Sunday and Monday, August 24 and 25. For ticket info: http://www.nmi.org/summer2014/
Or call: 818-506-8500
Matt Herrmann and Amy Bloom (Photo courtesy of It Happened In Roswell)