For the first time in a year and half, Joan Ryan, and her four octave range, comes home to Los Angeles in a cabaret show that earned her the honor of Broadway World's Top Female Cabaret Artist of 2013. On Sunday, June 1st, Joan Ryan: On The Edge comes to life at Hollywood's Catalina Jazz Club with special vocal guest, Eric McCormack (Will & Grace, Perception) in a musical theatre night to remember.
Joan Ryan (photo by Russell Baer)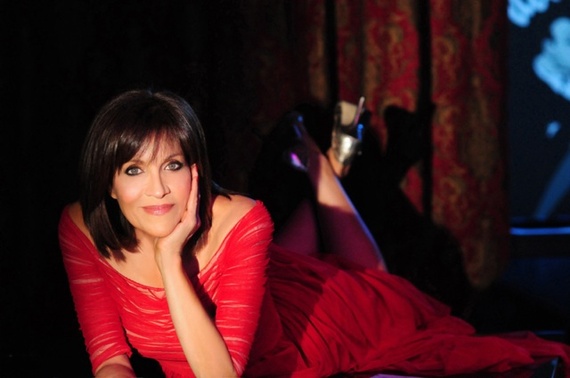 With direction by Andrew MacBean (Aspects of Love, Sunset Boulevard), and musical direction by Todd Schroeder (Sam Harris, Jason Alexander), Ryan weaves her own versions of songs by Lady Gaga, Bonnie Raitt, Rodgers & Hammerstein, Stephen Schwartz, The Beatles - and then some - into a complex, moving, and comedic story of her life's journey.
Ryan notes,
I want people to be thoroughly entertained. What I don't do is just put a bunch of songs together. I choose the songs to fit the story - because each has something meaningful to say. After touring the country with the show, it's wonderful to go full circle and be back home in Los Angeles again.
Joan singing Bring Him Home from Les Miserables

Joan Ryan: On The Edge is a triumphant return for the singer, who, less than three months ago - only a week before a scheduled performance, fell and broke her ribs.
Ryan says,
With broken ribs, I couldn't sing. I was pretty devastated to have to cancel the show, but in a strange way, this healing period has been terrific for me. I'm more excited than ever to bring my show back to Los Angeles. And I'm so thrilled that Eric McCormack is my special guest for the evening. Most people don't realize what a fantastic voice he has. Not too long ago he was on Broadway as Harold Hill in The Music Man.
Joan Ryan in New York City - her journey to performing at Manhattan's 54 Below:

Joan met legendary stage director Andrew MacBean after singing at a benefit in Anaheim. MacBean (who has worked with many of Joan's musical theatre heroes including Bernadette Peters, and Patti Lupone) notes,
I was absolutely stunned to hear her version of Meadowlark. She was on a bill with Rex Smith, Shirley Jones and a host of Broadway stars - many of whom I knew, but I had never heard of 'Joan Ryan.' After the show I approached her, and actually said (nicely) 'Who the F#*&k are you..!? You're incredible!' What grabbed me was that she had the vocal timbre of a young Betty Buckley. There are echoes of Laurie Beechman, and Liz Calloway. And she's hysterically funny. I said 'Broadway and the musical theatre needs talent like yours...get back on the stage!'
The youngest of four, Ryan was raised in Miami. Her father was a successful businessman and television producer who fell in love with California, and moved his family to Newport Beach where Joan went to high school. Singing since she was a little girl, entertaining always came naturally to her.
Joan rehearsing Lucky Old Sun, her father's favorite song:

Though the theatre world knows Joan Ryan from her work as a recording artist and as a performer in dozens of stage shows including Ruthless! The Musical, where she originated the role of Judy Denmark/Ginger DeMarco, television fans remember Ryan as Tina Pallodrino, the wacky arts teacher, from Saved By The Bell, and as Kathleen Houghton on The Young & The Restless. In addition, Ryan is a partner in the landmark looping group, Sounds Great, an ADR/voiceover destination for countless film, and television shows. Joan started her company when her daughters were young so she could be home when they returned from school, and wouldn't have to leave Los Angeles for jobs around the country.
I love being a Mom, and a wife. My daughters are also performers as well, so from morning til night there is music in my house. Truly, my family is the center of my life.
Joan Ryan and Tituss Burgess sing the Oleta Adams ballad Get Here:

A live powerhouse who grew her voice from belting along to Linda Ronstadt records turned up all the way, it's no wonder Joan Ryan has been asked to sing the National Anthem for Los Angeles sports events including the L.A. Lakers and the Harlem Globetrotters.
For the Catalina Jazz Club show, Ryan is donating a portion of the proceeds to The Trevor Project. The LGBT community is close to her heart. She has recently graced the big screen in a gay themed comedy feature, Hot Guys With Guns.
When asked what is next on her career wishlist, she says
I'd like do another TV series, and a musical in New York. I have this theory that you can do it all, but you cant do it all at the same time.
In the meantime, as Broadway World aptly said, "If you get the chance to see Joan Ryan perform anywhere...anytime...take it!" Lucky for us Angelenos, that chance comes on Sunday June 1st.
Joan Ryan: On The Edge tickets at www.ticketweb.com or (323) 466-2210.
For more info on Joan: www.JoanRyan.com Find Joan Ryan on Twitter: @thejoanryan