Since early childhood, writer/producer Marc Zicree has been going off to other planets. Speaking with him last week, Marc explained:
There's something very appealing about space. My interest in sci-fi began when I was three, and my parents divorced. I had a strong need to find escape. To go as far away from my life as possible. Science fiction made me happy. My mother would take me to stores in Hollywood where you could get used science fiction books for a dime apiece, and I'd come home with the works of Ray Bradbury, Arthur C Clarke, Heinlein, Asimov -- the great writers. I was also obsessed with comic books, which have a very science fiction edge. Then Star Trek, Twilight Zone and Outer Limits made me want to be a TV writer.
Decades later, with countless hours of television credits under his belt, Zicree teamed up with director, Neil Johnson, and special effects wizard, Doug Drexler, to develop Space Command, an epic series of science fiction films following the lives of two families who are part of a great migration into space to colonize the solar system.
Zicree's Space Command has already gone where no film project has gone before, setting a record as the fastest film ever funded on Kickstarter. The initial two month goal of raising $75,000 was accomplished in three days, and at this writing over $166,000 has been raised with the site's pledging deadline set for Comic-Con (July 14).
Adding to the buzz, an impressive cross section of today's most accomplished science fiction writers/producers have lent their words of support and encouragement for Space Command including Damon Lindelof (Prometheus, Lost), J.J. Abrams (Star Trek, Super 8), Guillermo del Toro (Pan's Labyrinth, Hellboy), Neil Gaiman (Coraline, The Sandman), Glen Mazzara (The Walking Dead), and Jane Espenson (Firefly, Buffy) to name a few.

Zicree's thrilled and grateful for the response. He describes Space Command:
It's a big epic canvas of these two families taking all their flaws, human challenges and difficulties with them as they go out to the stars, meeting alien races, and experiencing warfare. The story timeline spans about 200 years. I'm very interested in the ripple effects of generations.
In the 1950s and '60s, our country's view of space exploration was very hopeful. We were at the dawning of this great age of space exploration. It was about a greater vision of what man is capable of. The world of Space Command has a bright, hopeful and adventurous tone. A lot of kids watched Star Trek and became scientists or astronauts. I believe science and technology can make our world an all around better place.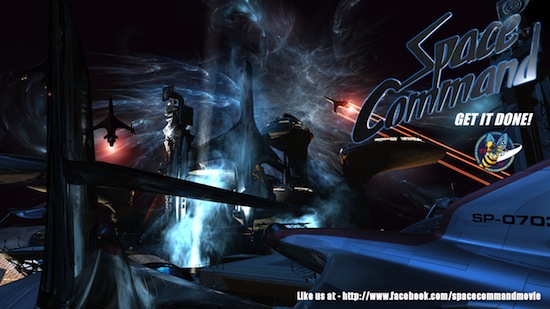 Zicree has also enlisted the talents of composer David Raiklen, and Iain McCaig, the lead character/creature designer of John Carter, Harry Potter, the Hulk in The Avengers, and the last three Star Wars features including Darth Maul and Queen Amidala.
To cast two of Space Command's lead roles, Zicree has started a self-submission process called The Talent Search. By going onto the project's site, actors can download the sides, shoot an audition, and submit it. The film's backers will vote, and boil it down to five actors.
Zicree comments, "The audience is helping us make this. If you want to act, come forward, submit yourself through our site, and give it a shot. I love actors -- I view them as my collaborators. When they show up on set and do something wonderful -- I say thank you."
Space Command is not Zicree's first grassroots film project. In 2007, he directed and co-wrote, Star Trek New Voyages: World Enough And Time, a network quality 55-minute episode for a budget of under one hundred thousand dollars and over 700 state-of-the-art special effects shots.
For decades, I wrote TV network shows with millions of dollars spent, but then I found these fans doing their own Star Trek episodes called Star Trek: New Voyages, and they were getting larger viewership than Enterprise was getting on UPN at the same time. These fans had done these labors of love and built their own sets, and even lured some of the original actors. So I watched what they were doing, and co-wrote World Enough And Time with my Emmy winner friend Michael Reaves, and starring George Takei. It was the first time an independent project had been nominated for the Hugo and Nebula Awards, and we were up against Pan's Labyrinth, Battlestar Galactica, and Doctor Who. Pretty good company!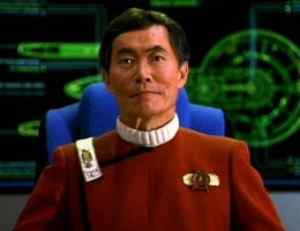 George Takei in 'World Enough And Time'
Zicree, the author of The Twilight Zone Companion, is also currently collaborating with Guillermo del Toro on a coffee table book, Guillermo del Toro's Cabinet of Curiosities. The book will feature original art from del Toro's personal sketchbooks as well as a conversation with Zicree.
"I keep writing books and novels and movies and whatever else interests me."
As for Space Command, shooting is scheduled to begin for the initial feature in October.
Zicree comments, "I'm writing the first two-hour movie, and I'm almost done with that. I've outlined the second and the third films, and I know what the fourth story is going to be. In addition, we're going to do at least three half hour stories. We're already building sets and space suits."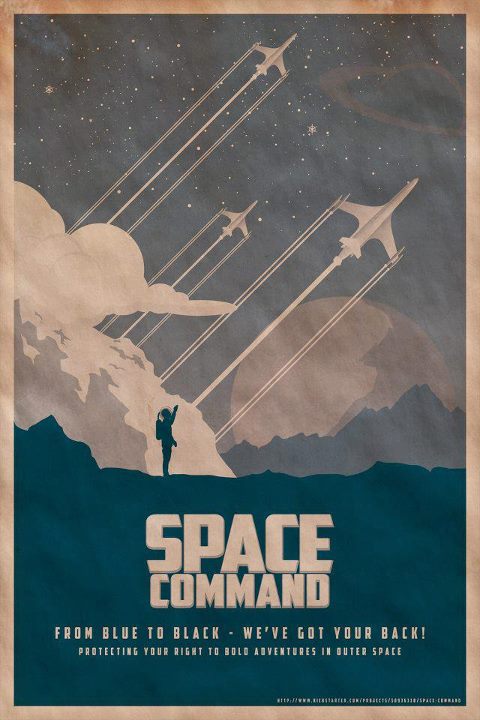 Author has permission to use photos.