Halloween fans, hold onto your Great Pumpkins because this Friday night (8 p.m. /7 Central), NBC airs the must-see treat of October as Mockingbird Lane, the stunning, dark re-imagining of The Munsters makes its television premiere. Executive produced by Bryan Fuller (Pushing Daisies, Dead Like Me), Mockingbird Lane was shot as the pilot episode for what will hopefully be a full series in 2013.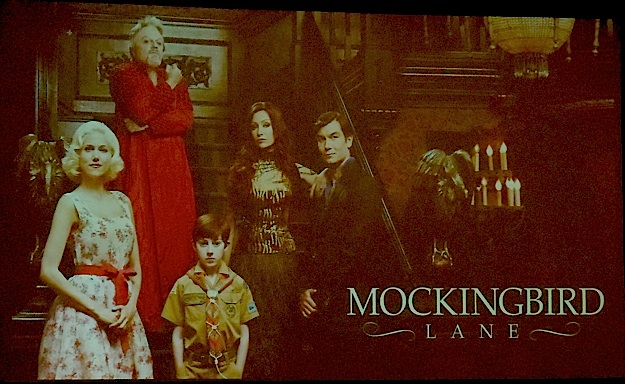 Courtesy of NBC/Universal
Written by Fuller, and directed by Bryan Singer, Mockingbird Lane, named for the Munster family's iconic address, is a visual and emotional feast, and the year's most original television dramedy (think True Blood meets Modern Family) crowned with a towering performance by Eddie Izzard as monstrous Grandpa.
As Lily and Herman Munster, Portia DeRossi and Jerry O Connell shine. With Mason Cook as Eddie, and Charity Wakefield as Marilyn (the "normal" Munster), and memorable turns by Cheyenne Jackson and Beth Grant, this ensemble will give viewers plenty to howl at the moon about.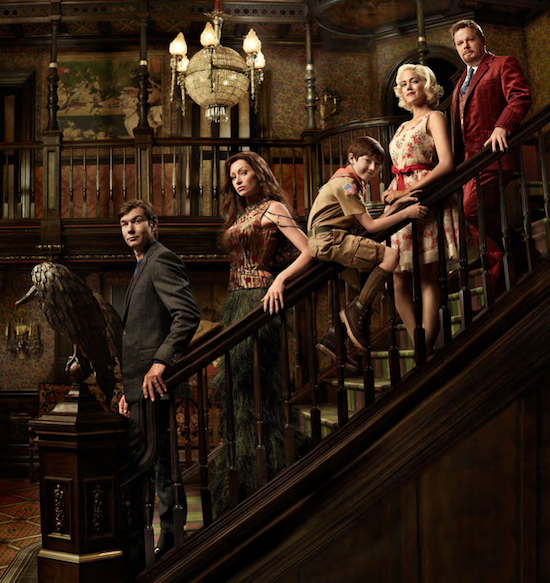 Courtesy of NBC/Universal
I spoke with Fuller, who is currently on location in Toronto, shooting episode five of NBC's upcoming Hannibal (release date on that series is yet to be announced).
Mockingbird Lane's status has gone from alive to not-so-alive over the past couple years, which seems appropriate given Grandpa's undead.
(laughs) Exactly! The show has had this Frankenstein-ian life -- and unlife.
October feels like the perfect time to air this show.
Mockingbird Lane is an autumnal show, and belongs with the Season of the Witch. Part of why both The Walking Dead and American Horror Story do so well is they belong in October when everybody is geared for a certain level of monstrosity. The decision when it came around to air the pilot on as a Halloween special, which was not entirely unexpected, we were like, "oh, yay! We're actually going to do this." Jennifer Salke [NBC president of entertainment] always said to me, "I love this show -- I'm not sure who the audience is, but I want to get it out there and let it create an audience." And that was very reassuring because there have been a lot of pilots that never aired that were a lot more expensive than this pilot so it's not about the money NBC spent on it, it was "when is the right time for this show to find its audience."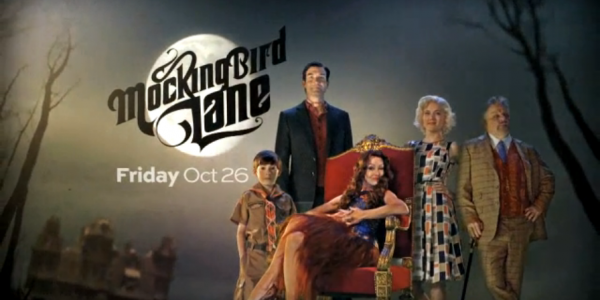 Courtesy of NBC/Universal
What inspired you in reinventing the concept of The Munsters?
I was inspired by what informed The Munsters of its time, which included Dracula, The Wolfman, Marilyn Monroe, Frankenstein's monster, and then there was Eddie's pet Spot, who was informed by Godzilla. It was this mashup of different pop culture icons. So I went back to the central inspirational premise of that show, and if Grandpa is Dracula, then who is the touchstone for today's Dracula? I believe it's Gary Oldman in Bram Stoker's Dracula who presented Count Dracula in a really iconic way.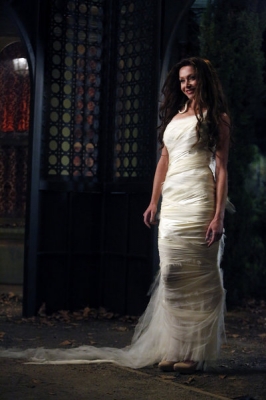 Courtesy of NBC/Universal
He's incredible in this. And Portia De Rossi is so sexy as Lily.
Oh, she's GOOOOOORGEOUS in this. And she's funny and touching -- it's a great performance.
Jerry O'Connell is the handsomest Frankenstein monster I've ever seen.
I was thinking would Herman have the rectangular head with a bolt on his neck -- or in today's age of cosmetic surgery, would he be an attractive man sewn together aesthetic a'la Sally in Nightmare Before Christmas? Our Herman Munster is assembled from pieces of other men by his father-in-law (Grandpa) to be the perfect man for his wife, but he's in a constant state of decay -- and he's married to a woman who doesn't age so that poses interesting problems.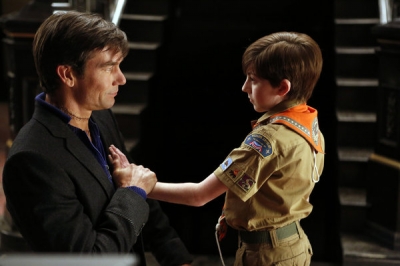 Courtesy of NBC/Universal
I love Eddie's story in this.

Eddie looks like a normal child of his age, and it's a surprise to the family when his monster side emerges -- as it does in the pilot. The story is about parents trying to carve a path in the world for this child because he is so different. I wanted to take the big concept of who the Munsters are, and then grounding them in a reality where you see yourself. Also, in the original series, the Munsters' love for each other was absolutely genuine. They were a family who, on the outside, looked like monsters, but on the inside they loved and cared about each other.
How soon after the pilot airs will you know if NBC is going to take it to series?
NBC has until the end of December or beginning of January -- that is when they have to pick up the actor's contracts or to release them.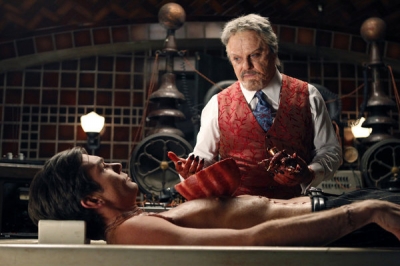 Courtesy of NBC/Universal
I've been hearing about people gathering together in the Halloween spirit to have Mockingbird Lane/Grimm viewing parties this Friday evening.
I love it! I want them to tweet pictures. Because I'm in Toronto, this is the first October that I haven't been able to play with my friends and participate in all the Halloween shenanigans, so I'm hoping the family of viewers will share their Mockingbird Lane pictures with me online so I can feel connected. I'll be tweeting and responding to tweets as it airs for both coast's feeds. I'll be tweeting little comments about adventures while we were filming, behind the scenes pictures, sort of a "pop-up video" for the broadcast.
You can follow Bryan Fuller on Twitter. Mockingbird Lane airs this Friday at 8pm/7pm Central on NBC.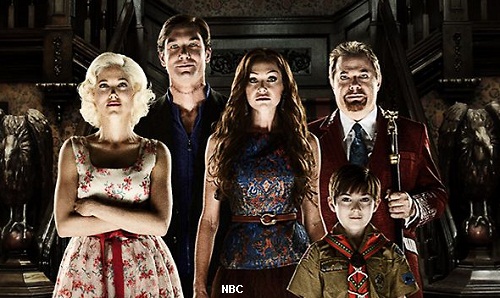 Courtesy of NBC/Universal