At 15 years old, Larry 'Link' Linkogle was the youngest motorcycle rider to ever turn pro, but action sports' bright, shining prodigy quickly slid into a dark, violent, frightening world, putting everything in his young life in jeopardy. Like a gnarly episode of Breaking Bad, Linkogle chronicles his legendary career's rise and fall -- and rise again -- in his aptly titled, new autobiography, Mind Of The Demon: A Memoir of Motocross, Madness, And The Metal Mulisha, a testosterone packed read sure to be one of the best of the summer.
Mind Of The Demon (co-authored by award-winning journalist/writer, Joe Layden) is the latest in Linkogle's long list of achievements, which includes founding Metal Mulisha, the multimillion dollar lifestyle brand for motocross and mixed martial arts. Lithium Magazine has called Linkogle, "the daddy of freestyle motocross," and rightly so.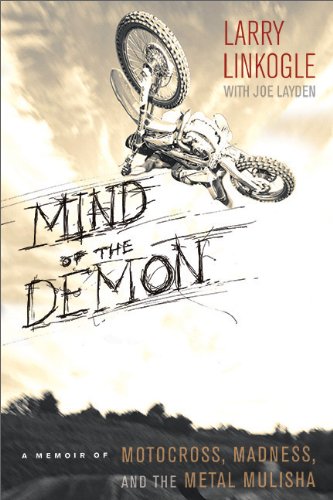 Some could argue that Linkogle's father, a Vietnam vet suffering from Post Traumatic Stress Disorder, a human thundercloud over his early years, could be figured into part of the titular 'demon,' playing a central role in the dangerous pressures of making teenage Larry, a brilliant talent, strive to be, and remain at, number one.
Here's a sample passage from the Prologue as young Linkogle spirals fast into the world of drug-fueled thuggery:
"It occurs to me, though, in a fleeting moment of rationality and regret, that my life had taken a seriously wrong turn at some point. I was one of the best young motocross racers in the world. I pioneered the sport of freestyle motocross. I had a thriving multi-million dollar business with tentacles extending deep into the growing world of action sports. I had legions of young fans, sponsors, endorsements. Family and friends. And now here I am, in the backseat of a car, with a loaded .44 Magnum in my pocket, heading to a gang fight that will surely end in a very bad and bloody way. I don't want to be in this situation. I don't want any part of it. But how do I escape?"
Mind Of The Demon trailer (2010 Slamdance Award-winning documentary film)
Linkogle made a lasting mark on history by sparking a revolution in extreme sports, with the creation of freestyle motocross (FMX) -- a death-defying, high stakes form of motocross, the birth of which is detailed in Mind Of The Demon: A Memoir of Motocross, Madness And The Metal Mulisha, and brought to life with thrilling full color photos. New generations of bikers idolize Linkogle and continue to discover the breakneck rush of FMX. Today, the sport is more popular than ever all across the planet.
In December 2001, while serving as the double for Vin Diesel in the movie, Triple X, Linkogle's head actually collided with a helicopter blade while doing a stunt for the film. The impact resulted in the frontal lobe of his brain to be torn away from his skull, a snapped ACL and separated shoulder. Astonishingly, Linkogle not only survived, but eventually (in 2005) set a new world record for longest jump on a 250cc motorcycle (255.4 feet) -- literally taking himself and his sport to new heights.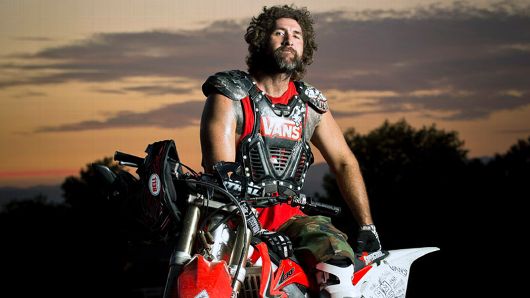 Larry Linkogle (Photo by Garth Milan)
We have much to learn from this man's passion, and his remarkable, turbulent story. It's nothing short of a miracle, and a tribute to his iron will, that he managed to rise from the plunged depths stronger and better than ever.
All this being said, I should add that I am not someone who reads 'sports stories.' I didn't even know how to spell motocross correctly until this book came across my desk, but I was compelled to read it having heard the Linkogle urban-legend tales -- and I loved it cover to cover. One of my favorite aspects is the loose, casual, no-nonsense tone in which Linkogle writes, which I imagine is just as he speaks in real life. No matter who you are, Mind Of The Demon is a brisk and haunting page-turner, and a wild ride well worth taking.

Mind Of The Demon: A Memoir of Motocross, Madness, and The Metal Mulisha by Larry Linkogle with Joe Layden (Running Press) is available everywhere now.
For more on Larry, check out larrylinkogle.com
And yes, Larry Linkogle has his own limited edition action figure (complete with bike and helmet)!