Something is clearly not right with Justine (a manic, Laura Dern-esque Karen Nicole) and her angst-y daughter (Madeline Bertani) who hide in the dreary confines of a motel room just off the grid from whatever is psychopathically stalking them. From the tense opening seconds, a mesmerizing and unsettling mystery unfolds in Recall by dramatist Eliza Clark (writer for AMC's Rubicon and The Killing) -- a noteworthy Los Angeles premiere.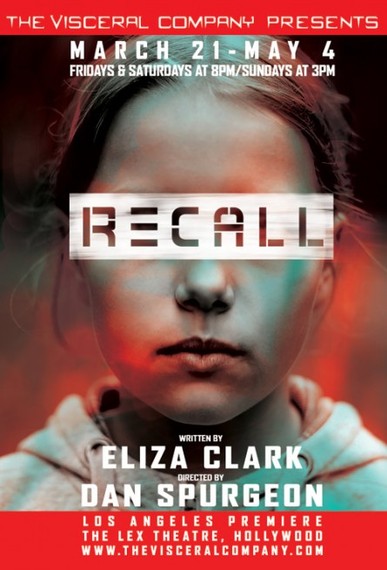 Directed by Dan Spurgeon (who also directed the Visceral's recent frightfest Lovecraft's Nightmare Suite at the Lex), Recall is a play that dwells in bleak, hellish shadows -- nothing is immediately clear, except for the impending, ominous dread closing in on these characters. The memorable ensemble also includes Lara Fisher, Kevin Grossman and Mark Souza.
I went to see Recall as a matinee on a cloudless, blazing bright Sunday. The eerie, Orwellian spell that the play cast was so affecting that I emerged from the Lex haunted like I'd just experienced a great, lost, Twilight Zone episode, and as a major Rod Serling fan (2014 would've been his 90th birthday incidentally) that's praise I don't sprinkle lightly.
Recall is produced by The Visceral Company, which is making its mark on the L.A. stage scene by embracing dark, strange, macabre material and executing it with style. Fangoria Magazine has called The Visceral Company "L.A.'s premiere horror theatre troupe." I am very much looking forward to Visceral's next production, the L.A. premiere of Zombies From The Beyond , and (I'm not kidding) 1950s SciFi B-Movie Musical.
BELOW: Madeline Bertani and Karen Nicole in Recall. (Photo by Amelia Gotham).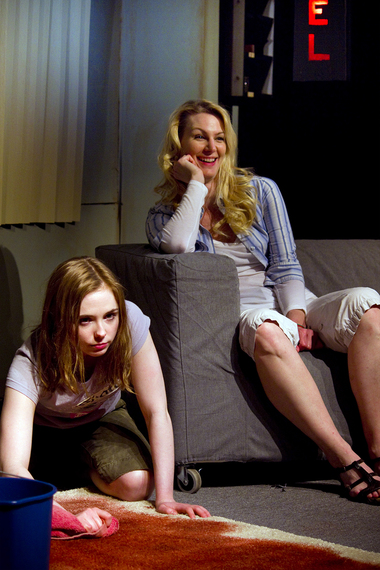 There isn't much time left to catch this spooky thriller, which closes May 4, and runs Fridays and Saturdays at 8 p.m., Sundays at 3 p.m. Leave the kids at home please -- this is shudder-some stuff. Parental guidance is strongly suggested for any preteen audience members.